Mitch "Uber" Leslie is an Overwatch League shoutcaster know for his loud, ostentatious style of shoutcasting. He's only slightly less well known for his loud, ostentatious shirts, and I'm shamelessly taking cues from his style.
I'm not the most fashionable guy around, but I know what I like. What I like usually isn't the kind of floral patterns you might find on a beach-bound Matthew McConaughey. And yet, I'm drawn to these outlandish shirts from Eletop.
I'm sure that Style Girlfriend will yell at me for this. I deserve it. But look at these things. There's this blue number covered in double-decker buses that screams "I am aware London exists." Or this minty green shirt with snow capped mountains that clashes with everything I own, but maybe I should own more things!
Not your thing? That's cool, they've got more. Here's a little fall number with a cute owl in a tree and, for some reason, just a bunch of mushrooms flying in the wind overhead. Or how about this one with women—I'm going to guess from the 50s?—riding on bicycles? Is it weird that they're riding bikes in someone's garden? That's for your future adoring fans to decide.

G/O Media may get a commission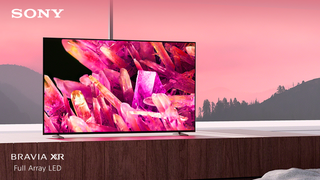 $400 off
Sony 55 Inch 4K Ultra HD TV X90K Series
But my absolute favorite is the one in the picture at the top of this post. A teal vector mountain landscape with ribbons of green apple Fruit by the Foot flying overhead like the aurora borealis. I'd love to link it here, but I'm afraid Uber already beat me to the rush. It sold out quick. It's not available now. It might not ever be again. I found it as part of this collection when it briefly went on sale a second time, so there may be hope yet.
In the meantime, Eletop makes plenty of other great clothes. Considerably more fashionable trench coats, some wild ski jackets, and some pretty sweet swim trunks. But nothing will top its outrageous shirt collection.
It takes a unique kind of person to cast an Overwatch game. It requires a lot of energy, a personality as colorful as the game itself, and a volume knob that broke off years ago. Uber doesn't just embody those traits himself, he wears them on his sleeve. Literally. I don't watch Overwatch League for fashion advice, but like a grav from above on Hollywood, sometimes these things come from where you least expect.
Just don't go getting fashion advice from Monte.
---