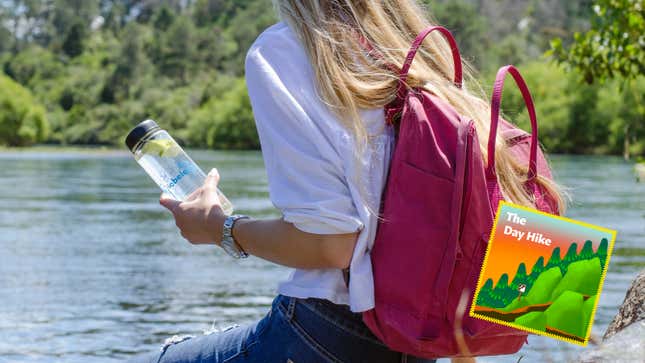 Bringing the right amount of water with you on a hike is important, obviously. Unfortunately, water can be a pain in the ass to carry. It weighs a lot, and can feel onerous to get to if you don't have the right system. Luckily, the outdoor industry has created a massive number of options for bringing liquids with you, and getting them into your mouth as easily as possible. Unluckily, the options are so plentiful that choosing your system can be completely overwhelming.

Ultimately, the perfect hydration solution is going to be the one that fits the activities you're hoping to use it for. You can get away with an extremely heavy water bottle if you never plan to stray too far from a motorized vehicle. Conversely, you are going to hate every extra ounce of a fancy water bottle that you have to bring with you on a week long backpacking trip. We are going to get into different types of bottles best suited for different end uses later.
For now, our best suggestion is to be completely honest with yourself about what you are going to use your bottle for. Say you're a casual who aspires to run a 100-mile ultramarathon, Start with a more user-friendly water bottle for the hikes you take today, and wait to buy the technical hydration pack for when you start seriously training for that 100-mile race.
The intensity of your activity and the weather are going to dramatically change the amount of water you are going to need to stay hydrated, but as a general rule of thumb, it's smart to be prepared to drink a half liter of water per hour for moderate activities like hiking, and around a liter of water per hour for intense activities like running.
While it's tempting to get a massive water container and lug it around to hedge your bets against dehydration, remember that water is quite heavy—a liter of the stuff weighs 2.2 lbs, not including the bottle—and bringing excess around will tire you out and, yes, make you need to drink more water. I've found a sweet spot in the one liter range for water bottles and the two liter range for bladders (more on those later), but your needs could obviously vary.
We have laid out the main options of types of outdoor water carrying vessels on the market below.
Insulated Stainless Steel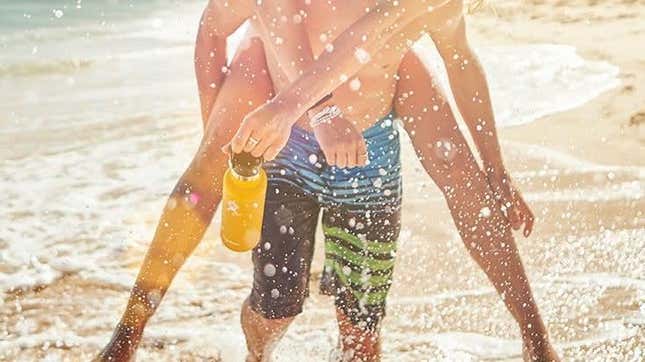 Pros: Well-built insulated stainless steel water bottles are excellent at keeping hot liquids hot and cold liquids cold for extended periods of time. Different brands make different claims as to how long they will keep hot liquids hot and cold ones cold, but if you purchase one from a reputable brand you can depend on them keeping coffee hot for at least three to four hours, and ice water (or a cocktail) cold for twelve or more. They are also (usually) remarkably durable.

Cons: All of that fancy thermoregulating insulation comes with a pretty significant weight penalty. You are looking at at least double the weight of their single walled counterparts below.
What it's best for: Car camping, rafting, keeping your apres hot toddy warm in your car while you're resort skiing.
One we like: For the ten years it has been around, Hydro Flask has been a powerhouse (and reader-favorite) in this space for good reason. Their 21 oz Standard Mouth Water Bottle works well as an everyday carry that looks sharp thanks to its bold colors and powder coated exterior, is easy to drink out of because of it's just-right mouth, and will keep a gin and tonic cold for six hours in the blazing sun.
Uninsulated (Single-Walled) Stainless Steel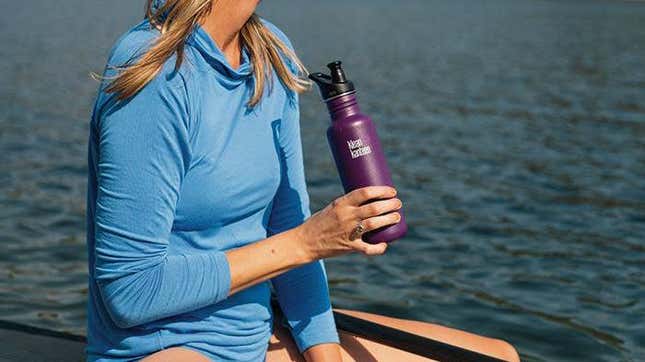 Pros: Single walled stainless steel water bottles are lightweight, durable, and while they are likely to dent if they fall from your pack or grip, they're unlikely to fully break on impact.

Cons: If you put hot water in a single walled stainless steel container and don't wrap it in something, the metal conducts heat so efficiently it will burn the dickens out of your hand. Iced beverages can be uncomfortable to hold for extended periods of time because of conduction as well. If thermoregulation is important to you, stick to double-walled steel.
What it's best for: Hikers, backpackers, and general enthusiasts looking to cut weight.
One we like: Klean Kanteen's 27-ounce Classic is impressively light at seven and a half ounces while still having boasting the durability of stainless steel with an added powder coating that makes it more durable than it's naked counterparts.
Hard Sided Plastic Water Bottles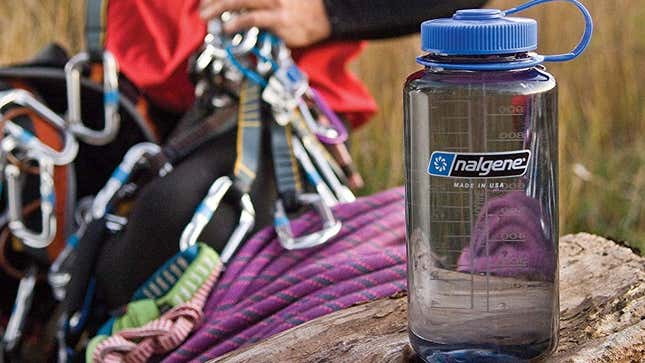 Pros: Extremely light weight and extremely durable, at a low price.

Cons: Plastic bottles have a sordid history of leaching nasty chemicals in to drinking water. While all of the reputable companies have addressed the problem and no longer sell water bottles with the worst of the chemicals (BPA), plastic still gives some buyers the heebie jeebies. Regardless of whether you fear the chemicals in plastic or not, water that sits in a plastic bottle for a while ends up tasting like plastic, which also turns a lot of buyers off. Also, these don't keep hot liquids hot or cold ones cold for very long.
What it's best for: Hikers, backpackers, anyone who value durable and lightweight bottles at a low price.
One we like: There's a reason why Nalgene's 32-ounce Wide Mouth has been dominating space in backpacking packs and raft floors for decades. They are damned tough, easy to clean after you've made a sticky 32-ounce loudmouth cocktail, and only weigh six and a quarter ounces.
Collapsible Plastic Water Bottles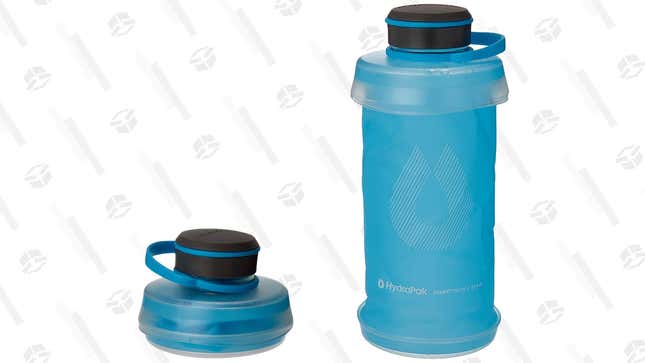 Pros: Collapsible water bottles are exceptionally light, and take up barely any space once you finished the water inside. They don't take up any unnecessary dead space in a pack, because the empty parts of the bottle conform to whatever is around them.

Cons: Well built collapsible water bottles are highly resistant to blunt force impact, but are susceptible to punctures and tears which makes them considerably less durable compared to the water bottles above.
What it's best for: Backpacking trips, long endurance races, any sport in which space in your pack or pockets comes at a premium.
One we like: Hydrapak's Stash 1L carries the same number of ounces of water as the Nalgene above, but is less than half its weight at 3.7 oz., and takes up less space than a can of chew in your backpack when empty and stowed.
Hydration Bladder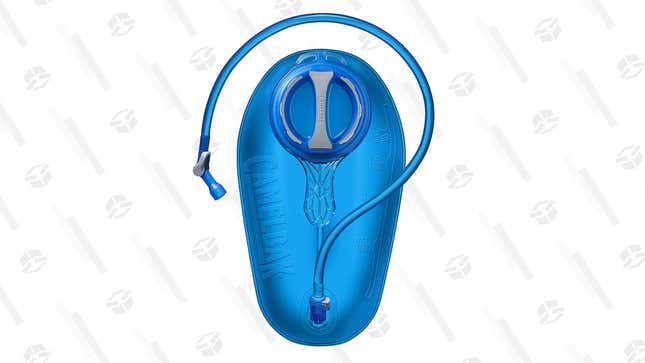 Pros: Hydration bladders usually come with a nozzle and hose that make drinking from them while you are actively hiking/running/biking extremely easy. They are as light weight as you will find a water vessel, and can disperse the weight of a lot of water well because of their large surface area.

Cons: Hydration bladders are unwieldy to bring around with you if you don't have a pack that has a designated space for one. These vessels can't pull double duty as your water bottle at work unless you are willing to face relentless teasing.
What it's best for: Constant motion activities like cycling, backpacking, and running that you would like to keep continuously drinking water during without having to stop.
One we like: Camelbak's Crux 2L Reservoir has a spectacularly user friendly valve. All you have to do is lightly bite down to drink, and it closes and won't drip without that pressure, and it's both easy to fill with water and leak free thanks to its robust and wide screw top opening on its body.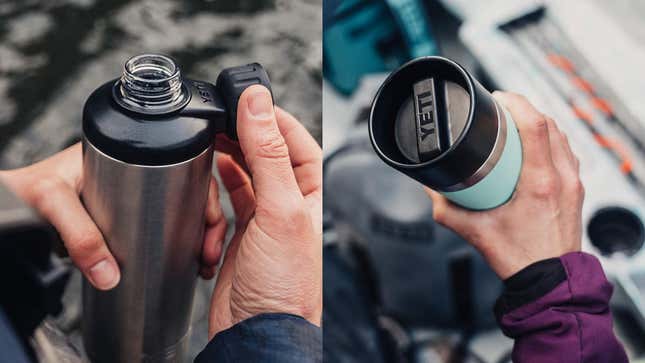 Once you have decided what vessel you will use to store the water, we suggest spending some time thinking about the way it will deliver that water to your mouth. This obviously won't be a consideration if you have decided on a bladder with a purpose built nozzle and hose, or a collapsible water bottle, but will likely come into your purchasing process with any of the hard sided options. While wide mouth water bottles are extremely easy to fill up and clean, they have a tendency to splash all over you if you try to drink out of them while moving.

Narrow mouth bottles are easier to drink out of, but more difficult to clean and are generally less enjoyable to drink hot liquids out of. One option is to look for a bottle that has interchangeable lids for different specific end uses. Yeti's Rambler water bottle series has excellent lid options for both pounding cold drinks and sipping hot ones, so you can have one water bottle that does both.
---