Welcome back to Good Points, a weekly Q&A about credit card points, the people who collect them, and where they take us. This week's guest is Dan Frommer, a Brooklyn-based journalist and the creator of Points Party, a newsletter about travel points, credit card rewards and loyalty programs. Sign up here for free, and follow him on Twitter and Instagram at @FromeDome.
If you know anyone who just won't shut up about their points strategy, have them send an email to shep@gizmodomedia.com with the subject line "Good Points" for a chance to be featured. We want to talk to everyone from professional travelers who spend their lives on the road, to people who save all their points on one trip per year, so don't be shy!
---
What first got you hooked on collecting points?
I love to travel and I love a great deal, so collecting points has been an obvious pursuit of mine basically forever.
I filled out my first frequent-flyer application in the back of a stinky, cigarette-smoke-filled Air France 747 in the mid-1990s and haven't stopped since. Back then — I was in middle school — I was more excited about the actual physical membership card than the value of the points. But once I started using credit cards and traveling more on my own, I quickly got into the points hobby.
Now it's something I think about every day! And I found myself talking about points with friends often enough that I started Points Party, a newsletter of my best tricks, lessons I'm learning, analysis, and favorite ways to earn and spend points.
What are you trying to accomplish by collecting points? Pay for all of your small trips? Splurge on vacations that you wouldn't otherwise take? Somewhere in between?
G/O Media may get a commission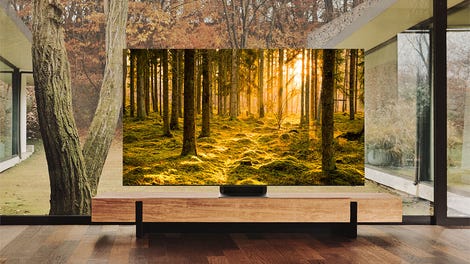 Up to 40% off
Samsung Smart TVs
I want to have great travel experiences and feel like I'm getting a good deal when I use my points. My travel style is more creative and comfortable than flashy luxury. I'm not an overwater-beach-villa-type — or at least not yet!
Sometimes that means trading in a year's worth of Hyatt points for a week in Japan, including a few days at the Andaz Tokyo, one of my favorite hotels in the world. Sometimes it means booking a utilitarian coach flight to Los Angeles or Chicago that will still earn credit towards airline status and where I might get upgraded anyway.
Once a year or so I'll do something like fly international first class instead of business, as a "free" splurge of indulgence and curiosity. But mostly I see points as a tool to help me get to interesting places.
What credit cards do you currently hold, and why'd you get them?
I'm going to focus most of my spending on Chase cards this year again, because I have a system that works and has been very lucrative over the past few years, which involves the Chase Sapphire Reserve, Chase Freedom and Chase Freedom Unlimited.
Zooming out, the key to all of this is to both earn the most posts and to get the most value when you spend them. In my experience, and supported by frequent research, Chase's Ultimate Rewards program is still the best for this. It's possible this will change — points typically lose value over time, and programs change frequently — but this is my current strategy.
I generally use the Chase Sapphire Reserve for all travel and dining purchases — 3 points per dollar — which is a big percentage of my spending. And for international purchases, because it has no foreign transaction fees. But that's all I use it for.
I use the Chase Freedom for its quarterly rotating bonus categories. This quarter, that means I'm earning 5 points per dollar at drugstores, gas stations and tolls. So I'll buy a year's worth of contact lenses from Walgreens online this quarter (starting at the Chase shopping portal, which will earn me even more points). And I'll buy Whole Foods gift cards at a drugstore to use for grocery shopping, and probably max out that category, which means spending $1,500 before the end of March.
I use the Chase Freedom Unlimited — 1.5 points per dollar — for almost everything else when I'm following this system.
Then I can transfer all the Freedom and Freedom Unlimited points over to my Sapphire Reserve account, and use them to book flights, transfer to travel partners like Hyatt and British Airways, etc.
I consider Chase points to be worth 2 cents each, so that means I'm earning about 3% "back" in points value on every Freedom Unlimited purchase, 6% back on Sapphire Reserve purchases, and up to 10% back on those Freedom bonus categories. Plus whatever other bonus points or loyalty schemes those purchases include. It's a good system!
I just got the new American Express Gold Card, and I'm testing it as a competitor to my Chase system. It earns 4 points per dollar at restaurants and U.S. grocery stores (for the first $25,000 in purchases per year, after which it's 1x point per dollar), and I do a lot of grocery shopping. But Amex points are generally worth less than Chase points when you redeem them, and it takes longer for them to become available, so I'm not sure how much I'll use it over the long run. We'll see.
My favorite new card is the Cash card from Square, which I just wrote about on Points Party. It's not a credit card and it doesn't earn points — it's a prepaid card that links to your Cash App balance. But for now, at least, it has these amazing benefits called "Boosts." One of the "Boosts" gets you $1 back every time you use the card at a coffee shop, which generally ends up covering my tip, saving me about 20%. I'm on track to save about $150 a year that way. That's a much better deal than any points I'd earn on those purchases. You can also get 10% back on Whole Foods purchases, up to $7.50 — also a good deal. Having more cash is often better than having more points!
I also have some airline and hotel cards, such as the Citibank American Airlines card, which was one of my first points cards a long time ago. I keep it because it gets me 10% back on my first 100,000 American miles I redeem every year, which basically pays for its annual fee. And a few other benefits. I also have had the Barclaycard Aviator Silver, another American Airlines card, for the past two years, because spending on it helped me earn elite status on American faster. So I was putting a lot of spend on it, including my rent many months. But this year, they gutted that benefit, so I'll probably get rid of the card or downgrade to a free card to keep that credit line open.
I have the Hyatt Visa card because it earns me a free night every year, which covers its annual fee. And I have a Starwood Amex that I'll probably get rid of — I don't really care for Starwood hotels or Marriott, which it merged with. I'm more interested in the Amex Platinum, but not right away.
What point redemption are you most proud of?
One of my favorite things about using points to pay for flights is that the tickets are often more flexible than cash tickets. So if you're crafty, or get lucky, you can sometimes change them at the last minute for a much better seat and/or routing.
Several years back, my wife and I were scheduled to fly home to New York from Vancouver, in coach, all day, through Dallas, on American 737s. Ugh. I think our tickets were 25,000 points each, which wasn't even a very good deal.
But the day before our flight I remembered that Cathay Pacific has a nonstop redeye flight from Vancouver to JFK on a 777. So I called American, and sure enough, we could fly home on that Cathay flight — in international business class! — for the same number of points. I generally avoid redeyes, but if it's in business class with lie-flat seats, sure. And we got a whole extra day to enjoy Vancouver, too.
Last year, I flew the same route in reverse, in first class, and it was totally worth the one-time points splurge. Pajamas!
What point redemption are you least proud of?
Nothing super bad. Some hotels — usually cheaper, chain spots — haven't been as clean or as comfortable as I'd have hoped. But I've also slept in my share of grimy backpacker hostels over the years by choice. Nothing that was enough of a mistake to warn people about.
Just remember that points are a currency. Don't let them decide where you go or how you spend your time. Take the trip you want, and figure out the best way to pay for it, whether it's points or cash. This is supposed to be fun!
Do you chase status at a specific airline or hotel chain, or do you just shop around for the best deals, locations, and flights?
If you travel a lot, both airline and hotel status can be game-changers. Especially airline status.
I have been very loyal to American Airlines for the past dozen or so years, and it has served me well. The past few years I've flown enough to earn Executive Platinum status, which is their highest level that mere mortals can achieve. (There's "Concierge Key" status, too, but you generally have to spend a LOT of money to get it.) This comes with four worldwide upgrades, which are worth several hundred dollars each, and always feel great to redeem on long flights to Europe or Asia.
If you fly a lot, and you can't pay for business class on your own, airline status is a huge benefit — beyond upgrades, preferred seating, flexibility, and earning more miles — they just take better care of you. American has been making its frequent-flyer program less valuable each year, so as a New Yorker, I always have an eye on Delta. But for now, I'll happily pay more to fly American or one of its partners in most cases — unless it's a situation where the routing or flight times just don't make sense.
I'm less concerned with hotel status, but I tend to favor Hyatt hotels among the chains when I have a choice. The points are useful to me — especially for my annual Japan trips, where they have a few great hotels — and I think Hyatt has good taste. But I won't overpay.
And I try to stay in interesting, boutique hotels or Airbnbs on a lot of trips. I try to stay at the Ace in London and Chicago, or the Line in LA, if I'm not Airbnbing.
What's the first card you recommend to people who are interested in getting into points, and why?
If you want to earn points for travel, have good credit, and spend more than $1,000 a month on credit cards, I think the Chase Sapphire Reserve — and my Chase system, which earns me thousands of dollars a year in free travel — is what I'd choose.
If you are nervous about a card with a $450 annual fee — even though it can pay for itself in the rewards you earn — the Sapphire Preferred, which is $95, is also solid, because you can still transfer points to travel partners and from the various Freedom cards.
An airline or hotel card can also be a good way to get started, especially if you're going to be spending money with that company anyway. But you'll probably earn fewer points that way, with less flexibility on spending them.
What's one piece of advice you wish you'd known before you got into points collecting?
I knew this ahead of time, but it's worth repeating, and I include it in my "Guide to Life" at Points Party: Don't overextend yourself. Don't spend more than you can afford. Aim to pay your balance in full every month. No judgment here on debt — I've been there, for good and bad reasons. But never do it for the points. No amount is worth the cost of interest payments and the stress of falling behind.
How do you keep track of things like points, bonus categories, free nights, and annual fee dates?
I only really obsess over my progress toward airline status, which I built a spreadsheet to keep track of. Everything else I peek at once or twice a month, but don't really think much about until I'm planning a big trip.
Let's finish off with a few rapid fire questions. I give you enough points to take three flights anywhere in the world in economy, or one flight anywhere in the world in first class. What do you choose?
Right now, I'll take the three flights in coach. There's a decent chance I'll be able to work the system for an upgrade, or at least find the exit-row seat with unlimited legroom. (I once wrote an entire article about faking your own business-class upgrade!) But I am still more interested in seeing the world than sitting in the fanciest chair.
Top three items on your travel bucket list?
I want to spend more time in Japan, visit Vietnam and go back to China. And maybe Italy? Or Wyoming?
Favorite city you've ever visited?
Tokyo and Paris are my top two. I'll go any time I have an excuse. Or back to my hometown, Chicago, which is weirdly now a place I "visit."
Favorite airport?
I love airports! For feelings, JFK, because it means I'm about to go on an adventure or am coming home, both of which are exciting. SFO has the best food and amenities in America, at least among my regular stops. The traffic at LAX is a national embarrassment, but it's hard to beat landing in LA and walking out of the terminal on a warm evening. Madrid's Barajas is the prettiest terminal building. The Pier lounge in Hong Kong is the only one I ever think about. And I'm weirdly fond of Heathrow in London, even though a lot of things about it are terrible.
Worst airport?
Vegas. Bye!
Favorite hotel you've ever stayed in?
The Park Hyatt in Tokyo is a predictable answer, but it really is special — especially if you're staying there for free, using points — including incredible attention to detail. When my wife and I went to the pool and spa one afternoon, we left our wedding rings on the console in our room. When we returned a couple hours later, the staff had fetched a leather ring holder and tucked ours in. And yes, the pool is amazing.
Airplane drink of choice?
Sparkling water. Gotta stay hydrated! I bring at least one liter of water, too, if not two or three on long flights. Once a year or so I'll have a wine or scotch, but it's never worth it.
Can you sleep on a plane?
Yes, most of the time. Especially if I'm in biz or premium economy. Reading or a movie usually does the trick. I bring Bose QC35 headphones, and that helps.
Window seat or aisle seat?
Depends on the airplane, route, and whether I'm alone or with my wife and/or dog. But mostly aisle, because I like to get up about once an hour to stretch my legs or visit the lav, and I don't like bothering others to get up.
---
Gizmodo Media Commerce has partnered with The Points Guy Affiliate Network for our coverage of credit products. Gizmodo Media Group and The Points Guy may receive a commission from card issuers.
---