From the months of June through August, I arrive to the office each morning absolutely dripping in sweat. New York City gets all kinds of muggy in the summer, which is made about 100x more unbearable if you deign to enter the subway, a giant oven on rails disguised as a train.

There's nothing more terrible than getting really, really sweaty early in the day (and mind you, I am a very sweaty person), and then having to sit in said sweat all day long, feeling mildly damp. But that's where Everlane's recently released collection of Air Shirts come in.
The three tops in the line—the $55 Air Ruched Blouse, the $55 Air Collarless Blouse, and the $50 Air Relaxed Shirt—are made from Everlane's 100% cotton lawn fabric, but it's not, like, stretchy T-shirt cotton. Still, the material is soft (and meant to get softer with every wear) and highly breathable. As in, so breezy it almost feels like you're wearing nothing at all. Also, like most of Everlane's range of casual cool clothes, these shirts are nice enough to wear to work (or at least, for me to wear to work, I don't know what your job is) and they won't make you feel like you're being suffocated by a piece of fabric, two qualities that don't often mesh well together.
Everlane actually sent me an Air Ruched Blouse to try out for myself. I liked it right off the bat because the top is very floaty, which really aligns with my desire to only wear clothes that don't actually touch my body, and the adjustable tie neckline is a nice touch, since it gives you some control over how much skin you're showing. When I wore it to work....I still arrived pretty sweaty. But in fairness to the shirt, it was mostly my face that was sweating because this day was particularly muggy; my torso did actually feel a bit cooler than usual. Some things just can't be helped.
The shirts each come in a few pretty conservative colors, like black, ivory, and blue or white multi stripe. I opted for black because I fear sweat stains (luckily my fears were for naught!) and also, New York, but also felt tempted by the covert green color that the Ruched Blouse and Relaxed Shirt are available in. Just a warning: The lighter colors do seem to be pretty sheer, so take that into consideration when making your selection.
Anyway, as is the case with many of the brand's apparel inventions, I'm tempted to just throw out all my other summer shirts and wear nothing but Air all season long. Believe me, you will be too.

G/O Media may get a commission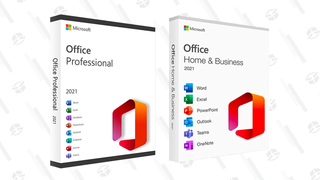 89% off
Microsoft Office Professional 2021 Lifetime License
---