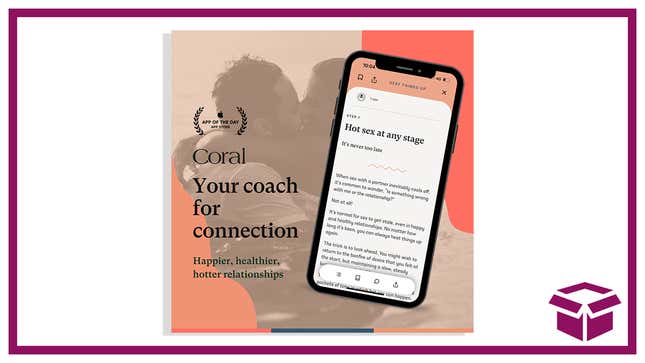 Here's an idea. Imagine if you could boost the intimacy in your relationship simply by goofing around on an app with your partner. (And by "boost the intimacy," we really mean improve your sex life.) That's the concept behind Coral, a sexual wellness app that offers guided chat journeys and exercises to help users and their partners keep things fresh and interesting. When you and your partner join, the app connects you and offers you hundreds of expert-curated chat prompts and exercises designed to make you feel more sexually connected and empowered. And right now, they're offering a free trial for new users, as well as a free membership for your partner when you subscribe with our link.
Free Trials + Free Partner Subscriptions | Coral
There's a lot to like (and trust) about Coral's approach. The app is sex-positive, queer female-founded and reflects input from hundreds of experts in the fields of psychology, sex therapy, and sexual health. Your chat with your partner is private and secure — all you have to do is follow the prompts to get started. And the reviews from users are *glowing.* One called the exercises a "game changer." And many said the app helped transform their sex lives by guiding them toward more pleasure and confidence with their partners. With more than 1 million downloads, Coral is already helping couples around the world. Use our link now to get a free trial, plus a free membership for your partner when you subscribe. The cost is $59.99 per year, or just $2.50 per person, per month.
Originally written by Elise Caplan on 6/26/2023 and updated with new information on 9/5/2023.