Getting to cover an array of products is certainly a highlight of this job. Companies courting me to review their knickknacks is definitely an interesting part of it. As the items to test roll in each month, it lands on me to feature the best of the best of that week. That's where Cartworthy comes in. I've used all these products so you know which is worth your valuable dollars.

I was gifted a few things from Food Story's new line, and the Guava Hyaluronic Acid Soothing Moisturizer was a stand-out. It smells so inviting. It's not overwhelming but has a hint of a fruity aroma. This moisturizer is especially great if you run on the dry side. My face soaked this right up after a hot shower. There is a dewiness to it after application as well. It is sheer and lightweight enough if you choose to up foundation or powder on top of it. This moisturizer is full of antioxidants to protect your skin and keep it healthy. Hyaluronic acid is known for hydrating even the driest areas and looking in good moisture. This K Beauty brand is all-natural and creates each product with vegan ingredients. I've been using the Guava Gel Scrub, and it also gets all the high marks. A truly refreshing way to start my mornings.
G/O Media may get a commission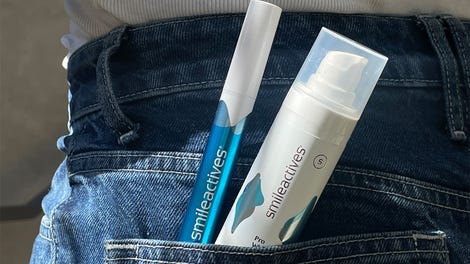 58% off
Whitening Powerhouse Pen & Gel Duo
When Hangover Hoodies reached out, I knew immediately which of their cozy oversized items I wanted. The Homies Hoodie reminds us of that pinnacle scene in the 90's magnum opus, Clueless. If you remember, Ty gets nailed in the head with a shoe, and Elton asks her the lyrics to this iconic Coolio song. Throw on this comfy cotton-blend hoodie on a Saturday morning and take the train for a ride. Nothing can go wrong when the sun is up, and you got your homies by your side.
As a Southerner, I pride myself on being discerning about BBQ sauce. I'm from Charleston, so for me, Sticky Fingers is the only one I genuinely love. But I'm open to seeing other sauces. I was pleasantly surprised by the tangy deliciousness of Lefty's Spices. This all-purpose homemade sauce is a definite must to add to your summer cookout. It's complex with its robust spices and sweet tomato base. This Maryland brand is one of the best gluten-free barbecue sauces available, and as someone sensitive to that, I very much appreciate it. Having used this on chicken tendies, fries, and salmon so far, it definitely goes the distance in enhancing bold flavoring. I'm super excited to add it to more dishes and meals. I'm sure this will be a repeat purchase.
It's been a hot second since I had an electric toothbrush, but after using the Oclean X Pro, I don't know if I can go back. This smart toothbrush generates reports through an app that includes a brushing score but don't worry; you can always improve. It will show you where you are doing the best job of cleaning, which is super helpful because I thought I did a relatively good job brushing. Boy, was I wrong. Fear not if you're on the more sensitive side; you can make adjustments. The three brushing modes (cleaning, whitening, massage) can be set to whatever level you are comfortable with. I haven't needed to recharge it yet, but it's only been a few days. Oclean boasts that you can go thirty days without having to recharge, and I believe them given the quality so far. It's available in four different colors to fit your vibe and bathroom.
The team at Crane & Canopy was so kind to send me the Plush Towel Essentials Bundle. These towels are made from Turkish cotton and woven to perfection. They are so soft and comforting to wrap around yourself after a long hot bath. This set includes a washcloth, hand towel, bath towel, and bath sheet. Each is absorbent and yet still plush and dry quickly. The team was also kind enough to monogram them, an option for an extra $10. The available colors are subtle and will blend in with any bathroom decor you already have. The hue I picked was this little purple (pictured above), but you can choose from mint green, shadow grey, mist grey, pink, beige, white, or ice blue. These would make a great housewarming gift.
Spring has sprung and at last outdoor activities are back. Finding a good pair of running shoes every year can be a challenge, especially if you have nagging injuries or general foot pain. I have been running in Kuru's Atoms for the past week, and I already see an enormous difference. The heel pain I usually feel is all but gone where it would usually linger after an hour on the treadmill. The super thick patented Kuru Cloud midsole cradles your heel, and the bottomless cushioning gives the perfect bounce and support. The Atom is Kuru's highest-performance shoe yet; this is the high-end running shoe you have been missing. Plus, the Berry Pink is so pretty.

After a few nights of not great sleep, I felt less than awesome, and the puffy dark circle under my eyes reflected that. The solution for relief was hidden in my freezer. Heyday sent me its best-selling Ice Roller a few weeks ago, and I was excited to put it to use finally. I can tell you it lives up to the hype. It provided the much-needed solace my poor complexion needed. I plan to use this in the summer when I might have stayed out in the sun too long. Several happy customers have mentioned using it to help with acne outbreaks and aid in serum application. If you're a gentleman with a bit of razor burn this would probably be a handy tool to have; it's not just for the ladies.
Living with two pets who shed a lot, I knew having an air purifier would drastically improve my apartment. The Sensibo Pure saved this day when it arrived. Once I connected to the app from my phone, we were up and running. From the app, you can adjust the light intensity, turn it off/on, schedule run times, and engage in Pure Boost through multi-dimensional scanning.
This air purifier is more sophisticated than the others I have tested. Its sensor technology is state of the art and knows immediately when the air quality changes. I cracked the window under it, and it went into Pure Boost mode to get the living room back to stasis. The HEPA filter has a triple-layered filtration system, and the app will tell you when it needs to be changed. And when that time comes, you can grab a new one with one click.
Staying hydrated is essential for many reasons. Having crisp cold water to do so makes it a lot easier. Hydros sent me its Water Filter Slim Pitcher, and after a week with it, I'm in love. I've had a Brita pitcher before, but I see why Hyrdos is the preferred one now. It filters water up to five times quicker, which makes consuming high-quality H2O so much more convenient. These filters are made from coconut shell carbon, meaning it is better for you and mother earth.
Hydros designed a sleek and classy-looking pitcher that holds a lot of water and takes up little space. This is especially helpful if you tend to have a packed fridge.
I've had a few probiotic drinks other the past year to review, and when Wildwonder sent over its variety pack, they stood out. Each can was light, refreshing, and tasted delicious, which doesn't always happen with beverages promoting gut health. This variety pack has two of each type: Guava Rose, Peach Ginger, and Mango Turmeric. I'm living for the Peach Ginger. Each can only have six grams of sugar and thirty-five calories. They are packed with prebiotic plant fiber and made with real fruit and freshly brewed herbs.
These have been used as mixers for cocktails, and I totally get it with how bubbly each is without having overpowering flavors. But believe me when I say they are just as good as an alcohol substitute.
Wildwonder is USDA Organic, vegan, non-GMO, and female & BIPOC-founded.
I got sent two of these candles, and the smell that permeates out just taking the lid off is intoxicating. So you can imagine what it smells like burning; it's 100% better. These are specific smells, but this is definitely for you if you love fresh apples, cinnamon, and whiskey. They burn clean, and the aromas will pull you right into a barn in Lynchburg, Tennesse. Each Wixology candle is made from a mix of coconut and soy wax. I've burned these candles for a few hours, and it doesn't seem like it is looking at the wax level. The side of the container says around 36 hours of scented bliss, and I believe that. The best part is that the candle holder is now a high-quality rocks glass when you finish. Don't worry if you aren't a master mixologist; you get the recipe for the cocktail your candle represents. Every candle is hand-poured in Kentucky, and this would make an excellent housewarming gift.
These have been my worktime snack this week. If you like something light with a hint of flavor and you won't feel guilty about Congo's Plantain Chips are it. There's just enough crunch to satisfy a potato chip lover, but these are a tad healthier. The bags are sizeable, even at 4.5 to 5 ounces, and one lasted me three days at my desk. This variety pack comes with three flavors: Salted (my fave), Garlic (the brand's fave), and Ripe/Maduro.
Plantains are sugar-free veggies cultivated the way bananas are. But plantains are always prepared before eating. Plantain chips are made similarly to potato chips; however, you're getting more vitamins and minerals. They are also packed with fiber and potassium and have a low cholesterol count. If you're looking to boost your afternoon snacking, do it with an underappreciated superfood.
If you've heard about Pax, it's for a good reason. This smart vaporizer takes all the elements of the last Pax device and kicks it up a notch. The Pax 3 is now my favorite way to handle my CBD flower. This handy little smart vape connects to the Pax app and heats up in 22 seconds. From here, you can control the temperature to enhance your experience. The beeps and lights help even the most technologically challenged know when it is ready to go.
The battery pack has been upgraded to handle more sessions off of a single charge. I've been using it for about a week and haven't needed to plug it in yet. You'll get a maintenance kit that is a lifesaver for cleaning. Pax is a leader in this space because of cleaner tech. However you choose to use this, the flavors, scents, and potencies are consistent in each session. The Pax 3 will change how you do what you do for the better with no harmful combustion byproducts.
Pictures do not do this beautiful throw justice. It is currently sitting on the back of my sofa. Kailu's gorgeous ultra-smooth silk throw was made for cuddling at home or on the road. Designed to be temperature-regulating, this throw will keep you snuggly watching a movie in bed or stargazing in the woods while camping. It's somehow still lightweight and easy to roll up, making it ideal for travel. As someone who loves 50s Asian-inspired decor à la Trudy's home in Mad Men, this was a dream. I couldn't say no when they offered to send me this. The reds, pinks, greens, and jades pop and look brilliant against my grey sofa. The Shanghai peony-and-bird pattern is printed on this soft bright emerald linen. The detail is mesmerizing. You also get a drawstring carrying pouch to keep it safe while in transit or not in use. But it's so pretty I doubt you'll want to hide it away like your other seasonal blankets.
Ps. Enjoy the very chic silk sleep mask that accompanies the throw too.
The Z2 Headphones were my go-to gym set. They went up to technology heaven a few weeks ago, and the lovely people at Trelab sent me a new pair. The Z7 Pros are new hybrid ANC headphones great for commuting, working, and the gym. I use these headphones quite a bit to make calls when I run errands or when I'm doing laundry or chores. The microphone is crystal clear, which is excellent for my mom, who isn't always the best at listening to me. They are comfy for hours of wear. I just had them on for 3 hours while editing and I will toss them back on for an hour on the treadmill tonight.
They connected seamlessly and quickly to my phone so that I could listen to Armchair Expert on my coffee run. What Trelab does well with all its products is the quick charge. Getting 5 hours after plugging them in for 20 minutes is fantastic. This is an outstanding feature if you forget to charge them before you head out. But I don't need to charge fully that often; you will absolutely get over 40 hours of battery life when fully powered up. All in all, the perfect pair no matter your lifestyle. Trelab is a great brand you can't go wrong with.
I'm a big fan of silk pillows. Beauty experts and dermatologists give them high marks as they help prevent breakouts and keep fine lines at bay. I've had the very pretty "whisper pink" pillowcases from Eucalypso on my bed for the last few weeks. Apart from being smooth, they have a cooling feature that came in handy one night when I was running a slight fever. Made from eucalyptus fibers they're also naturally hypoallergenic and antibacterial. Get the perfect night's sleep on a gentle pillowcase that keeps your hair tangle-free. If you want to add a pop of color to your sleep station and treat yourself, this set is a great pick.
If you're like me and brush your teeth first thing in the morning, you know it's a hygienic way to start the day. Since getting these dental chews from Jinx, my dog Benny now gets to do the same thing. Once my old king awakens from his slumber he is treated with a soft chew. These bone-shaped little wonders help protect him from plaque and tartar buildup. They even keep his breath in check and aid in gum health even at almost fifteen years old. It also gives him something to do for a few minutes if I have to hop on a zoom or phone call. They come in two sizes depending on your pupper's weight.
I was gifted a variety box of Plant Apothecary's Body Washes. My favorite thing about this brand is that its collection is designed to be unisex, organic, and created with essential oils. Scent is something that is very personal; everyone prefers different aromas. And this line definitely runs the gamut of smells. I actually love very floral scents, but the one that stood out was "Calm Down." It was incredibly understated but really pleasant. A soothing blend of mint, chamomile, and lavender eases the stresses and leaves you feeling refreshed after a hot shower. Each body wash is made with coconut and jojoba oil so your skin is smooth and soft for the rest of the day or night.
Who doesn't love cookies? Even more so when they're gooey and stuffed. An assortment of Dirty Cookie's best-selling stuffed treats turned up and became my favorite late-night snack. Sticking one of these in the microwave for 15 seconds is a game-changer to the baking world. Each of the three options (Chocolate Chip/Nutella, White Chocolate Chunk/Cookie Butter, and Double Chocolate Chunk/Marshmallow) is full of so much flavor in every bite. Personally, White Chocolate Chunk was my favorite. Impeccably filled with velvety and creamy cookie butter spread, it was an exceptional treat to accompany a hot cup of tea. All of these are certified Kosher and have no flavor substitutions. This set would make an outstanding gift for a pal who loves sweet goodies.
These cookies do contain nuts, so they're sadly not ideal for a friend with an allergy.
I love the projector I have from Vankyo and I've used it a lot, for everything from streaming movies to watching sports and playing my Switch. The only downside is it's getting a bit old and it's rather large. So when the opportunity came up to test a new projector, I couldn't say no. HP's Citizen Cinema Projector is a sleek and upgraded solution. The interface is much more user-friendly and there is a seamlessness in transitions that is lacking with my current option. The autofocus is also a huge difference. And just because it's compact didn't make it less loud or have any of the visual quality diminished. I was able to plug my Fire Stick right in without issue. The connection had no lag. I had the same experience with my Nintendo Switch dock. The only downside is there is only one HDMI port but it's not really an issue for me personally, as I'm never using both of those devices at the same time. If you're looking for a high-quality projector that won't take up a lot of space, HP's got you covered.
I was sent Rowan's Hair Wash and Coat Refresh for my 14-year-old Jack Russell this week. Benny is and always has been a shedder. Rowan is formulated for pooches with coats that don't shed, but all breeds can benefit from a bit of pampering with this combo. If your pup has longer fur, this is an ideal wash as the detangler is one of its key features. But even if you have, say, an old terrier with medium-length coarse fur, you can see the difference too. Benny was left feeling refreshed, soft, and ready for Best in Show.
The Hair Wash doesn't have much of a scent but lathers super well and rinses out easily. It's a bit more potent than others on the market, so using it to wash Benny was a quick and painless process, which made us both very happy. The Coat Refresh does have a light but pleasant coconut smell, perfect for in-between baths or trips to the groomers. It's also good to have if your dog gets a bit of a pupper funk.
Both products are free of sulfates, parabens, silicones, and potentially harmful substances. They were concocted with clean skincare and haircare science from top veterinary dermatologists.
I'm all about a bright, bold lip, and a red tone is a must-have staple for your beauty arsenal. I was sent a few from Noyah, a cruelty-free brand produced in the US, and this Burlesque shade emerged as my favorite. For its sheerness, it is still very much pigmented. This natural lip gloss is infused with coconut oil and shea butter. That helps your lips stay shiny, hydrated, and even a little plumper. I love the design too. The bamboo material is not only eco-friendly but stylish as well. Each product is beautifully decorated with what looks like cherry blossoms. There are 10 shades in total, running from a dramatic brick red to a soft and subtle peach. I'm excited to see what else this brand has in store, as it already has high marks from me.
I've been using Embr Wave 2 on and off since I was sent a tester in December. At first, it was to ease me off to slumberland but now it's a gym companion. This wristband is designed to carefully discriminate thermal sensations to help ease hot flashes, night sweats, sleeplessness, and anxiety. It's super easy to use and connects to an app via your smart device, making it very user-friendly.
I did find the most intense settings for both hot and cold initially were too much. But after more consistent use, I fell in love with the highest cool setting when I'm working out. It may look like a smartwatch, but this minimalistic gadget only has two buttons and no screen. It also holds a charge and powers up quickly. I find I don't need to lay it on the charging pad all that often throughout the week. You can customize each session to your liking, but there are presets to help get you started.
Unsurprisingly, it's recommended you use the Embr for 2 weeks before seeing the full results. This is so your brain and body can work together to help rewire the behavior you're trying to change or calm.
JuneShine is hard kombucha. I know it sounds like it could be disgusting. But boy was I pleasantly surprised. I've actually bought another case of the Honey Ginger Lemon since I was sent the sample pack last summer. It might just be my personal preference, but this was far and away the most palatable and most delightful flavor of the bunch. And with 6% ABV, you definitely can feel the buzz after a can or two.
JuneShine is gluten-free, organic, and sustainable. This hard kombucha is fermented twice: first, to create a clean foundation, and then again with yeast and organic cane sugar to ensure a delicious boozy blend. Brewed with green tea and honey, this mixture is less harsh than others you might have experienced.
Although this was my favorite, as I like something a little lighter and not as hoppy when it comes to adult beverages, JuneShine currently offers four other flavors and a seasonal one. But if you're ever in San Diego, swing by their tasting room and sample 12 rotating flavors on tap.
I'm a huge fan of Hope Larson, so I was more than excited when her new graphic novel turned up at my door. Her all-ages comics are some of my favorites as was her run on Batgirl. Salt Magic is a beautiful story that continues her excellence as a writer in the comics sphere.
It is a tale of recovery, family, love, responsibilities, and how those can all change in the blink of an eye. Toss in a bit of magic and our young heroine Vonceil and her elder brother Elber are in for a journey. They encounter frightening relatives, shapeshifting animals, and witches ... lots and lots of terrifying witches who hold grudges. Set post-WWI on an Oklahoma farm on the brink of ruin, Salt Magic is charming, thrilling, and a great read for any age.
Complemented by the artwork of Rebecca Mock, which perfectly captures all the suspense and tenderness as the tale unfolds, there is nothing too scary or salacious here, but I would recommend Salt Magic youths of at least pre-teen/tween age.