From Tony Soprano to tech dorks, the bathrobe provides a coveted mix of gravitas and coziness that no towel or blanket could provide alone. It combines all the benefits of a robe with none of the pressure to be some sort of warrior-monk. Plus, lighting a cigar in a snuggie just doesn't feel the same.

The bathrobe is the perfect article of clothing. What a good suit is to special occasions, a good bathrobe is to all the unspecial occasions in life. And those are far more numerous.
If you don't have a bathrobe, it's probably because you haven't considered that you can. After all, the right bathrobe for you isn't always obvious, and hitting the sweet spot of luxury and price can be tricky. A bathrobe can be a grim, grimey cloth, or an ultra-lush, $200+ splurge that get charged to your hotel room when you "accidentally" take it.
That's why I'm obsessed with Kemusi Bathrobe.
This bathrobe feels like an extra hour of sleep, or a phone battery at 100%. Not only do you feel great, but you feel better than you should.
Chase that feeling.
It's lush, comfortable, and looks as good as it feels, taking the piece to a slightly elevated place. The plush fabric warm and surprisingly breathable, making it functional for cold days without getting too sweaty. Plus, with that Instagram-chic hood, you aren't a slob wearing this; you're an influencer. Even if you're just influencing yourself to a mid-day nap.
All that makes the Kemusi bathrobe a strangely intimate and flexible gift that meets your person where they are. Getting someone a book, a smoothie maker, or, god forbid, a cooking class? Forget it. We all deserve to pursue the uncontested happiness of a good bathrobe. And, besides: if you're going to be a slob, be one with a cozy drip.
G/O Media may get a commission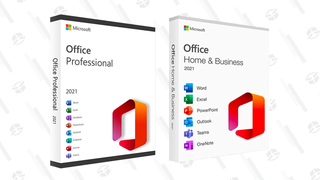 89% off
Microsoft Office Professional 2021 Lifetime License
You can also get one for yourself. For under 40 dollars, you're getting a permanent upgrade to your pajama suite. Besides, you'll probably save that on heating bills, or the price of another blanket. There's definitely some math you can use to justify this.
If you're going to make any impulse buy, follow the coziest impulse you have. Get a bathrobe. Rule your couch.
---