Cookbooks can be nearly indistinguishable from coffee table books: beautiful to look at, and more works of art than a series of instructions for recipes. And those gorgeous (and gorgeously photographed) books serve their own purpose. They can be fun to flip through and, indeed, will look good on a coffee table or bar cart. But if you want to give someone the gift of a cookbook they'll actually use (time and time again), you'll need to do a little research first.
So what makes a cookbook a repeat offender? I'd argue that it's one that has recipes designed for the home chef without too many expensive, hard to track down ingredients. They also should make delicious food, which seems obvious but is more elusive than you'd think. A lot of gorgeous cookbooks these days focus on stunning ingredients planted elegantly. That's great, but we don't all live in California. Good recipes should turn out well even if you have to go to Kroger for your produce and can't rely on locally-grown mini eggplants grilled and served with local cheese and bread. A lot of cookbooks are also all about presentation, and advanced bakers might appreciate learning how to make intricately decorated cookies and cakes. But, in general, I want a really really good cake before I want an OK cake that looks like a unicorn.
While there are some guideposts you can use to finding a cookbook with a strong reusability potential, there is no formula. Food bloggers, often without any strict culinary training, can create cookbooks full of weeknight classics or simply things that photograph well but don't inspire sighs of satisfaction. Similarly, I've found cookbooks from the pros — those with culinary degrees — can sometimes get it so right and so wrong. When it's right, you know you're getting a person's expertise distilled down into the perfect roast chicken or loaf of bread. But sometimes, their extensive mastery of techniques and, often, background in restaurants, can make recipes unapproachable for the home chef. Instead, it's been trial and error that has guided me to a select few books that are covered in food stains and bookmarked with old grocery lists and junk mailers. If you want to get the food lover in your life (or just yourself) the gift that keeps on giving, here are a few cookbooks that have brains and beauty.
Honestly, you can't go wrong with any of Yotam Ottolenghi's cookbooks. Plenty and Jerusalem are also chocked full of recipes that surprise you with the way simple herbs and spices can be combined to make a really unique, fresh dish. But, with his other cookbooks, you're often left with a stellar dish that requires another dish to make it a full meal. Simple, on the other hand, is full of recipes that work great alone or are easy enough to make that you can make one side and one main from the cookbook without wrecking the kitchen. Plus, the book also rightly recognizes that "simple" can mean lots of things to different people: short cooking time, for example or a short ingredient list. All recipes are coded for easy reference for just what makes it simple, including make-ahead, pantry-focused, and ease of cooking.

G/O Media may get a commission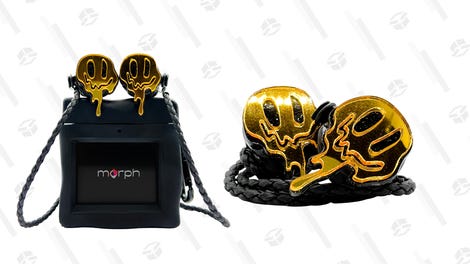 morph audio
Morph Earphones
I love classics like The Joy Of Cooking and Mastering The Art Of French Cooking, and they certainly have a place on any serious cook's shelves. But, as seminal as these texts are, the recipes can feel dated and stodgy. If you want a comprehensive, modern version of the "how to cook everything" variety, it doesn't get better than The Food Lab. It's not a weeknight meal-type book, but it's an excellent place to go for the best techniques and definitive recipes for classics dishes.

America's Test Kitchen has a cookbook for nearly every interest (cookies, families, pressure cookers, etc), and all recipe are rigorously tested by their cooks. (Full disclosure: I worked there briefly in 2013, but I also worked there because I was a huge fan and have remained a huge fan since leaving.) Much like with The Food Lab, Test Kitchen recipes try a variety of techniques, ingredients, and cooking methods to bring you the best classic lasagna or chocolate chip cookie. You really can't go wrong with any of their stuff, but I particularly love Cooking for Two because it offers a solution to an all-too-common problem: many recipes just make too much food! As far as I'm concerned, this is the definitive text for cooking for two, and makes a great gift for couples.

There's something very 2018-2019 about Alison Roman's cookbook. The high-contrast images and just-messy-enough aesthetic certainly feels very trendy and certainly puts it in relation to a bunch of other cookbooks published in the second half of the second decade of the 21st century. Unlike many of those other cookbooks, however, you're going to want to cook a lot of Roman's recipes — again and again. This is the perfect gift for the friend who loves hosting and nights in.

This cookbook was recommended to me by a friend who is a working mom to two toddlers — an idea that makes me so tired I had to take a nap after typing that sentence. She says Tieghan Gerard's recipes are in a near-weekly rotation in their home. Gerard specializes in simple, unfussy recipes with a twist, making the everyday feel more special.

I love cocktails. But, for years, I would buy fancy cocktail cookbooks that would just sit on my bar cart and get sticky from spilled simple syrup and maraschino liqueur. Then I discovered the Darlingtons, and The New Cocktail Hour. The sibling duo aren't bartenders, which means their book has a refreshing lack of difficult-to-source ingredients. Instead, these recipes can mostly be sourced from a well-stocked bar. (And they tell you what a well-stocked bar would have.) They even provide sample menus for a cocktail party, allowing you to mix up several drinks with a few base ingredients and boozes.

Where Melissa Clark leads I will follow. And her cookbook of dinner recipes is a place I will go again and again. Her recipes are designed to be a complete dinner, and take expected classics and add interest, like burgers with chorizo, or sheet-pan chicken glazed with a delicious sauce. It's one of those books you can reference before running off to the grocery store for a last-minute meal.

If Alison Roman's cookbook gives off a cool city girl vibe, Julia Turshen's Small Victories feels like it belongs on the shelves of someone who left the city behind to live in a cabin full of linen aprons and linen tablecloth and just linen generally. But you don't have to live in a cabin with heirloom-quality fabrics and flatware to enjoy this cookbook. It's food that's simple and wholesome but not so simple that you'll get bored. Instead, it's a reclamation of classics that feels exciting in its ease.

There's something kind of gimmicky about a brunch cookbook, and there are plenty I would just as soon pass up than buy. But Joy Wilson's celebration of all things brunch somehow avoids the pitfalls of similar books. Maybe it's because her recipes manage to be approachable and innovative at the same time. Maybe it's because not all recipes have to be saved for brunch: Plenty recipes can also be used to make a hearty weeknight dinner or even weekday breakfast. Maybe it's just that the same love of decadent, homemade treats, both sweet and savory, that can be found in her blog are found in these pages. Whatever it is, I want a second helping.

Questlove's cookbook is structured as if he threw a potluck dinner and everybody came. And here, "everybody" ranges from Maya Rudolph to Eric Ripert. It works so well because it's like a famous version of what you already know: Every friend has their signature dish, whether it's a dip or salad or cake. Now, instead of your work friend's perfect quiche, it's Amy Poehler's recipe you get to steal.

---