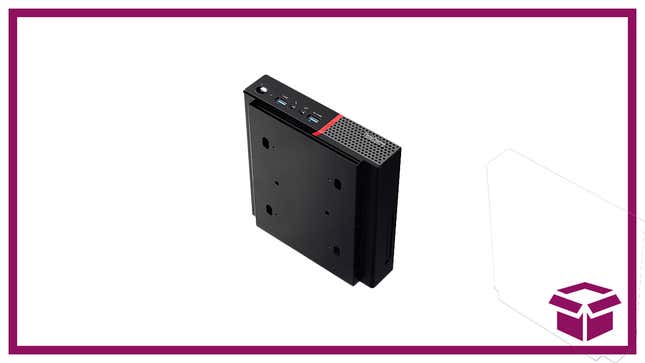 Snacktaku Drinks Pepsi's Time-Jumping 1893 Cola Flavors
Need a desktop that's small, yet powerful enough for your daily tasks and you don't want to spend a premium for it? We can solve both of those problems for you. And you can do so while not blowing up your budget. Pick up a Grade A refurbished 2017 ThinkCenter M900 Tiny at StackSocial for an unbeatable price: $200, which is 42% off its normal price.
2017 Lenovo ThinkCenter M900 Tiny 256GB| $200 | StackSocial

Stuffing the latest 6th Generation Intel Core I Series processor and 16GB of memory into its ultra-small body, the M900, can handle even more applications and browser tabs than the first-generation – and without any lag. With Lenovo Smart Meeting Room Solution and Intel Unite, you can connect wirelessly and securely to a meeting room display with your laptop or tablet – without having to search for the correct cord. It also offers several different mounting solutions, including support for standard VESA mounts and Tiny-in-One configurations for up to three different monitors, which makes this desktop a modular all-in-one, while being a space saver. And it enables remote access for IT to diagnose, repair and automate security updates, even when the computer is off! Plus, with 256GB of storage, you'll have more than enough space to store those countless Excel spreadsheets, documents and more. This won't last long, so if it sounds good, better pull the trigger now.
This story was originally published by William Helms on 04/07/2023 and updated with new information by Blake McCourt on 4/24/2023.