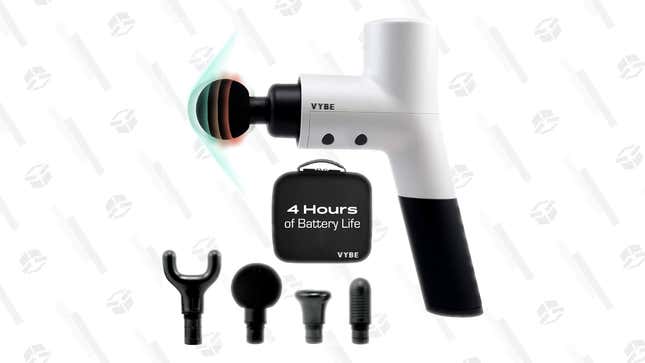 Need some extra help resting and relaxing? The Vybe Percussion Massage Gun Pro is exactly what you need. This multi-functional massager is great for breaking up muscle knots after you work out hard, and it has five speed settings with four interchangeable attachments. You just attach them and go to work on those problem areas, letting the gun prod, knead, punch, and essentially wail away on your body until it feels better. It might sound weird, but it totally works.

Vybe Percussion Massage Gun Pro | $100 | Amazon | Clip Coupon
So no matter what kind of pain your body might be in, you can work it out a bit with this handy little tool. It's quiet, strong, and perfectly portable; all in all, a perfect purchase for you or gift for that sore athlete in your life! But here's the caveat. If you want a Vybe Massage Gun, you're going to have to act fast. It's only available today, so get yours while you can!

Update: This article was originally published by Brittany Vincent at 10:00 AM on 2/20/23 and has been updated to reflect current information by Jason Coles.