Featured Product: Apple Watch SE (40mm) | $249 | Amazon
Watches very rapidly evolve beyond being something you wear into something that's just a part of you. It means that you'll likely end up forgetting that yours is there a lot, and that means it'll get more rough treatment than you might like. Maybe you keep knocking yours on your doorways as you walk around, or maybe you get it snagged as you're getting dressed. One of the biggest worries though, is when you forget to take it off when washing up, or showering, or maybe even going for a swim. That's why you need a watch that's got some water resistance.
It's worth noting that there are no waterproof smartwatches. Water resistance means you can go for a light dip, or it won't be the end of the world if you do forget it's on when doing the dishes, but you're never going to want to submerge it for a couple of days because that'll break it. It's a touchy subject because some device makers have even been sued for lying about this stuff, but we're not going to do that.
Yes, the title says waterproof, but that's what people are searching for, and we don't want to lie to you, hence this little explainer. Also, make sure you grab a decent silicone strap too, because all water-resistant devices eventually give up, and the strap can often be the first thing to fail.
With that all out of the way, let's talk about the best waterproof watches, even though we mean the best water-resistant smartwatches. It's complicated, but don't blame us for it, blame The Algorithm. It guides us all, controls us all, and also helps us all find things we need and sometimes learn things.
G/O Media may get a commission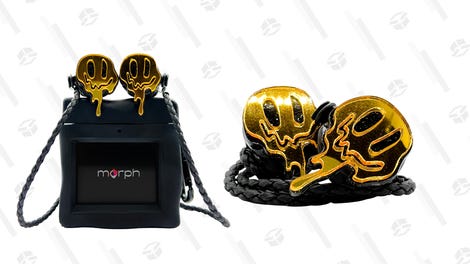 morph audio
Morph Earphones
The Apple Watch has been at the forefront of smartwatches for ages in nearly every respect. Love them or loathe them, Apple really knows what they're doing. The Apple Watch Series 7 is undoubtedly one of the best smartwatches in general, and because it's also water-resistant up to 50 metres, it's also one of the best waterproof smartwatches going too. As we mentioned above though, it is worth paying attention to the caveats. If you like Apple but not enough to splash out this much money, then the Apple Watch SE is a stellar alternative that starts at just $279.
Best Waterproof Smartwatch for Android Users: Samsung Galaxy Watch 3
Got a Samsung phone or another Android? Samsung's Galaxy Watch 3 is a compelling alternative, although it looks and acts nothing like the Apple Watch. It's more traditional in style, but still has plenty of activity and health tracking features, multiple size and style options, multi-day battery life, and the option of an LTE version. It's not advertised as a swimming watch, but Samsung offers up tips for using it in the water. The Galaxy Watch 3 is a bit large and clunky if you're going to be using it a lot for fitness, but the streamlined Galaxy Watch Active 2 might be a bit more up your alley.
Smartwatches from Apple, Samsung, and Google are designed as all-purpose wearables with activity tracking, but Garmin's watches make fitness tracking the biggest focus. Garmin's Vivoactive 4 is well-priced and offers 50m of water resistance, along with swim tracking functionality built-in. It has some limits when it comes to swimming workouts, such as being unable to measure your heart rate while submerged, but otherwise it offers stellar all-around versatility.
While Garmin has been making fitness trackers for almost two decades, some folks prefer the software and ecosystem provided by Fitbit. Their Versa 3 smart watch, for example—which comes with the same 50m of water resistance—contains Alexa and Google Assistant built-in for voice control, unlike the Vivoactive 4. It also has a nicer display, if you care about such things. It might not offer quite the wealth of tracking information, but it's no slouch, so it's a great alternative if you prefer the cut of Fitbit's jib.

Best Waterproof Fitness Tracker for Swimming: Garmin Swim 2
If you care more about swim tracking than you do smart watch features, look at Garmin's Swim 2 fitness tracker. It's a bit lighter on everyday smart watch features, and has a much more basic, non-touch screen—so it isn't for the do-it-all smart watch enthusiasts. It does, however, excel at tracking swimming workouts, allowing you to see your heart rate underwater, track open-water swims, and show a ton of other useful stats that other watches don't. (It has some basic running and other fitness tracking built-in too, so you aren't limited to swims). If you really want to dig deep into your swimming workouts, this is the watch you want.

Best Smartwatch Water Resistance Rating: Coros Apex
Like the Swim 2, the Coros Apex is a fitness tracker first, smart watch second—with a non-touch design to match. However, as a multi-sport tracker for outdoor enthusiasts, it's been designed to handle the elements a bit more than the others on this list, with a 100m water resistance rating—with some swim tracking features built-in (though maybe not quite as versatile as the Garmin Swim 2).

The Most Watch-Looking Smart Watch: Fossil Gen 5
Fossil's smartwatches are, frankly, the most "watch"-like of the options out there. If you're looking for something that's closer in appearance to an everyday watch—while offering smart features like notifications, voice control, and some activity tracking—Fossil's Gen 5 watches are some of the best. They do, however, have a slightly lower water resistance than the other watches on this list at only 30m. Fossil says any watch with a heart rate sensor, including the Gen 5 smartwatches, are "swimproof" (there's that word again) and has passed a 10,000-stroke swim test. Though on the same page, they also say they do not recommend their 30m watches for swimming, so you can see how manufacturers get themselves into trouble. I personally wouldn't use it for swimming workouts, but if you're just looking for something to withstand the occasional splash, Fossil's Gen 5 watches should be fine...provided Wear OS can overcome some of the issues it's been having lately.

This story was originally published by Whitson Gordon on 03/05/2021 and updated by Jason Coles with new information on 01/31/2022.