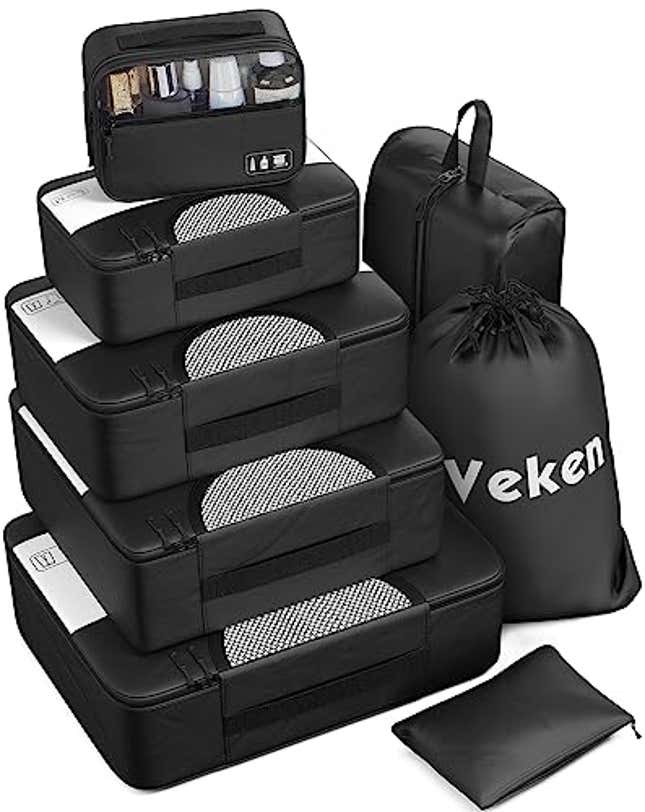 Are you tired of rummaging through your suitcase to find a specific item? Do you struggle to keep your clothes and accessories organized while traveling? Look no further – the Veken Packing Cubes set is here to revolutionize your travel experience. With its vibrant colors, various sizes, and durable design, these packing cubes are a must-have for any savvy traveler.
The Veken Packing Cubes set offers a total of 8 cubes in a range of sizes, including Extra Large, Large, Medium, and Small. Whether you're packing for a weekend getaway or a month-long expedition, these cubes provide a solution for effortlessly organizing your luggage. Each cube is carefully designed to efficiently utilize the space in your suitcase, maximizing your packing capacity. No more wasted space or wrinkled clothes!
One of the key advantages of the Veken Packing Cubes is their high-quality construction. Made from durable, water-resistant nylon, these cubes can withstand the wear and tear of travel. The double zippers glide smoothly, ensuring easy access to your belongings. Additionally, the mesh top panels allow for breathability, preventing odors and keeping your clothes fresh throughout your trip.
Not only do these packing cubes simplify your packing process, but they also make unpacking a breeze. Instead of digging through a jumble of clothes, simply remove the cubes from your suitcase and place them neatly in your hotel drawers. No more frustrating unpacking or re-packing – you can now effortlessly locate and organize your belongings.
Furthermore, the Veken Packing Cubes set comes in a range of vibrant colors, adding a touch of fun and style to your travel essentials. The different colors help you easily differentiate between items, making it even more convenient to find what you need. The set also includes a laundry bag, perfect for separating dirty clothes from clean ones.
With a 23% discount plus a coupon for an additional 15% off, the Veken Packing Cubes set is currently available on Amazon for only $19.55, down from $29.99. Don't miss out on this fantastic deal – upgrade your travel organization game today! Click here to purchase your set of Veken Packing Cubes and experience the joy of hassle-free packing.