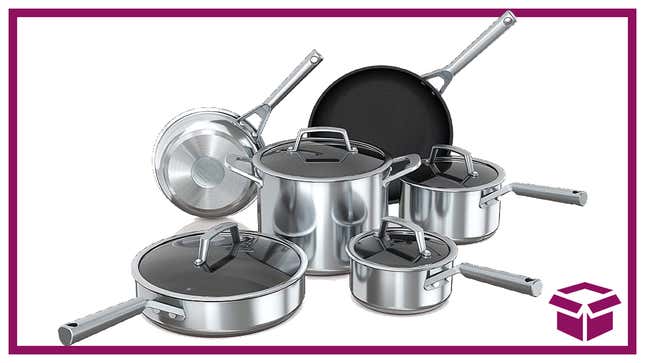 As a newbie home cook, you've probably cobbled together cookware leftover from college and random pots and pans your roommate has around (you get along, it's cool). Buying a full cookware set is a total level-up—and this Ninja Foodi stainless steel set is $160, down from $390. No more scrambling, because every one of these pots and pans has a lid. A transparent, glass lid, too, so you can see what's cookin' inside.
Ninja Foodi NeverStick Stainless 10-Piece Cookware Set | $160 | 59% Off | Amazon
Stainless steel, and of course, nonstick, this 10-piece set will set you safely on your cooking journey. They're also oven safe up to 500°F, which rocks for all your searing and shakshuka needs. Designed with an aluminium core, these pots and pans heat food evenly. 59% off is a heck of a sale—happy cooking!