My skin care and makeup routine is a little excessive to most, pared down to some, but it's a complete mish-mash of expensive and affordable products. Everything on this list is under $10, something I've used or currently use, and should probably be twice as much.

---
After years of using a $30 concealer from NARS, I decided to finally try out something a little more wallet-friendly that still promised coverage and didn't give out after a couple hours. Not the easiest task for a concealer, but Colourpop's No Filter Concealer did it. It's creamy and blendable, but it's got enough pigment to cover my past night's sins.
It also doesn't hurt that it's $6. My only note is that because it oxidizes, a lot, I would go a shade lighter than you think you'd need. And, as per usual, the shade range is... limited at best.
---
G/O Media may get a commission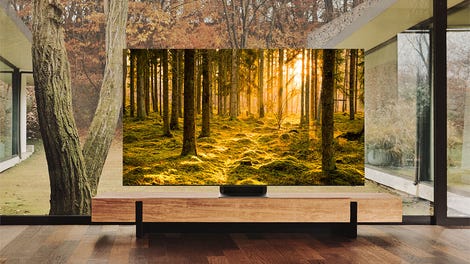 Up to 40% off
Samsung Smart TVs
Do you want brows that look effortlessly disheveled without paying Boy Brow prices? Make Me Brow from Essence is my go-to for when I finish my Boy Brow and just need something good for when I work up the courage to buy a tiny tube of brown goo for $20.
Most of Essence's products are amazing quality for the price, but there isn't anything else for me to write home about, besides Make Me Brow. The spoolie is perfect, the consistency is thick but easily workable, and it costs less than my morning coffee.
---
Technically, these aren't under $10. But, if you sign up with Biossance, they'll send you two free deluxe samples of their 100% Squalane Oil and Squalane + Vitamin C Rose Oil. Also technically, they're not free because you have to pay for shipping. But it's $5, and I did this a couple weeks ago and have been debating buying the full-size of the Squalane + Vitamin C Rose Oil ever since. I still have many more days with them though, because a little goes a long way.
---
I was hesitant to add The Ordinary, because of the whole Instagram melt-down thing. But, after everyone in the comments requested it, I will share my ride-or-die skin care product of all-time, not just from this brand. After trying a sample of the Drunk Elephant Babyfacial and debating eating Cup O'Noodles for a month to justify it, I found The Ordinary AHA 30% + BHA 2% Peeling Solution.
No, it doesn't smell great (like rotting vegetables and vinegar) and yes, it looks like you just murdered someone and smeared blood on your face, but holy shit, does it make your skin smooth. You only have to have it on for 10 minutes and you only need to use it twice a week. It's one of the only facial treatments where I actually saw a difference after the first use.
Note: I've also tired their hyaluronic acid and niacinamide and would also recommend, but if you want a skin overhaul, get the Peeling Solution.
---
Micellar water wasn't an overnight cult-favorite in the States; it slowly creeped its way into magazine articles and celebrity recommendations. I mean, heck, it took me until about two months ago when I saw a commercial for Garnier's SkinActive Micellar Water to know how to even pronounce micellar (it's mice-ler).
Originally hailing from France, the land of pharmacies that carry amazing skincare products and not just Doritos, micellar water draws out all that gunk stuck on your face and easily takes off makeup, without rubbing or irritation. And to me, Garnier SkinActive has that formula down. I'm almost done with my bottle and am waiting for my next one to arrive, because I don't want to be a day without it.
---
Having an under-eye primer may seem like an extra step not worth your time, but when you have bags and dark circles like mine, you do that extra step, and you like it. Physician's Formula makes a little stick of heaven called the RefreshMint Cucumber and Bamboo Eye De-Puffer, and it does just that. It's cooling, de-puffing, and minty (but not in that sting your eyelids, tear up till you can't see kind of way).
---
L'Oreal Lash Paradise is no effing joke. I am mad that it took me this long to find a holy grail drugstore mascara, but I'm even more terrified that L'Oreal will snatch it from my appreciative hands like Revlon did with Grow Luscious (yes, I'm still mad. No, you won't change my mind).
Just look at my dang lashes, people.

This pink tube, arguably a dupe for Better than Sex by Too Faced at 1/3 the price, does wonders. To be fair, BTS was chunky and did nothing for me. But Lash Paradise is the benchmark at which all other mascaras will be judged, and probably fail. Plus, it's around $7 and included in most drugstore coupons.
---
I usually hate eyeshadow, but Colourpop's Super Shock Shadow has changed me. This little pot of sort-of-creamy, sort-of-powdery shadow is the easiest thing to put on and keep on your eyes all day. It doesn't budge or flake, like a lot of creamier shadows do, and it's got the right amount of pigment that allows for blending but doesn't look like '80s prom night.
---
Inivisbobble sounds like something your 4-year-old cousin named their new invention, but it's actually an incredibly genius little thing. It looks like a modified phone cord and it also looks like a hair death trap. The first time I saw one, I was convinced I would end up with half my hair in my hand by the time I tried to pull this thing off of my skull.
But this little swirl of wonderment came out, even from wet hair, without tangling in my almost-waist-length hair. After leaving it in over night, I woke up crease-free. I genuinely couldn't believe that in all of my years of having long hair, a small ring of resin from Sephora that looks like something you would find in a Pretty, Pretty Princess game, changed everything.
---
You know that moment when you put a face mask on and you sit down and you can just feel it sliding down your face like a giant bead of sweat? Yeah, the Leaders' Coconut Gel masks don't do that.
These masks aren't made from cotton like most masks, but with bio-cellulose coconut gel. They have two sides to peel off, revealing a very slippery mask that feels like the missing link between a liquid and a solid. It delivers product beautifully and does. not. budge. The Mediterranean Olive is my favorite, but the Balancing Recovery Mask is also really nice for days when you don't feel like washing your face but also want to treat yourself.
---
It may just look like a tube of $3 lipstick, but the e.l.f. Cosmetics Lip Exfoliator is brilliant. Why don't more people put lip scrubs in lipstick bullet forms? There's no fussing with dunking your finger in gritty goo and attempting to gracefully slough off dead skin. Just twist and go to town on your dry skin.
The Lip Exfoliator comes in a bunch of different flavors (scents?), but I always go back to the Brown Sugar, as it's the most telling of its scrubbing prowess.
---
Burt's Bees Tinted Lip Balm is like the Golden Retriever of lip balms: reliable, playful, albeit a little vanilla, but always there to add a little something extra to your day. You can swipe this stuff on without a mirror because the pigment doesn't clump or pool, even if your lips look like the Salt Flats. The peppermint oil usually found in Burt's Bees lip balm is replaced with Shea butter, creating a formulation that moisturizes without feeling sticky or oily.

This little brown tube boasts an all-natural tint that stays on for a surprising amount of time for just a simple balm, usually only needing one or two re-ups a day. It comes in various barely-there neutral and red shades, but I've remained loyal to the deep, brownish-red shade Red Dahlia for a while.
---
The Montagne Jeunesse Black Seaweed Peel Off Mask is like a Bioré Pore Strip, but for your entire face. Just, uh, ignore the nightmare packaging.

The first time I used this $2 mask, I was incredibly skeptical, mainly because the packaging is absolutely terrifying and definitely cheap-looking. But now, I tell every single person asking for face mask recommendations to buy it. It's cheap and it works better than any other cleansing mask I own (and I have an entire shelf dedicated to face masks in my bathroom).