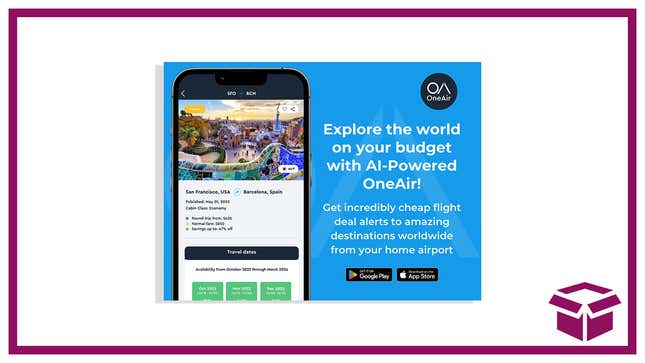 Finding the best domestic or international flight can be a pain — particularly when your search results are full of sky-high prices. But a membership with OneAir takes the hassle out of the process, allowing you to set up email and mobile alerts for discounted fares involving specific departure airports or destinations — and members report that the AI-detected discounts are significant. Now, OneAir is offering two major deals on their lifetime membership tiers: a Premium Membership for $59.99 (a 79 percent discount) or an Elite Membership for $109.99 (an 86 percent discount).
OneAir Premium Membership | $59.99 | 79% off | StackSocial
OneAir Elite Membership | $109.99 | 86% off | StackSocial
The tiers operate in similar ways, with Premium focused on Economy Class fares and Elite tracking fares across all cabins, including Business and First Class. You can search destinations based on your budget, as well as focus the searches on a specific set of departure airports. Premium members see roundtrip Economy Class deals such as Ireland ($281), Spain ($278), Japan ($385), and Hawaii ($96). Elite members are getting similarly impressive roundtrip Business Class deals on Spain ($1265), France ($1302), London ($1329), and Dubai ($1466).
And reviewers don't hold back when asked about the deals they've received. One saved $1,380 on Economy Class flights to Prague, paying just $310 per person. Another saved $2,459 on a Business Class trip to Paris. "Highly recommend getting on their elite list," she wrote of OneAir. "The deal platform is so simple and so easy to use."
Check out OneAir's Premium and Elite Memberships at StackSocial — now 79 and 86 percent off.