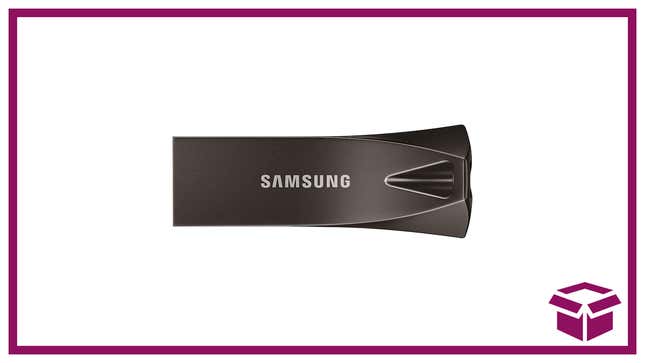 Samsung is running some great fall sales, and it's making us think about filling the holes in our tech arsenal. One of those holes is a great USB drive — and of course, Samsung's got an impressive one for just $14. With 128GB of space and transfer speeds of up to 400MB/s, it'll serve you well (and quickly) as you move files from device to device. Plus, the designers have thought of everything — it even has an integrated key ring to make sure you never lose it.
BAR Plus USB 3.1 Flash Drive 128GB - Titan Grey | 43% off | Samsung
Users are loving this USB drive, including the following reviewer, who considers it the best on the market: "I purchased over 80 different sets of flash media for testing to determine the best/falsest/most cost effective for use in a very large deployment of new systems. The Samsung Bar Plus line tested the best accross [sic] the board. I would recommend that strong consideration be given to the 128Gb version. The increased transfer speeds are well worth the few additional dollars." Check out the deal now and get the drive for just $14.