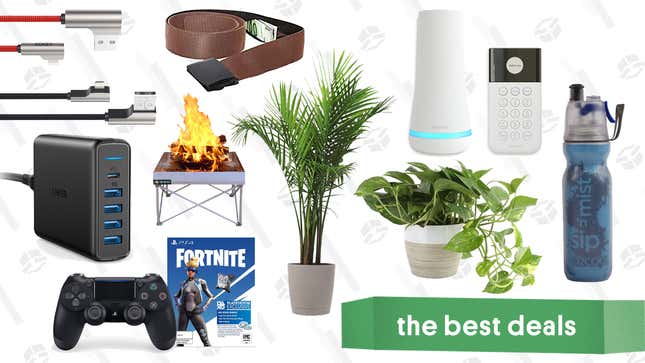 An indoor frisbee golf set, PS4 Fortnite controller, Simplisafe Home Security System, and an Under Armour sale lead off Thursday's best deals from around the web.
Bookmark Kinja Deals and follow us on Twitter to never miss a deal.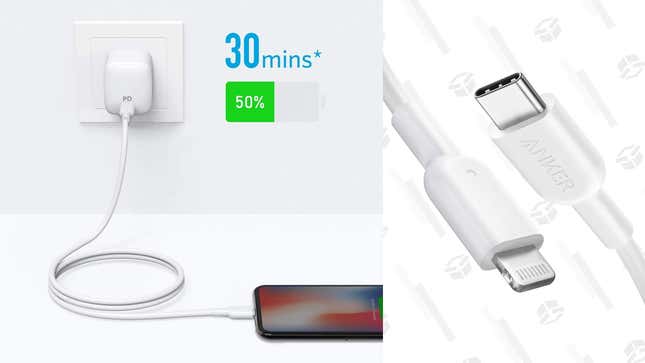 The iPhone 11 Pro is finally going to ship with a USB-C to Lightning fast charger. But standard iPhone 11 purchasers, or anyone with an iPhone from the last couple of years, might not realize that they can fast-charge their phone too.

All you need is an 18W or greater USB-C charger (like this one), plus a USB-C to Lightning cable. Anker's are MFi-certified, more durable than the ones Apple makes, and cheaper to boot. This 6' model will charge an iPhone from 0% to 50% in just 30 minutes, and you can get it for $15 today, down from the usual $20.
---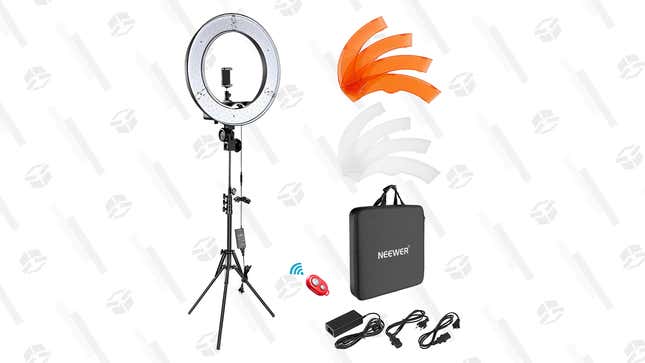 Update: The promo code is dead, but you can still snag the light for $70 when you clip the $20 off coupon.
Time is a flat circle, and so is the most flattering light source known to man. Today, you can brighten up your day and your face with a Neewer Ring Light Kit, down to $63 on Amazon with promo code NWRING919, it's lowest price ever.

Ring lights are beloved by Instagram influencers and beauty vloggers alike for their downright mystical ability to neutralize splotches and blemishes resulting in a soft, flawless glow. It would make a great gift for the aspiring YouTuber in your life, or just use it to look awesome in your next selfie. (I'm speaking from personal experience here; I was once photographed using an acquaintance's ring light, and the resulting image became my Twitter profile picture for the next two years.)
---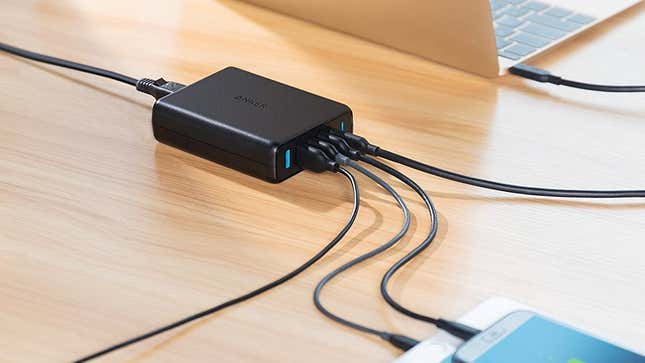 Anker's PowerPort line of multi-port USB chargers are our readers' favorites, and this model is one of the few that includes USB-C Power Delivery, which outputs up to 30W to power devices like the new MacBooks, or even a Nintendo Switch. It normally sells for $50, but Anker's knocked that down to $35 today, no promo code required.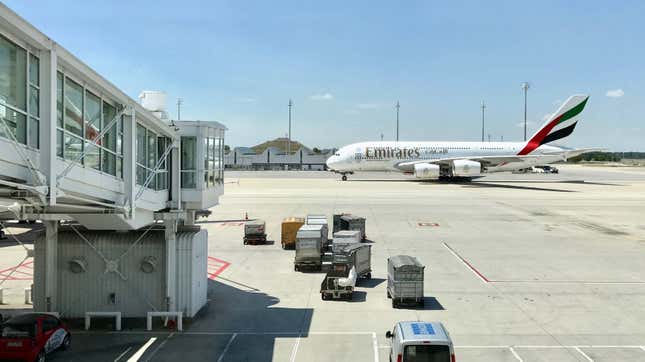 Go take a look at your international travel bucket list, because there's a pretty good chance one of those destinations is included in Emirates' big International Sale.

The best way to sort through the best deals is to select your departure airport from the dropdown menu on this page (13 U.S. airports are included), leave the destination blank, and hit search. You'll then see a list of the best economy and business class fares, and you can also drill down on the available inventory with the search tools to only see fares for certain months, or in certain price ranges.
The cheapest flight we saw was from JFK to Milan for $469 roundtrip, but as you'd expect from Emirates, there are also lots of options to far-flung destinations in the middle east, Asia, and Africa as well.
These fares are available (while supplies last, obviously) until September 13, and most seem to be valid for select travel days between September and April. Personally, I suggest finding a cheap flight you want now, and figuring out the rest of your vacation details later.
---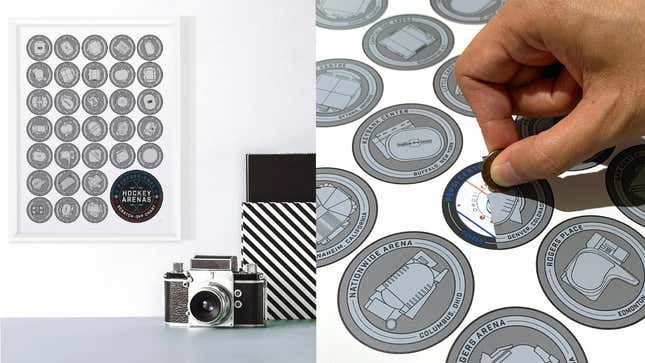 If one of your goals in life is to visit every professional hockey arena, we've got a great way for you to show off your progress. You can now preorder Pop Chart's Pro Hockey Arenas Scratch-Off Chart. You can scratch off every arena you've been to and it will reveal a full-color, close-up shot of center ice.

To get this deal, you can use promo code 20INTHEBOX. The promo code also applies to any bundled hanging hardware, like poster rails. Orders will begin shipping Monday, September 30th.
---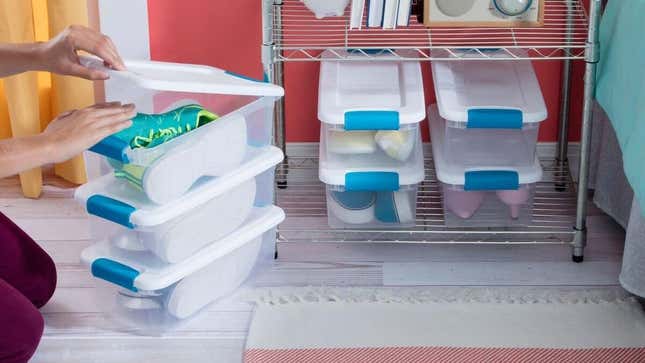 If you're putting away your sandals and water shoes for the winter, these Sterlite storage boxes are perfectly sized for the task, or for any number of other organizational needs.

This pack of 12 boxes is temporarily out of stock, but you can still order it from Amazon for an all-time low $18, and they'll ship them to you when they get more. Bonus, at the end of the winter, you can take out your sandals, and replace them with gloves and scarves.
---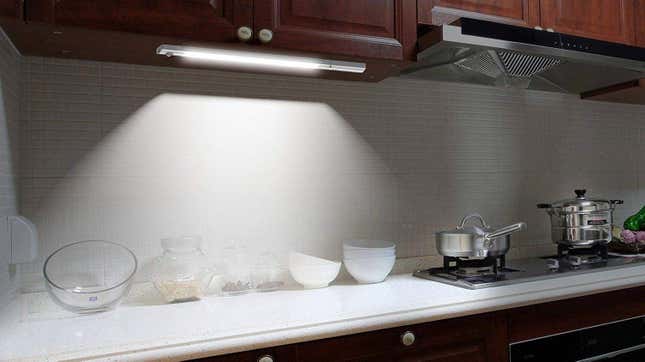 Our readers have bought thousands of OxyLED's T-02 motion-sensing light strips over the years, but if you've found them to be to annoying to charge, the new T-04 is an easier to use option.

Like the T-02, the T-04 can attach to basically any surface via the included adhesive strips, and will automatically light up when it detects motion in the dark. The main difference is the battery: rather than charging AAAs or plugging in a microUSB cable, the T-04's battery pack is fully detachable, and plugs directly into any USB charging port. I have a couple of these set up around my apartment, and they work extremely well. Get one today for just $14 with promo code DRWDQY94.
---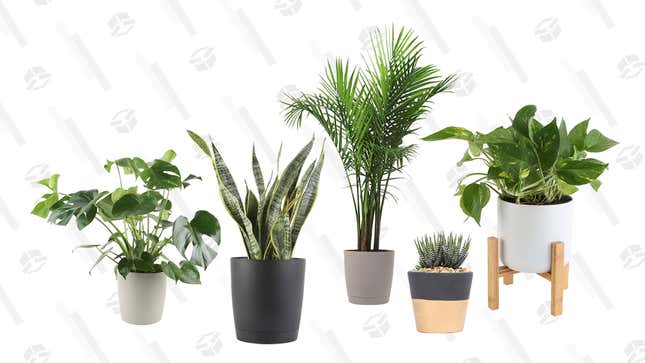 Bring a ton of natural beautify into your home with today's Gold Box. Choose from over a dozen house plans, with prices starting at just $16. Choose from a fancy succulent-like plants,a fiddle-leaf fig, a palm tree, and more.

For the rest of the deals, head to Amazon's main page, not THE Amazon, and remember, these prices are only available today, or until sold out.
---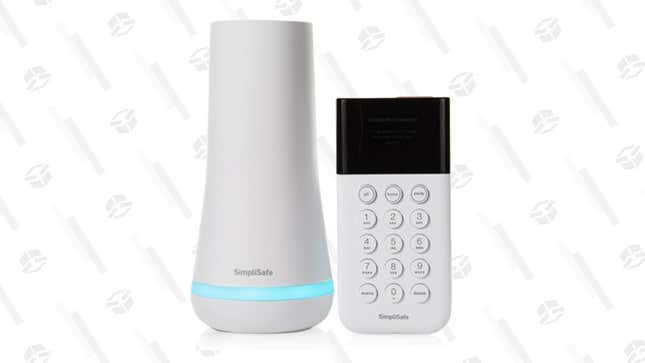 Have you been on the market for a home security system, but didn't want to shell out a ton of money for a high-tech system or pay hefty monthly fees? We've got you covered. Right now you can get the SimpliSafe 7-Piece Home Security System for about 43% off, priced at $170 on Woot.

The SimpliSafe system comes with a base station, a keypad, three entry sensors, two motion sensors, a yard sign, and two window stickers. It is easy enough to set up on your own and does not come with a pesky monthly contract like some home security systems. There is a backup battery that will kick in during power outages for up to 24 hours of extra battery life. The SimpliSafe system was designed to detect the specific heat signatures of humans, so you won't get alerts if there's a dog on the monitor. Though, who wouldn't want to know if there is a dog at their door?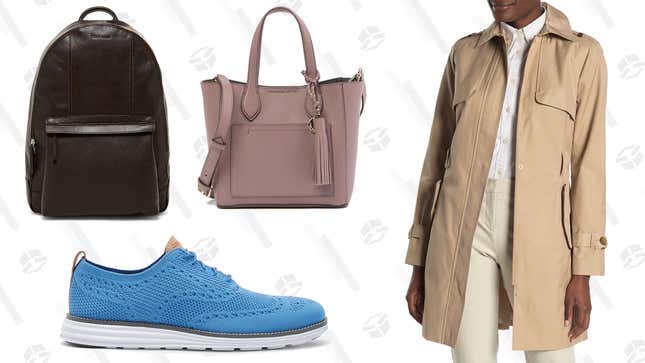 Cole Haan is known for making quality handbags, shoes, clothes — you name it. And today, you can fill your closet with all of the above at clearance-level cost. Nordstrom Rack is having a major flash sale on everything Cole Haan, from women's shoes and men's shoes, to women's coats, to men's and women's accessories. Some our our favorite ZERØGRANDS are included in the sale, if you hurry.

---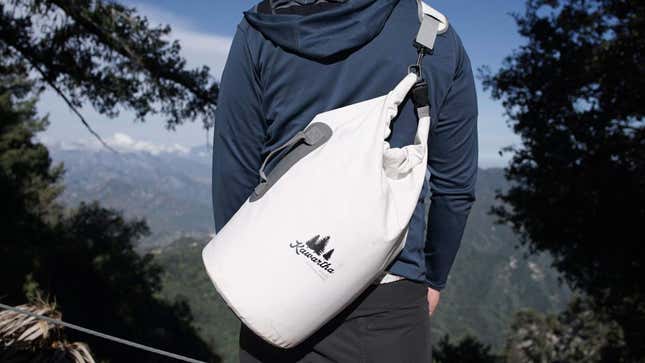 Most coolers are designed to be carried maybe 10 minutes away from the trunk of your car, but Kawartha's Cooler Bag is just what you need to carry some beers and snacks deep into the woods on your next hike.

The Cooler Bag is actually a dry bag with a removable, insulated insert that can hold ice and food. Our resident outdoorsman Zach has been using it for awhile, and has nothing but good things to say:
During my first test of this bag, I managed to pack in 18 already cold beers and a few frozen steaks, with ice filling in any remaining space. Packing this much does mean some of your goods won't fit inside the cooler insert (a 12-pack alone easily will), but if you can still close the outer bag using the roll top, everything still stays pretty cold. So after a 7 hour drive to the trailhead, it was another 1.5 mile hike into camp. Though there's no convenient way to take that much weight into a secluded site, along with your own gear, this bag makes it bearable. Like a duffel, you can sling it over your shoulder, or carry it by the side handle, which is helpful in distributing the burden of your beer across different muscle groups.
For a limited time, you can use promo code KINJADB50 to get the whole setup for just $36 ($24 + $12 shipping, I know, I know), which would be a decent price for a good dry bag by itself, let alone one that can keep your drinks cold for hours.
---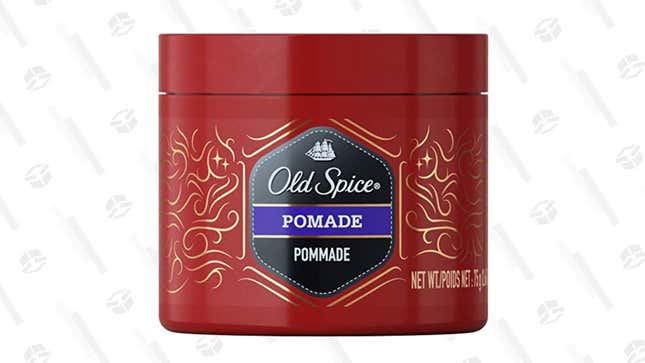 Hair gel is canceled. Do yourself a favor and invest in pomade, if you haven't already. Your hair will thank you when you buy a tub of Old Spice Spiffy Sculpting Pomade for $5. You can get it for cheap on Amazon when you clip the 30% off coupon.

---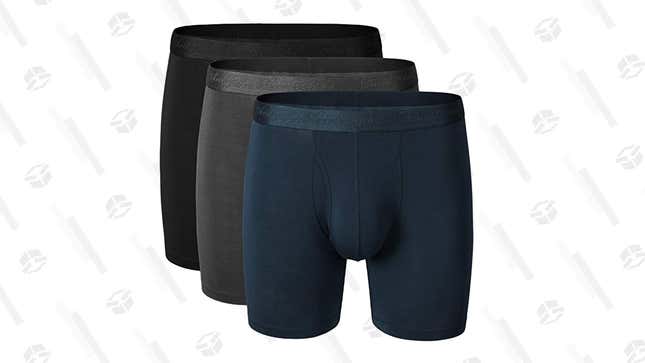 David Archy is low-key one of the most popular underwear brands on Amazon, and they want you to treat your undercarriage to something nice today.

For a limited time, you can get three pairs of the company's micro modal boxer briefs for $28, down from the usual $33. If you aren't familiar with micro modal, it's the material that most of those premium underwear brands charging $20+ a pair on Instagram use, and is one of the softest fabrics out there.
A handful of other David Archy products are on sale today as well:
---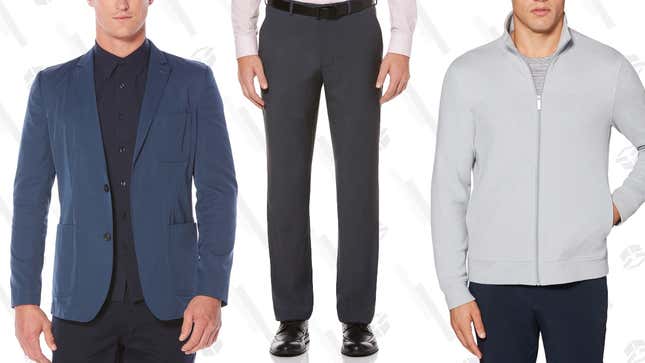 A guy could build his entire wardrobe at Perry Ellis. They offer everything from tees to suits, and if it's in their sale section today, it's an extra 50% off at checkout with promo code 50SALE. We're talking $15 tees and dress pants, and $20 watches, so load up!

---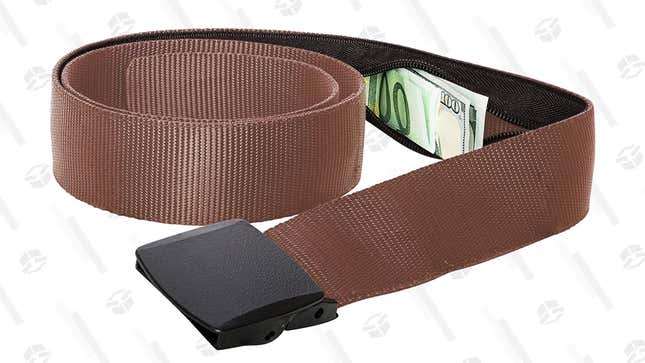 Want to keep your money and small valuables really safe from pickpockets while traveling? This belt includes a hidden zipper pouch on the inside, which...yeah, that ought to do it.

So if you have any trips on the docket, the belt is already marked down to $10 from its usual $15, and a $1 coupon makes it even cheaper.
---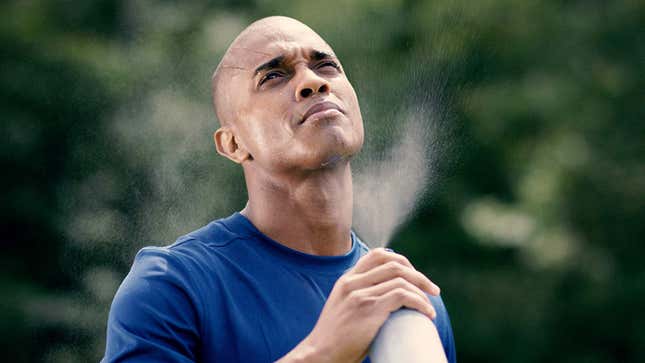 We're deep in the heart of second summer, and if you're having trouble staying cool out there, this unique water bottle could be the answer. The O2COOL ArcticSqueeze holds 20 ounces of water, and keeps it cold with double wall insulation. But you don't have to drink from it.

That's because there's a secondary spout on top that atomizes the water into a fine mist. Just open it, point it at your reddened, sweaty mug, and squeeze. Normally $10-$13, it's down to $8.
---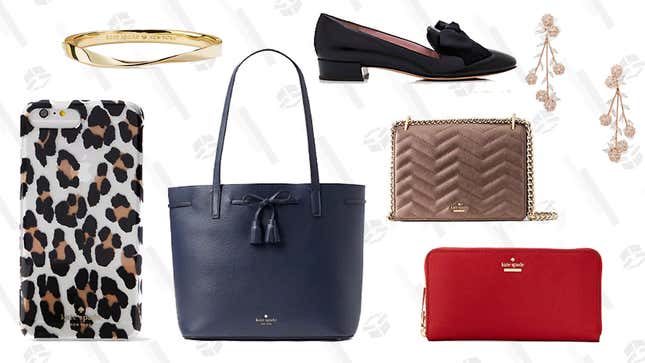 We've got a sale that will make you get out your wallet...and ditch it for something newer and cuter. The pocketbook purveyors at Kate Spade want to hook you up with new handbags, wallets, clothing, jewelry and other accessories this season, so they're taking 30% off sitewide. Plus, 2% of net sales from this event will be donated to the On Purpose Fund, which grants funding to nonprofits in a community in Rwanda, so you can feel extra good about everything you buy. Use promo code SHOP4GOOD to take advantage of this designer deal before it's gone for the summer.

---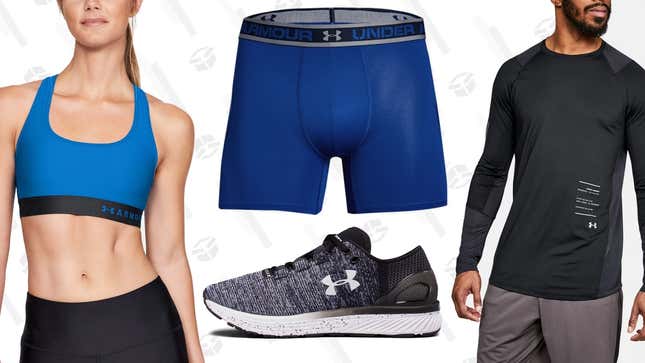 What better way to get ready for exercise-friendly fall weather than an extra 20% off Under Armour's already affordable outlet? Pick up at least $100 worth of workout shirts, sweats, leggings, shoes, and more, and use promo code FALL20 at checkout to stack on the savings. If you do nothing else with this sale, at least replace your old underwear with Boxerjocks.

---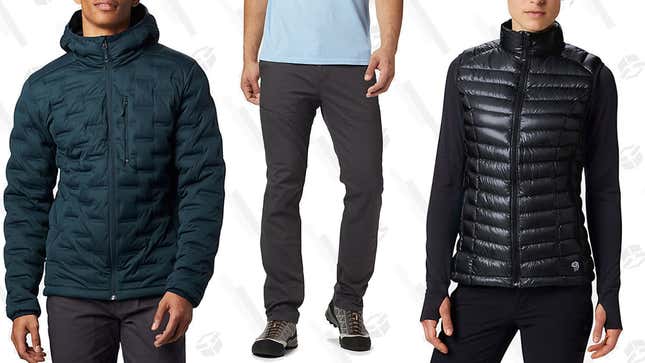 It's still technically summer, but let's be real: You'll probably still need a jacket for cool nights, and you'll definitely need one when fall finally arrives. And since Mountain Hardwear is taking 65% off the original price on select items, you could probably use many of the on-sale items right now and for future winters to come. So use promo code MHWSEP65, and load up on outerwear to keep you toasty warm the next time you step outside.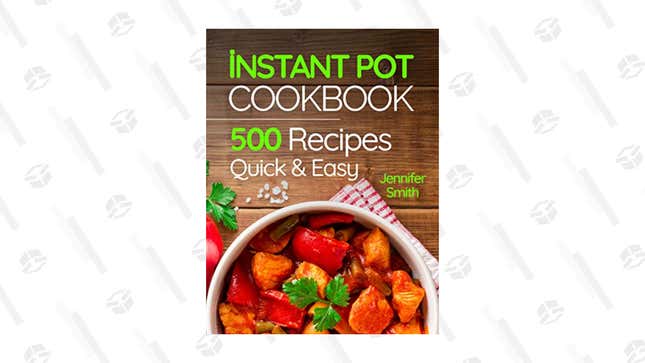 So, you finally caved and bought yourself an Instant Pot? Welcome to the family. If you have no idea what the make in your brand new appliance, why not 500 quick and easy recipes? You can snag the Kindle version of the Instant Pot Pressure Cooker Cookbook for $4. If you're a Kindle Unlimited user, this download is free for you!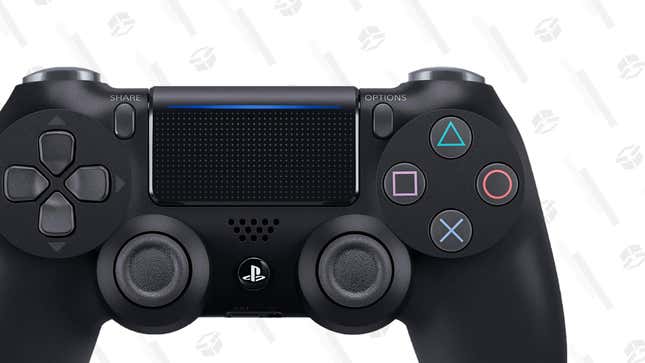 Need an extra controller for your PS4? Amazon has a DualShock 4 controller for $44. While we've seen DualShock controllers for $40, the extra bit of cash can be worth it if you want some in-game Fornite content. This includes Epic Neo Versa Outfit, Epic Neo Phrenzy Back Bling and 500 V-Bucks

Oh, non-PS4 owners should know that Apple's letting you use these controllers for your Apple TV or iPhone too.
---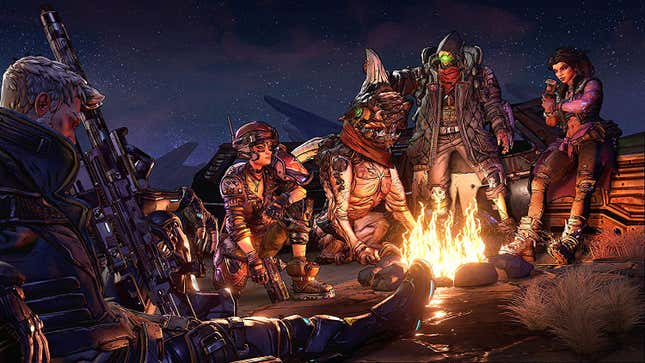 Preorder Borderlands 3 [PS4] | $60 | Amazon | $10 Amazon credit for Prime members
Five years after Borderlands 2, we're finally getting a new Borderlands game, and it's out on September 13. If you know you're going to buy Gearbox's newest loot shooter no matter what, you can preorder from Amazon, and get a $10 credit added to your Amazon account 30-35 days after it ships if you're a Prime member.
---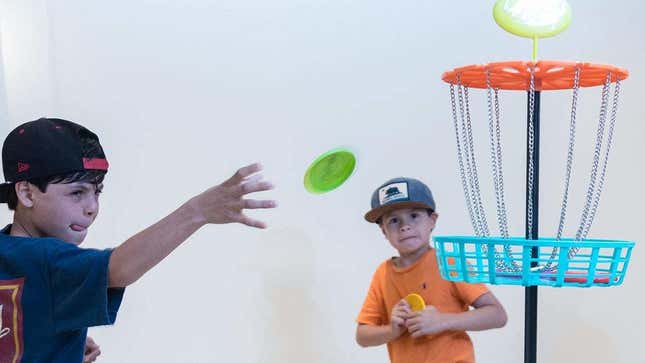 Want to get your frolf on all year-round? This indoor/outdoor mini frisbee golf set includes a target and six mini frisbees, allowing you to set up instant holes around the house. Not bad for only $13. Just don't break anything.

Tech
Home
Lifestyle
Media
Gaming
Deals You May Have Missed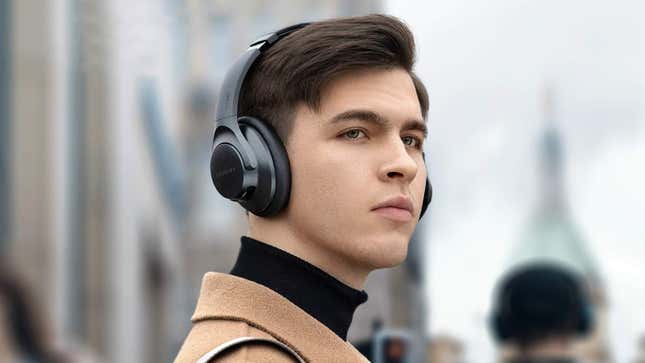 Anker's recently launched Soundcore Life Q20 headphones boast Hi-Res Audio certification, four noise cancelation microphones, Bluetooth 5.0, and excellent battery life. In our humble opinion, they're the best headphones $60 will buy you, but for a limited time, you can get them even cheaper.

This week on Amazon, Q20s are marked down to $48, if you clip the 20% coupon on the page. If you ever fly, take public transit, or just work in an office that's a little too noisy, noise canceling headphones are a life changing purchase. These might not sound quite as good or block as much noise as $300 options from Sony or Bose, but they perform better than any other sub-$100 ANC headphones we've tried.
---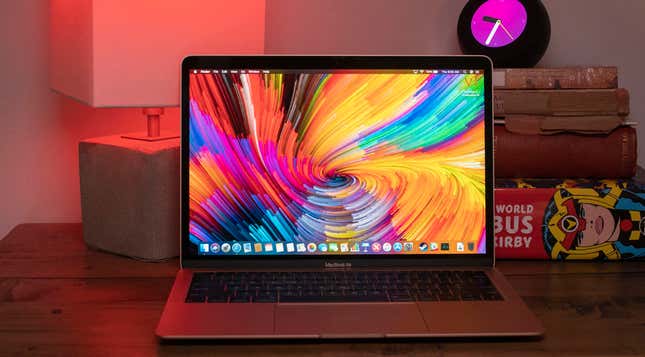 Apple's new MacBook Air may be boring, but it's a thin little workhorse with a bigger, better screen and a faster processor than the 12" MacBook, which might just hit your laptop Goldilocks zone. And unlike the MacBook Pro, it comes with TouchID (yay!) without the obnoxious Touch Bar (yay!).

If the price was scaring you away, Amazon is taking $200 off the brand new (released in July) 2019 model, which added a True Tone display, faster SSD performance, and a revamped keyboard that should prove more reliable. The deal's available for both the 128GB and 256GB configurations, and in all three colors. For whatever it's worth, my wife got one of the 2018 models when it first came out, and she loves it.
---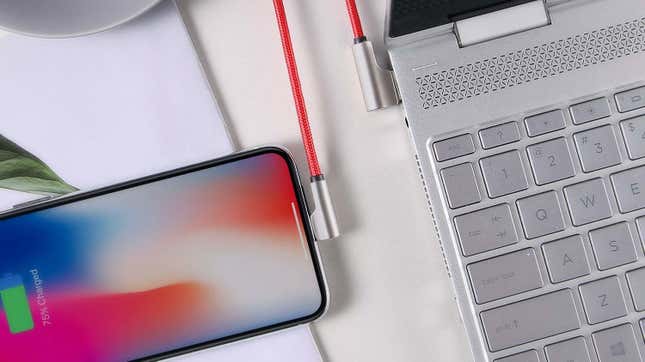 Given how many Lightning cables seem to wear out at the necks, it's surprising that 90 degree cables aren't more of a thing. You can grab two nylon braided cables for $8 from Aukey today with promo code 43CGAOBX, which would be a terrific price for one nylon-braided Lightning cable, let alone two of them.

---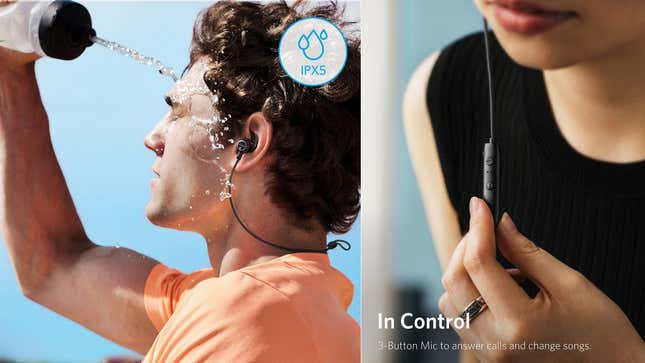 Our readers voted Anker's SoundBuds Slims as their favorite affordable Bluetooth headphones, but we may need a recount, as Anker recently released the upgraded SoundBuds Slim+, on sale for just $24 today with promo code soundcore.

The biggest change from the original model is the inclusion of AptX encoding, which should improve sound quality with compatible devices. Anker also claims that waterproofing has been improved, though they're both still rated as IPX5, so any change on that front is likely modest. One thing that hasn't changed: the seven hour battery, which is excellent for earbuds of this size.
---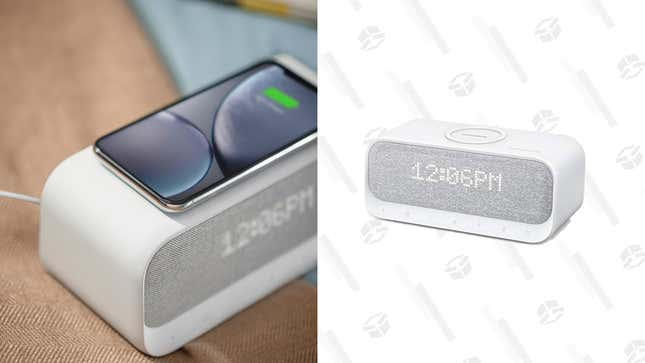 Anker makes a ton of excellent products, and the Soundcore Wakey is a few of those mushed together. $80 for an FM radio would seem like a lot, but this model also acts as a Qi wireless charger, a dual-port USB charger, a Bluetooth speaker, and a white noise machine—that's a lot of utility in a beautifully designed package.

Right now, you can get the Wakey for $20 off its usual price with promo code soundcore.
---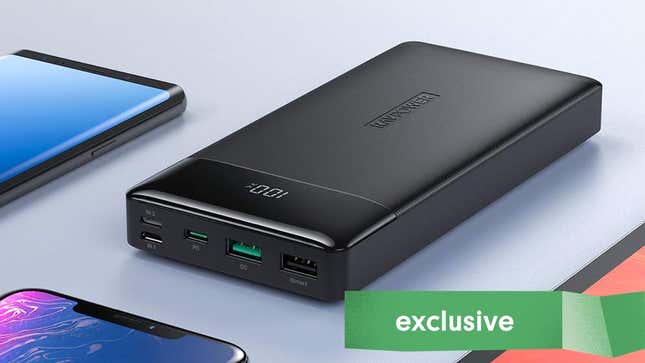 I thought I'd seen it all in the USB battery pack space, but RAVPower went and made something completely new: a battery pack that you can recharge with literally any phone charger you have lying around. Yes, it features USB-C, microUSB, and even Lightning inputs.

The 18W USB-C PD input will be by far the fastest recharge option, but it's nice to know that any cord you have lying around will be capable of juicing up the battery pack overnight.
That USB-C port is also an 18W output port, which can charge an iPhone from 0% to 50% in 30 minutes with the right cable. You also get two standard USB outputs, one of which features Quick Charge 3.0, all tied to a 20,000mAh battery. The lowkey nicest feature though might be the screen that displays your remaining battery life as an actual percentage, rather than an array of like, three or four dots.
The battery is priced at $50, which isn't out of line for a USB-C PD battery of this size, but if you clip the $5 coupon and use promo code KINJACBE at checkout, you can get it for just $35.
---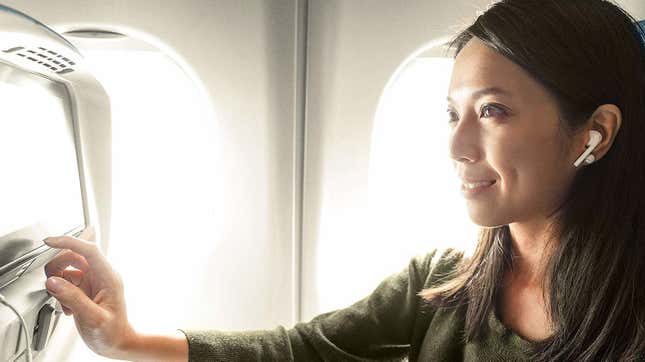 Your headphones are wireless now. Great! The problem is that gym equipment, seat back entertainment screens, and your Nintendo Switch are not. That's where this gadget comes in.

Twelve South's AirFly connects to your AirPods (or any wireless headphones), then plugs into the 3.5mm jack you're trying to listen to, transmitting low latency audio without the use of wires. Normally $40, it's on sale today for $35. It's not the only device out there that does this, and even on sale, it's not the cheapest, but Twelve South is known for high quality, intuitive products and great support.
---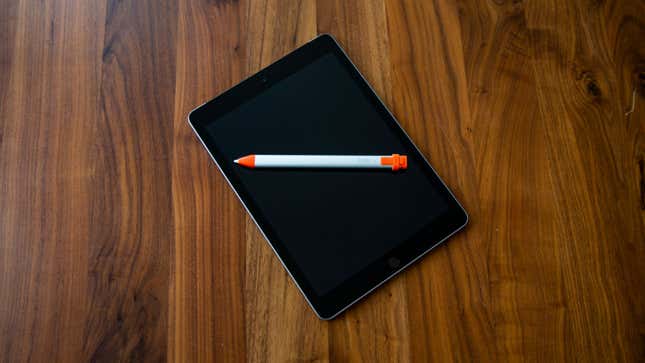 The Apple Pencil is one of the best styli out there for artists, but if you just want to jot down notes on your iPad, the Logitech Crayon is more than good enough, at a lower price.

Normally $70, Amazon's got it marked down to an all-time low $50 today. Just note that it's only compatible with the 6th gen iPad (currently on sale for $250), the new iPad Air, and the new iPad Mini; it won't work with any iPad Pro or older iPad models.
---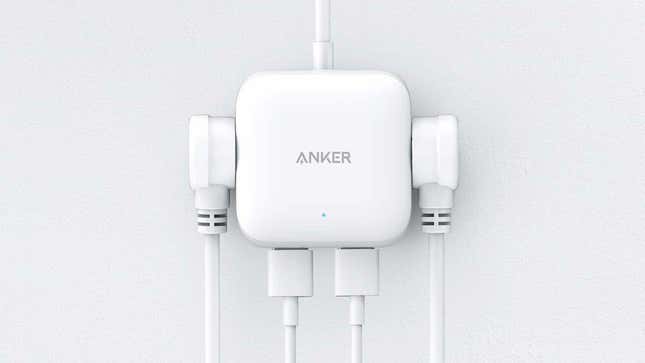 Need some extra outlets on your desk, by your nightstand, or at the airport? Anker's newest and smallest power strip includes two AC outlets and two USB charging ports, and it's down to $18 on Amazon this week, from the usual $24.

One nice touch: The AC plug is flat, so you can easily stick this behind a couch or desk where a regular power strip's plug might not easily fit.
---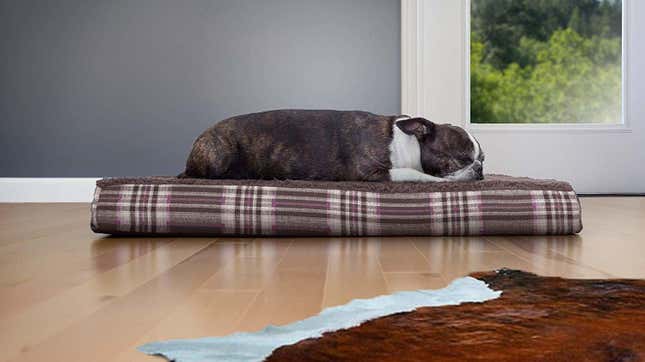 If your dog is your baby, please treat them to a little bit of luxury. Right now, this medium Furhaven Pet Dog Bed (in Java Brown) is only $8 on Amazon. All of the other colors are 3x that price, so this is a current steal.

The bed is a medium size, meaning it measures to 30" x 20" x 3". It is easy to clean, evenly distributes your pet's weight, and is meant for dogs that love to cuddle in soft fabric.
---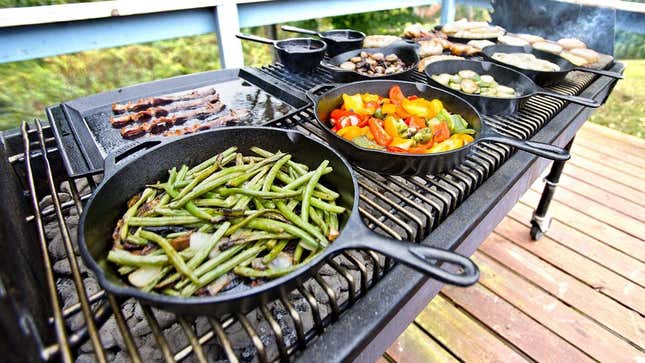 The humble and inexpensive cast iron skillet is one of most important pieces of cooking gear you can own, and Lodge's highly-rated 10" model is down to $15 at Walmart. If you don't own one, you shouldn't hesitate.

But if you want an extra incentive, buying it today will get you an extra $5 gift card.
---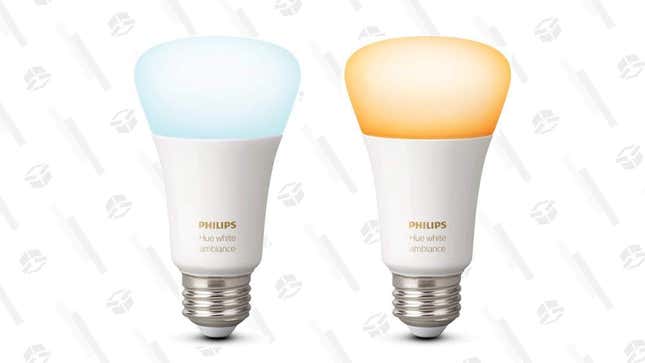 Full RGB color light bulbs are fun, but most Hue owners primarily use their lights to glow in different temperatures of white. Daylight is great for stimulating you throughout the day, while warmer shades of white can help ease you to sleep in the evening.

Philips makes a Hue bulb specifically designed for this, and it's down to $24 on Amazon today, a $6 discount.
---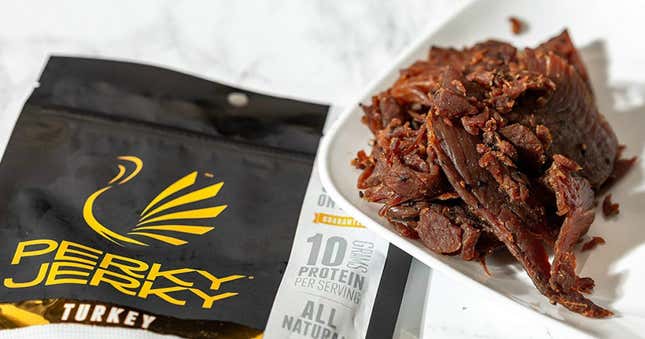 As salty snacks go, jerky is a pretty healthy option, and a delicious one at that. Perky Jerky offers dozens of flavors made from turkey, wagyu beef, and pork, and you can save 25% on any or all of it today (with the exception of the six-flavor sampler) today with our exclusive code.

Just load up your cart with as much or as little jerky as you want, and use promo code Kinja25 at checkout to watch the price shrivel up like so much salted meat.
---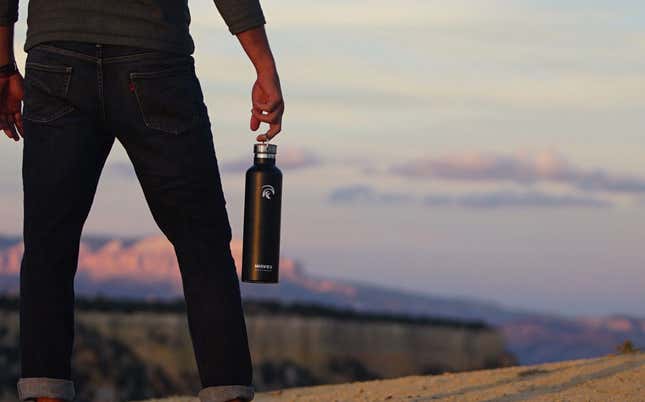 If you have a habit of pouring water into your bottle but taking forever to drink it, you're not alone. Nothing is grosser than going to drink your water, only to find it has gotten warm. Avoid that by snagging 50% Off Forever Cold Water Bottles at Waves when you use promo code KINJAFC50. A Forever Cold bottle is 34 oz. and can keep drinks cold for 24 hours or hot for 12.

---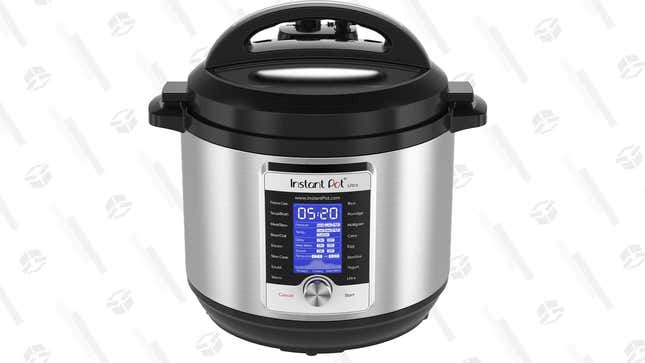 Literally all your friends who keep gushing about the Instant Pot can't be wrong. If you need a larger model for a bigger family, or care about aesthetics and a few extra features, the Instant Pot Ultra is back on sale for its best price ever.

The standard 6 qt. model is down to $84 today, which is almost half off its original $150, and nearly $30 less than the going rate over the last few weeks. Compared to the standard Instant Pot, the Ultra has a few extra cooking modes, but you'll honestly never use them. The differences that matter are the UI—the information-rich blue screen tells you a lot more than the Duo's—and the fact that the pressure valve automatically closes when you close the lid, so you don't have to worry about forgetting that crucial step. If you care about aesthetics, I think the Ultra looks like something Cuisinart or KitchenAid might make, whereas the DUO looks like something you might find at a flea market.
The actual cooking results between the two models should be identical, the Ultra just has a few quality of life improvements that may or may not be worth paying a bit extra for. It's up to you; the only bad decision is to not buy an Instant Pot.
---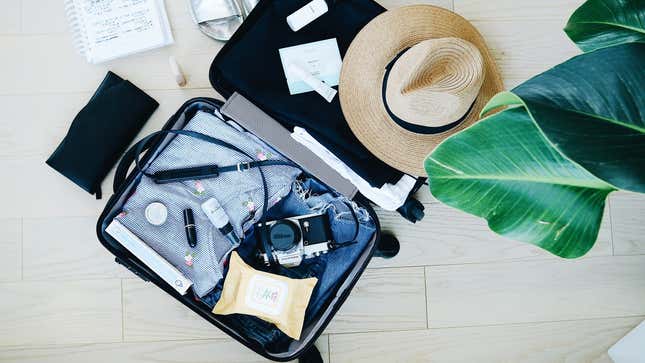 One of the best parts of a vacation is preparing for a vacation. Sometimes, the anticipation can bring you more happiness than the trip itself. And part of that lead-up is making sure you have the right gear for your trip.

Luckily, eBags is taking 20-40% off sitewide today (with some brands excluded) with promo code JET. Any product page you visit will show the size of the discount you can expect at checkout, but we recommend starting with the Fortis Pro carry-on (which we think compares favorably with the Away bag), and the double-sided packing cubes, which will change the way you travel.
---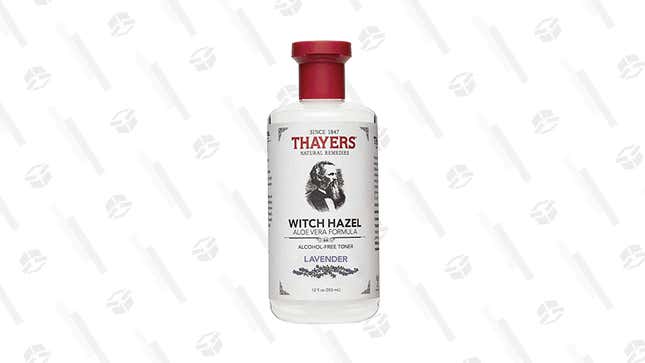 There are few beauty products that stand out from the crowded Amazon search results pages, and this Thayers Witch Hazel Toner is one of them. With thousands upon thousands of reviews on Thayers' many different scents, this product is beloved as a natural acne-fighting solution, and right now, the brand's soothing lavender version is down to its lowest price ever at $6. The formula is alcohol free, so it won't dry out your skin, and it contains aloe vera to promote hydration and healing. So stock up now before this skin-clearing deal gets toned down.

---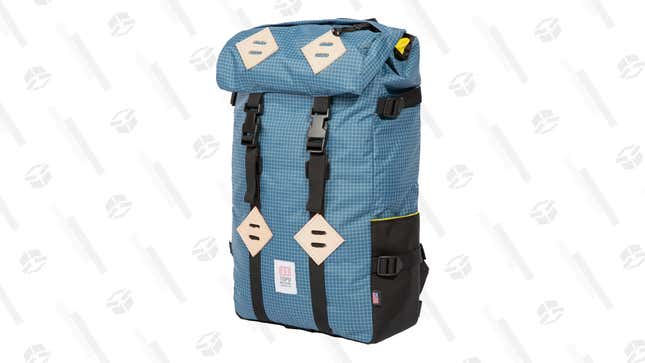 Topo Designs is the latest "status" backpack brand, and right now, you can score the 200D Ripstop Klettersack style in blue or black for $132—that's 35% off its regular price. (The regular Klettersack is also on sale in clay and olive colors, though it's significantly pricier at $169.) This pack is ultra durable, boasts plenty of interior and exterior pockets, and features a ripstop nylon construction that's light enough for even the longest of hikes, or city street treks. So bring home yours now, before this deal gets sent packing.

---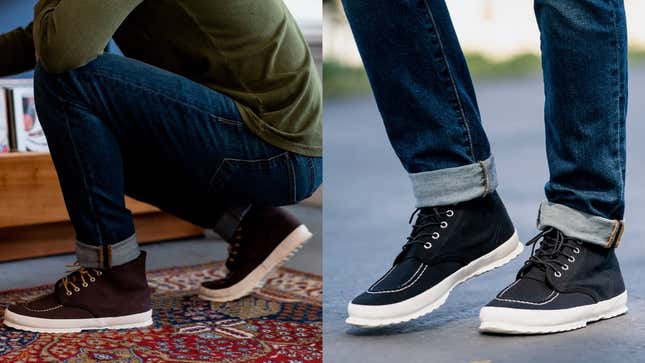 There's just something about a clothing brand named after its signature manufacturing process that inspires confidence. Japan-based Vulcanizer specializes in vulcanized rubber shoe soles, which are durable-yet-flexible, and will always stay bonded to the rest of the shoe.

For a limited time at Huckberry, you can grab Vulcanizer's Work Oxford High sneaker for $91, down from $140. The shoe features a water-resistant cotton canvas upper above that famous sole, and comes in three colors, though the brown option seems a perfect look for fall.
The sizes are European, so you can refer to this chart to help you find the right fit.
---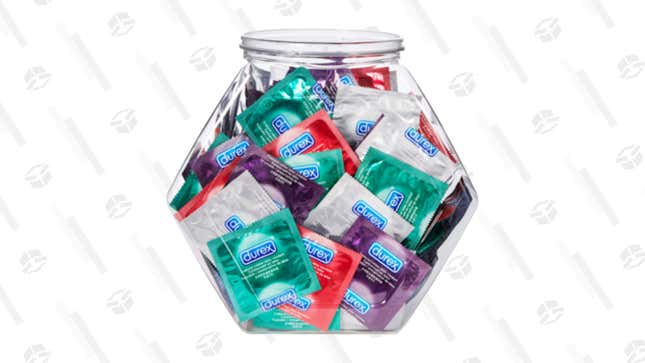 Ever wonder where your college's health clinic got those fishbowls full of condoms from? Turns out, probably Walmart. Get your two bowls of 144 assorted Durexes each for just $40 today. Even if you don't want to keep a bowl of prophylactics out on display in your home, you could just dump them into a drawer, because this is a great per-condom price.

---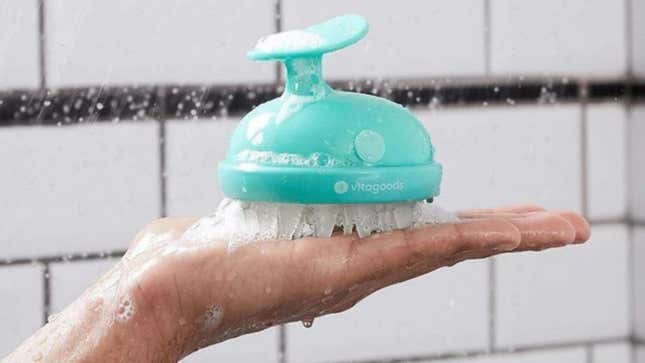 Everyone knows that the best part of any haircut is the scalp massage you get while your hair is being washed. But with this deal on a pair of Vitagoods scalp massagers, you won't have to wait until the next time you need a trim to experience that pure, cranial bliss. This two pack of gently vibrating, water-resistant massagers costs just $10 with promo code KJVITAG, so be sure to buy before this deal goes down the drain. After all, saving money feels almost as good as a scalp massage.

---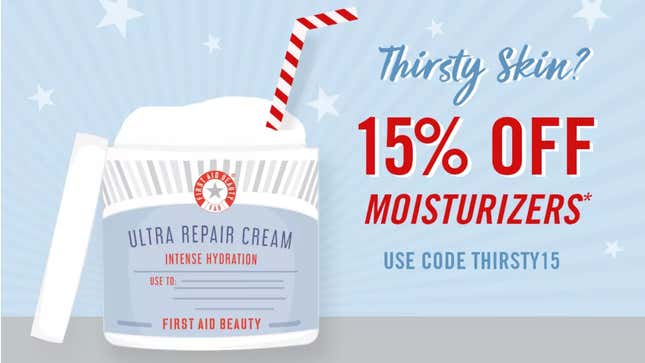 Fact: As the weather gets colder, your skin gets dryer. So take advantage of First Aid Beauty's sale on moisturizers now, so you can defend against dryness later. Through Sunday, you can take 15% off any moisturizer from the brand using promo code THIRSTY15, including cult favorites like the Ultra Repair Cream, and my personal go-tos: Hello FAB Coconut Skin Smoothie Priming Moisturizer and the Ultra Repair Face Moisturizer. Just be sure to drink up these deals before they run dry.

---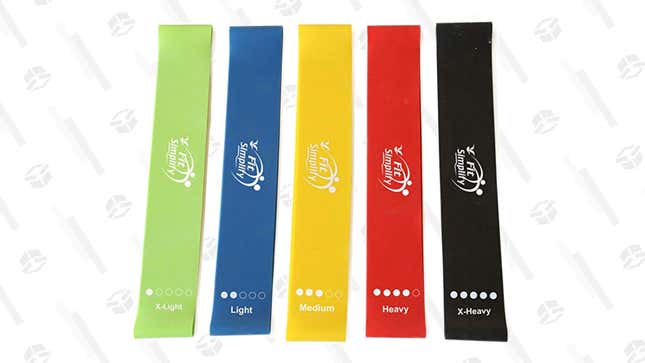 Working out at home is free and (in theory) easy. If you feel weird not having any equipment in your house, you can start out small with a set of resistance bands. They might be tiny, but they can be very effective when working out different muscle groups. Plus, you can easily pack them in a bag and work out from anywhere using them. You can get Fit Simplify Resistance Bands for $6 on Amazon. The set includes five bands, varying in resistance from extra light (four pounds) to extra heavy (30 pounds).

---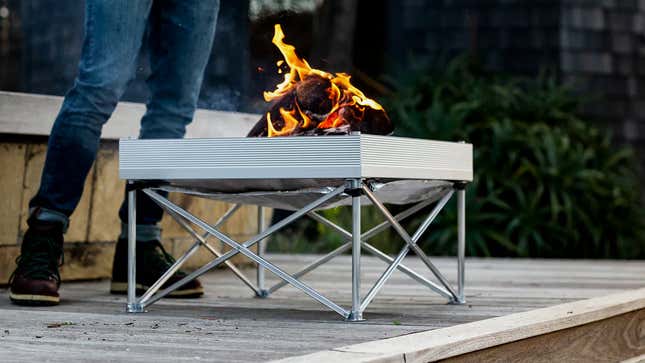 Regular fire pits are cool, but portable fire pits are even better. This Fireside Outdoor Pop-Up Fire Pit and Heat Shield Combo Kit is a packable, 8-pound version of the heavy pits you're probably familiar with, and right now, it's just $78 at Huckberry, down from its usual price of $120. The Pop-Up Fire Pit holds up to 125 pounds, so there's no need to be conservative when you load on the firewood, and it cools down in just 90 seconds, meaning you can pack up and hit the road ASAP. Ideal for camping, tailgating, or just a backyard gathering, be sure to pick up your pit before this fiery hot deal burns out.

---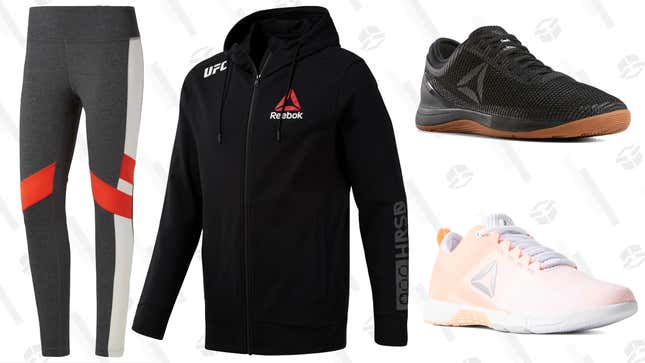 If you work out regularly, or uh, at all, you deserve a medal. Or just treat yourself to some new sneakers and/or activewear from Reebok. Right now, the sports-minded retailer is taking 30% off full-price items and an extra 50% off sale for their Friends & Family event with promo code FAM. Chances are, you'll make good use of these deeply discounted purchases for many workouts to come.

---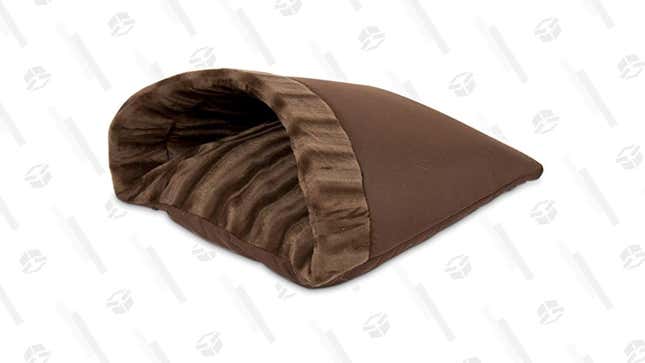 Who am I kidding? Cats don't show gratitude. But your cat will enjoy snuggling up inside of their own personal Aspen Pet Kitty Cave. Get one now for $5 on Amazon. We apologize now if they like the box this comes in better.

---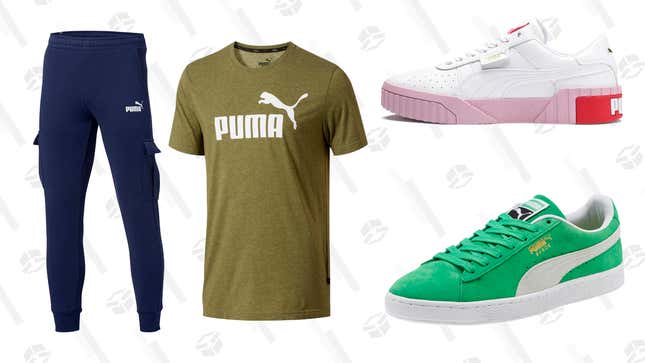 If nice weather isn't enough to motivate you to get that workout in, these deals from PUMA should do the trick. Now through next week, you can score big savings on sneakers and athletic apparel from PUMA's Friends & Family Sale. Use promo code PALS19 to snag 40% off full-priced styles and 30% off sale (and if you shop today or tomorrow, you can also score free shipping), and you'll be ready to hit the gym.

---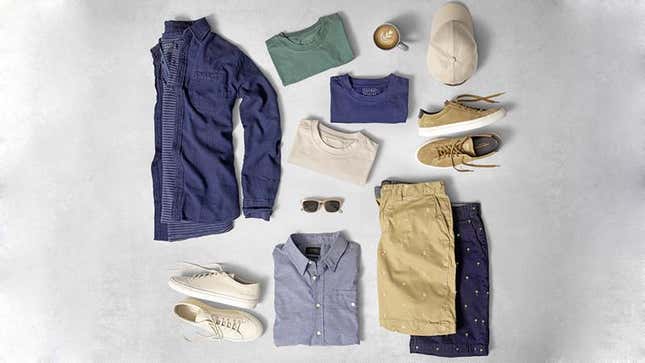 We're in that weird time of year, where it feels like fall in the morning, but it is back to summer temperatures by noon. Welcome to Second Summer! It lasts a few weeks and it is a confusing time. Take advantage of the ever-changing temperatures during the Summer Close Out Sale at Jachs. You can get short sleeves for as low as $10, shorts for $12, chambray shirts and henleys for $17, and more.
---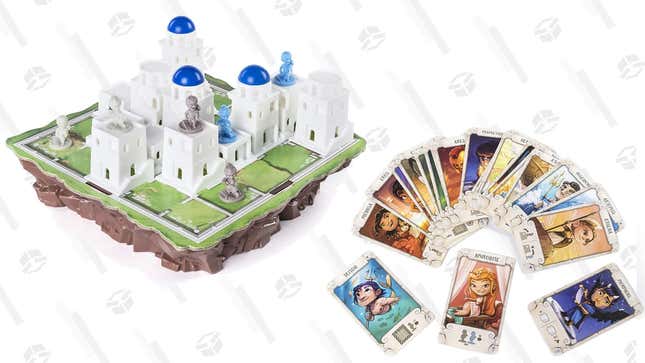 Santorini is a 20-minute strategy board game that the whole family can enjoy, and it also happens to be beautifully designed. Just look at those craggy rocks!

Today on Amazon, it's marked down to just 15 drachmae dollars, the best price we've ever seen.
- Race to build your way to the top of a stack of blocks! Use builder pieces and move one space in any direction.

- Each player is dealt a God Card to be used strategically. When you find yourself in a tight spot, break or bend the rules!
---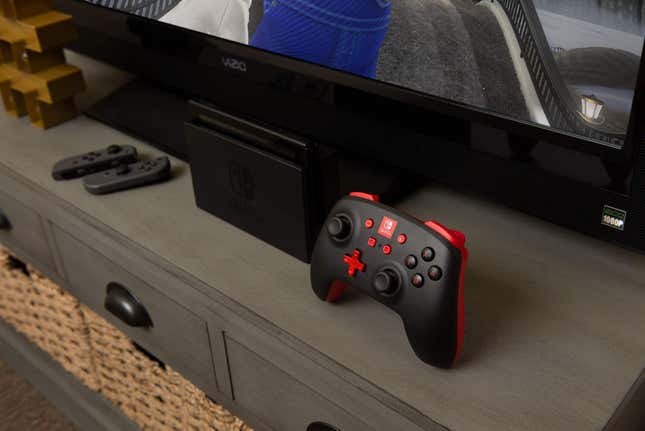 If you suddenly find yourself in need of extra controllers for your Super Smash Bros. parties (like I do, every other Saturday), PowerA's Enhanced wireless controller is down to $35 on Amazon right now, an all-time low. It's laid out exactly like my Pro controller, but with a few twists.

For one, it has red accents, but it also has a couple customizable buttons on the grip and uses AA batteries, in lieu of the internal battery of the Pro.
Today's deal is the lowest price we've seen, or about $15 off the going rate.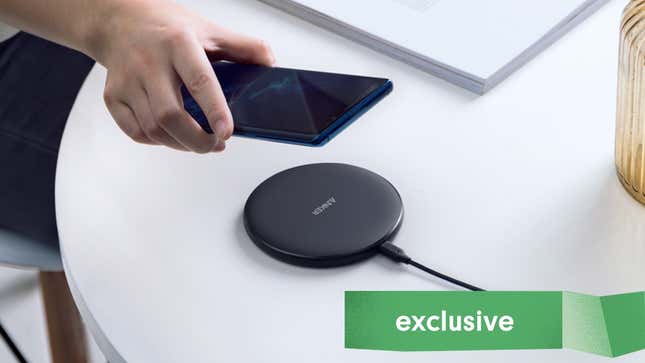 Most Qi wireless chargers can charge select Android devices at 10W speeds, and iPhones at 5W. But a select few are able to max out the iPhone, and eke out 7.5W on Apple's handsets...for a price. But with today's deal on Anker's PowerWave charging pad, you're not even paying a premium.

Promo code KJA2503L will bring the pad (in navy) down to $11 at checkout, down from the current $13, and the typical $16. The only catch is that you'll need to plug it into a Quick Charge 3.0 USB port for it to operate properly, as it customary for 7.5W chargers, and it doesn't include one in the box. You likely have one lying around somewhere, but if not, Anker would be happy to sell you one separately.
---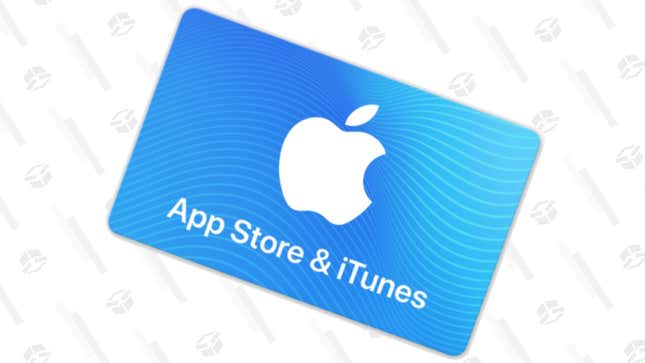 iTunes gift card discounts are noticeably less common than they used to be, so if you need more credit for apps, music, movies, iCloud storage, or anything else, buy a $100 gift card from eBay for 15% off, while supplies last. It's not as good as the short-lived $50-for-$40 Prime Day deal, but otherwise, it's about as good as it gets.

This gift card is sold by Paypal's eBay store, and should arrive in your inbox within four hours. Just don't spend it all on Elder Scrolls: Blades gems.
---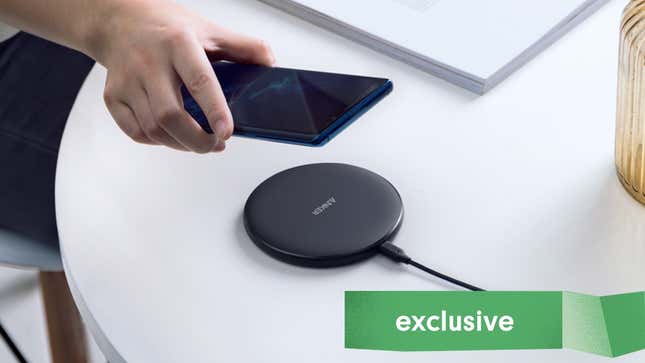 Most Qi wireless chargers can charge select Android devices at 10W speeds, and iPhones at 5W. But a select few are able to max out the iPhone, and eke out 7.5W on Apple's handsets...for a price. But with today's deal on Anker's PowerWave charging pad, you're not even paying a premium.

Promo code KJA2503L will bring the pad (in navy) down to $11 at checkout, down from the current $13, and the typical $16. The only catch is that you'll need to plug it into a Quick Charge 3.0 USB port for it to operate properly, as it customary for 7.5W chargers, and it doesn't include one in the box. You likely have one lying around somewhere, but if not, Anker would be happy to sell you one separately.
---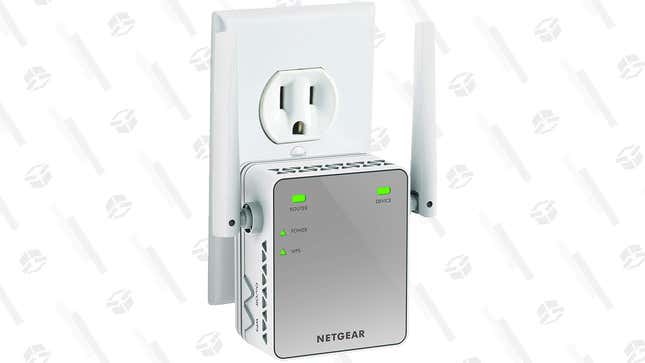 Wi-Fi range extenders can't work miracles, but if there's one spot in your house with spotty coverage, they can be a much cheaper solution than buying a new router. So at $21, why not give this one a try? Just clip the $5 coupon to get the deal at checkout.

---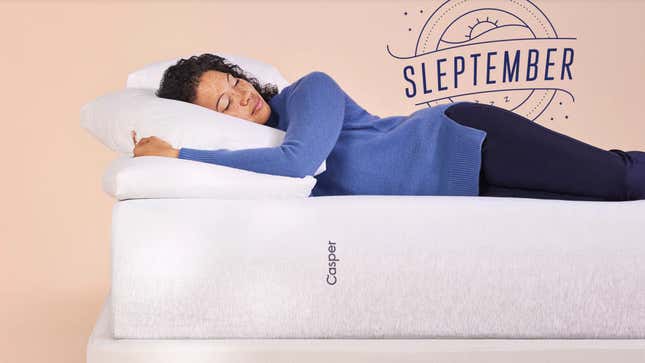 Casper, maker of our readers' favorite pillow in addition to acclaimed mattresses, is running a deal that you can wrap your head around. Through September 19, when you purchase either The Wave or The Casper mattress from the brand, you'll also get two free down pillows, which happen to feature an ultra comfortable 5-chamber design. These pillows normally go for $125 each, so be sure to use promo code PLUSTWO to score this deal of your dreams before morning comes.

---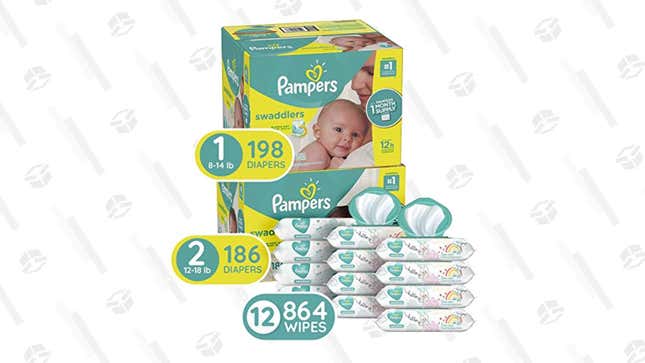 Every parent knows that babies go through a lot of diapers. If you like to save money on something you need to stock your house full of, we've got you covered. The Pampers Baby Diapers and Wipes Starter Kit is currently $98 when you clip the $25 coupon. You will get 198 eight to 14-pound diapers, 186 12 to 18-pound diapers, and a whopping 864 Pampers baby wipes.

---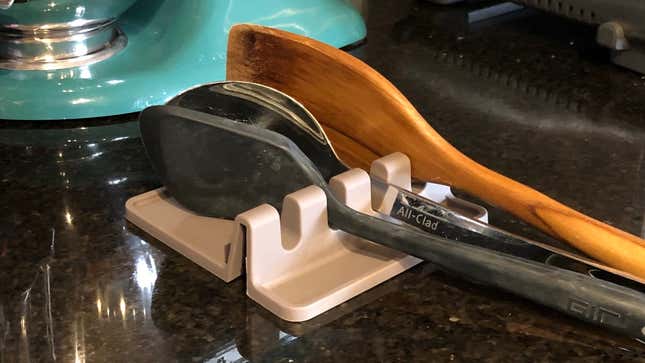 I swear, I invented the concept of the utensil rest in my head, thinking I was going to be a Shark Tank millionaire, before I realized that they already exist.

Once I discovered and bought one of these Tomorrow's Kitchen utensil rests, I had this to say on The Inventory:
Tomorrow's Kitchen's silicone utensil rest is literally just a slab of silicone with some molded grooves on top. You lay your utensils in the grooves, and all the grease and grime and E. coli-ridden raw meat juice drips onto the surface, and that's where it stays. It doesn't bleed through to dirty up your cooking surface, or lead to an outbreak of crippling diarrhea because you ate a potato chip off the counter two days later after it landed in a colony of salmonella because you used a dang paper towel to hold your utensils. "Bet you regret not buying a utensil rest!" I yell to nobody in particular, as you enter hour number three on the toilet.
It couldn't be a simpler device, but it'll make cooking so much less messy, and you can throw it in the dishwasher when you're done. Get the gray one for $6, neon yellow for $5, or a slightly different shade of gray for $5 (though that one looks like it'll sell out soon).

---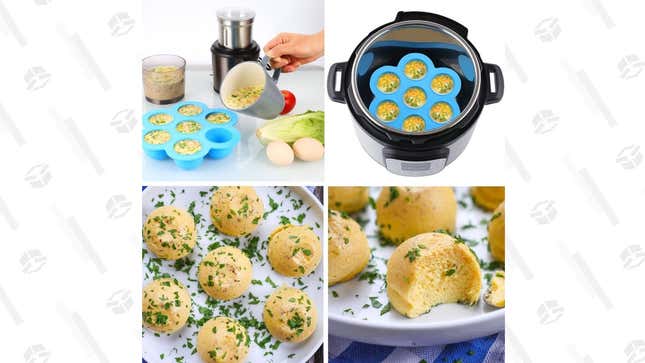 Boiling isn't the only way to cook eggs in your Instant Pot. This $8 silicone tray (down from the usual ~$10) lets you create scrambled egg bits filled with the veggies, spices, and meats of your choice. Just pour your scramble into each hole, cover, and cook it for 5-10 minutes at pressure, and boom: you've got breakfast.

Even if you don't have an Instant Pot, it also works in the microwave. And even if you don't like eggs, you could use it to make popsicle bits in your freezer. It's a silicone tray, you'll find uses for it.

---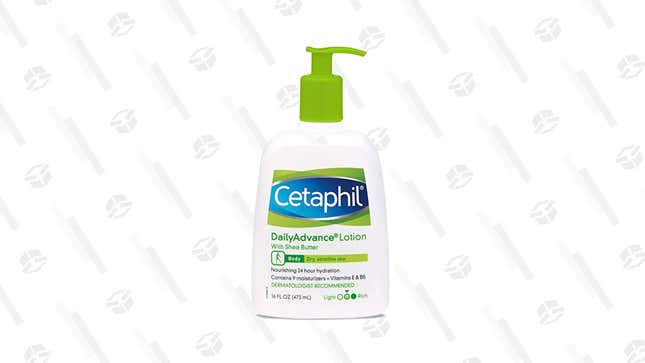 Everyone associates dry skin with winter, but the truth is you need to hydrate your skin year-round. You can keep your skin nice and smooth this fall when you buy a 16 oz. bottle of Cetaphil Daily Advance Ultra Hydrating Lotion for $6. This lotion is great for all skins types, especially those with sensitive skin. It will nourish dry skin, thanks to the shea butter, vitamin E, and B5.

---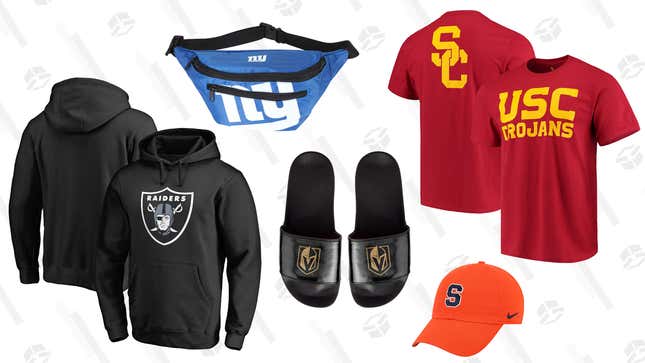 If you're not wearing an item of clothing that's branded with your favorite team's name or logo, are you even a fan? Show your team spirit with this Fanatics sale, happening today and tomorrow only. While the site says items are up to 65% off, it seems like most discounts are hovering at around 20% off—still a good deal, but not an earth-shattering one. Also, this deal doesn't apply to everything on site; the best way to see what's eligible is to add something to your cart, enter in promo code PLAY, then return to the store, where every on-sale item will show the discounted price. So load up on everything you need for football season, or these fun Copa hats, just because.

---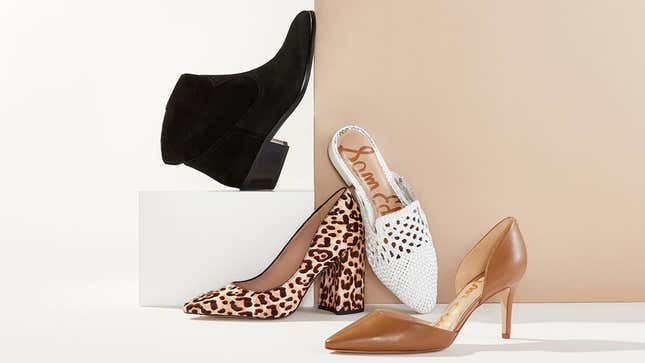 Sam Edelman shoes are a reliable, stylish, reasonably priced go-to for most ladies' footwear needs. And now, Nordstrom Rack is marking down almost 300 Sam Edelman styles, including sandals, heels, mules, flats, and more. So if you're in need of a shoe, any shoe, this is the sale where you'll surely find it.

---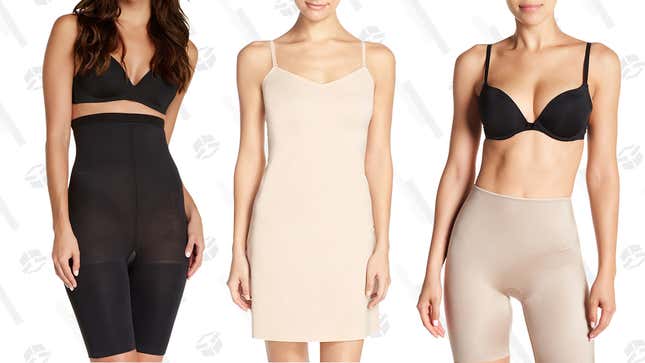 SPANX pretty much has the market on shapewear cornered, and they're not exactly cheap. So if you feel like that's something you want, head over to Nordstrom Rack. The selection currently on sale includes SPANX of all shapes and sizes — everything from bike shorts, tanks, and slips to bras and briefs — so you can probably find the perfect undergarments for any outfit you've got.

---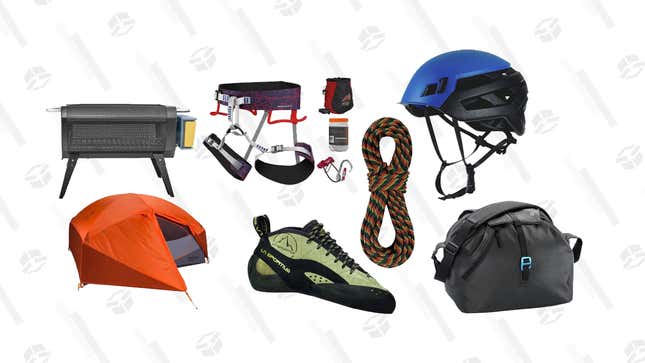 If you've been planning on your fall hike or camping trip, Backcountry's taking 20% off camping and climbing gear with promo code CLIMBCAMP20. That means instant savings on that backpack, climbing chalk, rope, and climbing shoes you've been wishing for.

---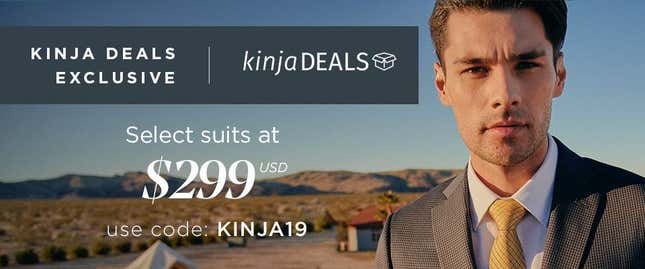 Custom tailored suits aren't just for Very Important Business People with Super Platinum Medallion status and briefcases that cost more than your rent. At Indochino's prices, custom suiting is attainable for all, and that's especially true with our exclusive sale. 

You can (almost) any of these seasonal suits for just $299 with promo code KINJA19. If your suit of choice is priced at $329 or less on this pace, the promo code will bring it down to $299. The only exception are the $399 Hamilton suits, which will drop the $349 at checkout. The Hamilton collection is built from "a more luxurious fabric that is blended with mohair to add lightness, lustre and durability," but whatever suit you buy, all of your customizations, alterations, and shipping are included in the price. Options range from simple, versatile navy and gray options to brighter blues and even a burgundy suit, so you can definitely find something that will fill a niche in your closet.
If you aren't familiar with Indochino, this is nothing like buying a suit off the rack. You get to choose every little facet of the suit yourself, and everything is cut to measure to fit you perfectly. But if you don't have time to take your measurements right this minute, you can check out now and submit your measurements later, which makes it very easy to gift. There are plenty of fun and colorful options available, as well as lots of business-minded suits that still look great.

Having a suit that fits perfectly is great, as is picking from dozens of styles, but the little details Indochino lets you customize, from your jacket lapels to pocket flaps to accent stiching around your buttons, are where things get really fun. Just look at some of the options:
How It Works
If you live near a showroom...
You can purchase your suit online with our discount, then take your receipt into an Indochino showroom. They'll do your measurements, walk you through your customization options, and have your suit delivered to the showroom. Return once it arrives for any final alterations if they're needed.
Or, measure and customize from home...
Follow the directions on Indochino's site to submit your measurements and customize your suit. Once the suit arrives, if anything doesn't fit quite right, you can bring it into an Indochino showroom for adjustments. If you don't have a showroom nearby, Indochino will provide directions for your local tailor, along with a $75 credit to cover their work. If for whatever reason you can't get the suit to fit quite right, Indochino will remake your suit. Shipping and return shipping are free.
Let us know which style you'll be wearing to your next event (or day at the office) in the comments. Just note that this deal expires at midnight on Tuesday.
---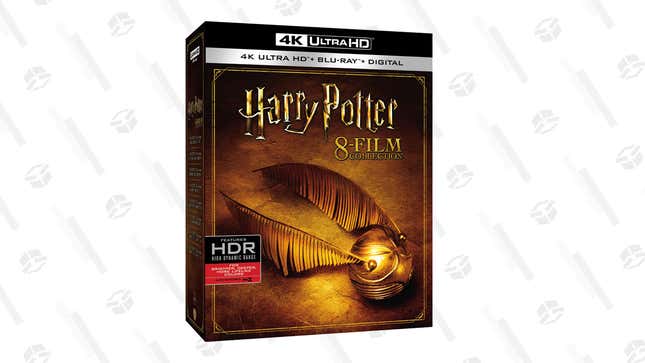 In case you missed the same deal on May 2nd (better known to non-muggles as the Anniversary of the Battle of Hogwarts), the complete 4K Harry Potter box set is back on sale for $100.

Sure, if you're a Potterhead, you might have some old DVDs and even VHS tapes hanging around, but it is time to toss those out. My copy of Chamber of Secrets is so worn out, poor Dobby starts to cut in and out as soon as he bangs his head with the lamp.
Amazon has the entire Harry Potter Collection available for $100. That is eight feature-length films, plus all of the bonus material, in beautiful 4K Ulta HD + Blu-Ray + Digital. If those words don't really register for you, it means you can see every beautiful strand of Draco Malfoy's blonde hair in perfect detail. Don't look too closely at Harry's eyes, they're not actually like his mothers in the movies.
---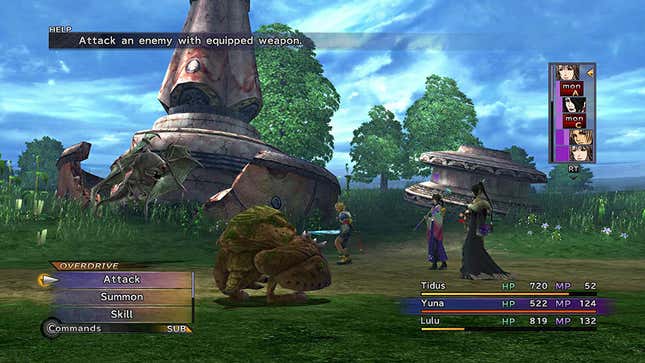 Final Fantasy X|X2 HD Remaster on the Nintendo Switch is down to $35 today. This is one of the rare discounts we've seen on this particular title and an all-time low. You'll get about 100 hours of RPG action with this bundle, and that's pretty amazing for the price. Plus, those hundred hours are pretty sweet.

---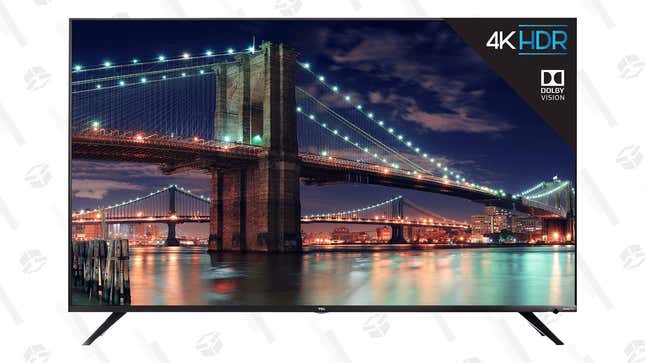 Didn't find the right TV for you over Deals Week? This 55" 4K TCL is an absolute steal at $350 from Walmart today, even if it is refurbished and last year's model. That gets you full-array local dimming, smart apps, and even Dolby Vision HDR support, which is absolutely bonkers in a set this cheap.

This set is refurbished, but it's also $180 less than buying it new.
---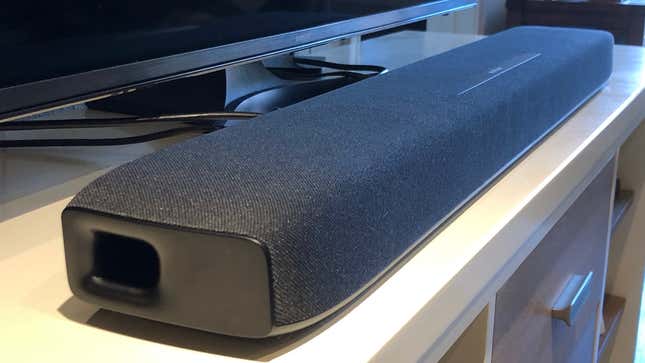 Anker's Soundcore Infini Pro is the company's first high-end, Atmos-enabled TV sound bar. And while its Atmos support is middling, we still think it's a pretty great sound bar for the price.

It's not the only Atmos sound bar out there like this—LG and Sony have similar offerings—and use various virtualization techniques (with official blessing from Dolby) to virtualize the Atmos experience, at least to an extent. I watched part of The Martian via my Apple TV with Atmos turned on, and it sounded excellent, but not noticeably different or more immersive than the sound bar's usual faux-surround sound mode (more on that in a bit).

So if it's not the most impressive Atmos sound bar, what is the Infini Pro? It's a really great-sounding, really easy-to-set-up 2.1 channel sound bar with remarkably good bass for a bar without a separate subwoofer. It's not going to overwhelm you with sound tuning options (the only thing you can adjust is the bass level), but you can pick from four different EQ options tuned for movies, music, voice, or a type of simulated surround sound that, to my ears, was reminiscent of Yamaha's DTS:Virtual X sound bar. That is to say, I wouldn't mistake it for the "real" surround sound from my typical Vizio setup, but it's awfully convincing without the need to set up satellite speakers, or even a subwoofer.
We haven't seen it drop from its original $250 price since it came out back in June, but today on Amazon, it's marked down to $190, with an extra $10 coupon to bring it down to $180.

---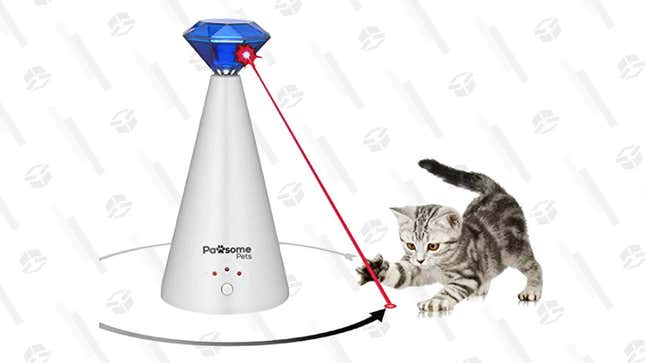 If your cat loves to chase the Little Red Dot, but you don't feel like actually manning a laser pointer, you're in luck. You won't have to lift a finger (after you set this up, that is) for your cat to have fun when you buy a Pawsome Pets Automatic Cat Laser Toy.

Right now, the automatic toy is $19, which is about $5 off on Amazon. It comes with three modes to keep your pet entertained: fast, slow, and random. It'll turn off after 15 minutes, so your pet doesn't get overstimulated.
---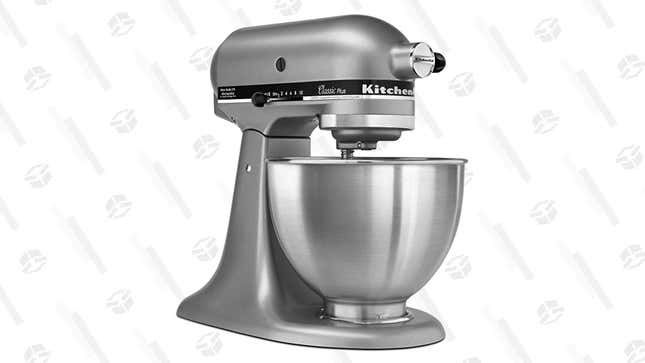 Does anyone need six pounds of mashed potatoes on any other day besides Thanksgiving and Christmas? Probably not, but it is always good to know you can make that much in a KitchenAid. Right now, the KitchenAid Classic Plus 4.5-Qt. Tilt-Head Stand Mixer is about $60 off on Amazon.

This model can help you made a ton of food, ranging from six dozen cookies, three loaves of bread, six pounds of mashed potatoes, dough for a couple dozen pierogies, and more. It is a 10-speed mixer, so you hopefully won't get covered in flour when you turn it on.
---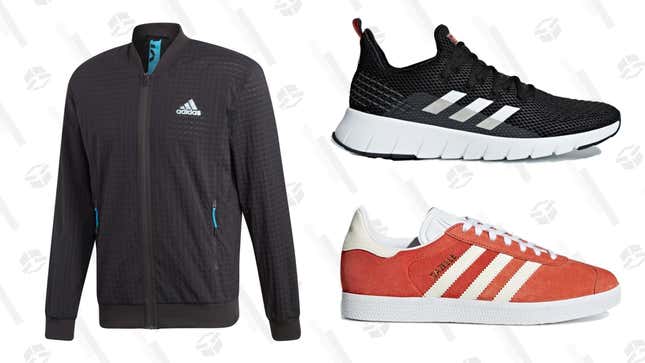 Adidas has been around for a whopping 70 years, and in celebration of this major milestone, the beloved brand is marking down over 200 items by up to 70%. Race over to their site for big discounts on sneakers, apparel, and gear for men and women. Just keep in mind: This Anniversary Sale will only last through tomorrow, and you won't want to wait another year (or decade!) to score similar savings.

---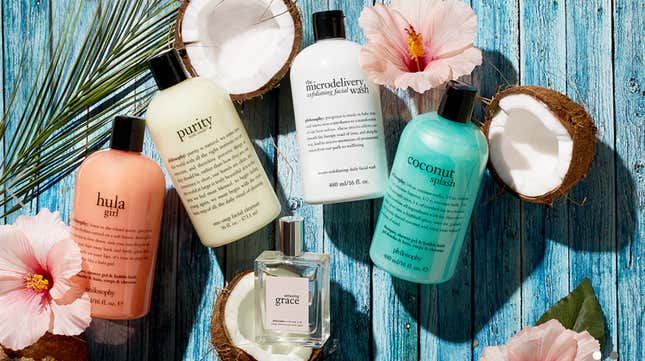 It's my personal philosophy that you should try out Philosophy's line clean, effective, and honestly, amazing smelling products, and there's never been a better time to do that than during the brand's Fall Into Savings event. So use promo code FALL19 to take advantage of 20% off your purchase—or, join the brand's reward program (it's free!) for 25% off—and pick up any product that catches your eye, like perhaps the acclaimed Purity Made Simple Pore Extractor Face Mask or the fresh floral Amazing Grace fragrance spray. No matter what skincare philosophy you abide by, you can't go wrong with this deal.

---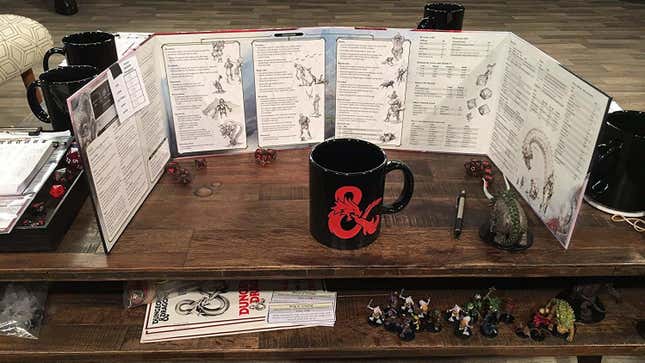 So, you want to be a dungeon master? Well let me tell you, friend, it takes guts, it takes creativity, it takes patience. But most of all, it takes a DM screen.

D&D's Dungeon Master's Screen Reincarnated is the gold standard for screens. Here's what our Eric Ravenscraft had to say about it on The Inventory:
As DM, you'll have a lot of information you want to hide from players until the time is right. Whether it's sheets with plot information, or just dice rolls that you can't reveal yet, you'll need a way to hide that information. The simplest way to do so is with a DM Screen. These large screens give you plenty of private space at the table. The outside has intricate decorations to help set the mood for your players, but inside there are shorthand tables and reference sheets for common calculations you'll have to do as DM.
It normally costs about $12, but today on Amazon, you can grab it for $9, within a few cents of an all-time low.
---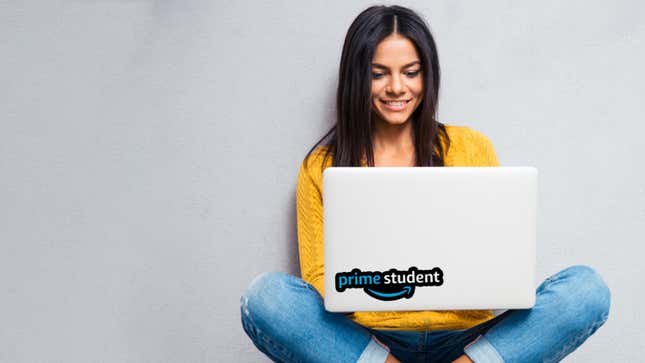 How do you do, fellow kids? If you've never had Prime Student before because you were a broke college kid, you're in luck. Thanks to an offer from Sprint, new Amazon Prime Student customers can get their first six months for free.

In order to sign up for Prime Student, you need an active school email address and will need to enter an expected graduation year. When signing up, you will need to select which plan you'd like after your free six-month trial. You can either select a monthly plan, which is $6.49 a month or pay a lump sum of $59 for an annual plan, which is less than $5 a month.
With Prime Student, you'll get free two-day shipping on all Prime-eligible orders, Prime movies and TV shows, music streaming, photo storage, and more. Additionally, Prime Student members are able to get Amazon Music Unlimited for $1 a month.
---