Adult acne is a bitch. Didn't they tell us when we were teenagers that acne was just a hormonal thing and would level out in our twenties? Jokes. If you have acne flare-ups that are bad, but not terrible enough to warrant seeing your dermatologist and going on Accutane, the right over-the-counter beauty products might just do the trick. From toners to masks to serums, spot treatments, and more, we've got everything to help you stop a breakout in its tracks.
If you're looking for a cleanser that will be gentle on your skin but can remove makeup with ease, this Mario Badescu Enzyme Cleansing Gel will do the trick. The gel gently exfoliates the build-up of dead skin cells that can block pores and cause blemishes, and it will leave your skin healthier than before.
---
G/O Media may get a commission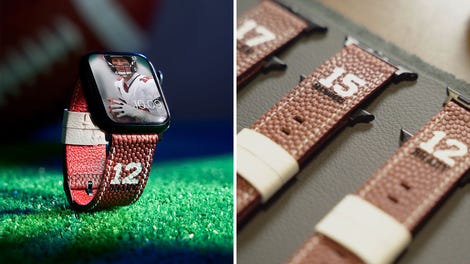 Official NFL PRODUCTS
Official NFL Apple Watch Bands
The Cleaning Acne Solutions Cleansing Foam from Clinique is a mild, medicated cleanser that isn't harsh and is safe to use on all skin types. The cleansing foam is meant for treat acne breakouts and is paired well with the Clarifying Lotion, which exfoliates and unclogs pores. Plus, it helps reduce excess oil.
---
Cetaphil is one of those cleansers than anyone can use to remove makeup, dirt, and other impurities. Though it was created for facial acne, it can be used on the rest of your body if you suffer from back (or butt) acne. Like the other cleansers on this list, it is gentle on your skin. Because who wants to rub their skin with a harsh face wash when it is inflamed and irritated during a breakout?
One of the biggest cult-favorite masks on Amazon, the Aztec Secret Indian Healing Clay has over 17,000 reviews and 4.5 stars, with many reviewers sharing personal before-and-after photos. The mask quite literally sucks the gunk out of your clogged pores. For those who have sensitive skin, it can only be worn for five to 10 minutes, while others can keep the mask on for up to 30 minutes. It is important to note that this mask needs to be mixed with water or apple cider vinegar to form it into a paste, and that process can get a little messy.
---
This GLAMGLOW SUPERMUD Activated Charcoal Treatment Mask has all of the charcoal your charcoal-loving heart could possibly need. It can clear your pores and clarify skin to tackle large pores, dullness, uneven texture, and oiliness. The mask can be used one to three times a week (though it is a small tub and expensive, fair warning) and can be left on until it hardens, about 10 minutes.
If you have acne that is associated with oily skin, finding a toner that takes care of your excess oil without sucking all the moisture out of your face can be a grueling process. That's where this product comes in. Ole Henriksen's Balancing Force Oil Control Toner is a pore-refining toner made with salicylic, glycolic, and lactic acids. These acids remove excess oil, clarify your skin, and freshen your complexion without stripping your skin of the necessary oils you need.
---
Much like the Aztec Clay, Thayers Witch Hazel Toner has become a hit beauty product for Amazon shoppers. You can also pick up a bottle of Thayers at your local grocery store, Whole Foods, Ulta, and more. With 10,000+ reviews on Amazon, it comes as no surprise that this toner is beloved by many. Thayers has a gentle rose scent that won't remind you of a stuffy grandma's house. It is also alcohol-free, which means it is actually hydrating and will not dry out your skin.

If you have a lot of build-up and you don't want to overload your pores even more, an exfoliator pad is a great solution. These pads are available in green tea, lemon, and wine, and each of the pads is designed to help remove dead skin cells, excess sebum, and skin impurities while purifying the skin. The wine peel pads have added firming and tightening benefits, while the green tea pads will soothe and moisturize skin, and the lemon pads are for skin brightening.
---
If you like an exfoliant that also smells really nice, then St. Ives Radiant Skin Face Scrub is the face wash for you. It is gentle enough to use three to four times a week, as it is made with natural exfoliants like walnut shell powder and apricot fruit extract.
Personally, this is the only serum I can use when my skin is acting up; I found it after I had a horrible acne breakout due to clogged pores from crappy sunscreen. InstaNatural Niacinamide 5% Face Serum contains vitamin B3 and helps fight and prevent breakouts.

It took about two weeks to start to see a big difference in my skin, but it was worth the wait. I was worried my skin would never calm down because it was a hot-as-hell summer, and I needed sunscreen every day. But the serum really did help soothe the redness around my acne and helped get it under control. After four solid weeks of use, I wasn't experiencing any new breakouts—just managing the hyperpigmentation from the old scars.
---
The Ordinary only just began online sales through Sephora this year, but already many of their products have glowing reviews. For people with acne who fall under the combination skin umbrella, try their "Buffet" serum. It is a multi-peptide serum with syn-ake, argirelox, hyaluronic acid, amino acids, and bio-derivatives, and it can target dull and uneven skin texture that occurs after an acne flare-up.
If you want to see physical evidence that an acne treatment is working, then Cosrx Pimple Patches are the way to go. A pack comes with 24 patches, with three different size variations. Be warned, they are not meant for deep cystic acne; they are meant to treat more surface-level pimples and whiteheads. You can pop a patch on overnight and peel it off in the morning to see what it literally sucked out of your face.
---
The Mario Badescu Drying Lotion is a cult-favorite among many skincare lovers. It is formulated with salicylic acid to tackle and shrink pesky whiteheads while you sleep. Even though it is called a drying lotion, it won't actually make your skin dry, and calamine helps irritated skin. Just remember, you cannot shake this bottle. It should look like a paste substance on the bottom and a liquid on the top of the bottle.
---
If you do not wish to leave something that you can visibly feel on your skin all night long, no worries. The Murad Rapid Relief Acne Spot Treatment can be applied in the AM and PM and is invisible on your skin. It uses salicylic acid combines with lysophosphatidic, hydroxydecanoic, sebacic and glycolic acids to reduce pimples, blackheads, and whiteheads, and it has been known to knock out some breakouts in under a week.
Now, we're not going to tell you to not pop a pimple. That is some people's jam. What we will tell you is to NEVER pop a pimple with your own fingernails. The amount of gross bacteria hiding under your nails is sickening. If you need to do an extraction and don't have the time to head to the dermatologist or esthetician, you can get yourself an at-home extractor kit, which can be easily washed after every use to cut down on germs and gunk.
---
Picking at your skin should be an obvious way that bacteria spreads on your face. But did you know that your skin can act up all because of your pillowcase? Cotton pillowcases can hold a lot of bacteria that causes pimples. A silk pillowcase can help cut down on that issue, plus it is better for your hair that the standard pillowcase.
---