I might be 28 years old, but I still get breakouts like I'm 14 and only just learning about acne. Over the years, I've tried countless products for my skin, and no, Proactiv has never worked for me. My skin is nowhere near critical—I don't have cystic acne—but I wouldn't say my skin has ever been baby smooth. Depending on the time of year (or the month), the stress I'm under, and the products I'm using on my face, my skin can get a little out of control.
Last summer, I reached a breaking point. I tested a new sunscreen for sensitive skin because I tend to get irritated by stronger products, and it caused the worst breakout of my adult life. It took weeks to get it to calm down, and I got desperate. My cleansers weren't doing anything. Spot treatments were a total joke. I decided to search "acne serum" on Amazon and hope for the best. And thank God, I did, because I found my holy grail.
My search turned up with InstaNatural Niacinamide Face Serum. Until I saw that result, I'd never even heard of niacinamide and had no idea what it did. Turns out, it's a type of vitamin B3 that can soothe breakouts and fix hyperpigmentation, which is great because I don't just get a pimple, I get a scar from that pimple that lasts forever. Hyperpigmentation can be caused by inflammation, typically when pimples are moderate to extreme. If I have a breakout, I tend to have some minor blackheads and whiteheads, and then a few larger, more irritated and inflamed red bumps that leave a mark after the breakout has settled down.
After reading the reviews for InstaNatural—not just on this serum, but also on their Rose Water Facial Toner and Retinol Serum—I was sold. I bought the toner as well, since I was in need of one, and decided to use both for my skin. The reviews all said that the serum really did magic when it came to breakouts. Once it arrived, I started using it twice a day with the toner.
G/O Media may get a commission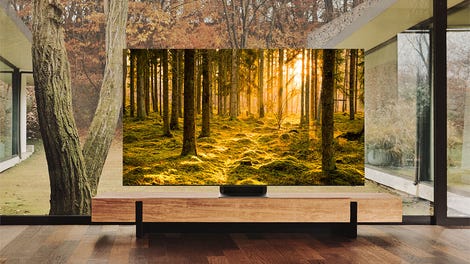 Up to 40% off
Samsung Smart TVs
It took about two weeks to start to see a big difference in my skin, but this breakout was so bad, I thought it would never go away, so it was worth the wait. I was worried my skin would never calm down because it was a hot-as-hell summer, and I needed sunscreen every day. But thankfully, this serum did its job, and I didn't have to worry about my skin all summer long.
For my skin, it really did help soothe the redness around my acne and helped get it under control. After four solid weeks of use, I wasn't experiencing any new breakouts, I was just managing the hyperpigmentation from the old scars. Since then, I've kept this serum stocked in my medicine cabinet, and use it about 2-3 times a week to keep breakouts at a distance. If I go out one weekend and do a full face of makeup, I pull this serum out for the next week just to be safe. Since buying it last July, I've only have to rebuy it twice, and I've more than gotten my money's worth.
---