Everyone has that one thing they're very proud of when it comes to their bodies. Some people have flawless skin that is maintained through an intense skincare regimen. Some people have abs because they can actually stick to a healthy lifestyle and fitness routine. I have my hair. I've been in a love-hate relationship with my hair since I was 17, but 95% of the time, my hair really is very beautiful. But it takes a lot of work, and during the winter, my hair requires some extra TLC.
When I was a senior in high school, my hairdresser at the time had me chop off eight inches of dead hair. I had previously fried my hair by using the infamous Wet 2 Straight hair straightener. It is absolutely as bad as it sounds. And yes, I used it on wet hair. I know, I was an idiot teenager. When I had to cut all of that hair off, I walked out of the salon crying. I loved having long hair and I vowed to never let my hair get that bad ever again. And I am proud to say it hasn't!
In order to maintain this length, I really had to assess what I was doing to my hair. I stopped straightening it daily. Why was that even a thing in high school? I started using heat protectant spray whenever I did heat style my hair. I began to see my stylist every 3 months for routine trims. But most the important thing of all: I incorporated hair masks into my weekly hair care regimen. Just like skin, our hair needs moisture. Heat styling hair with a blow dryer, straightener, or curling iron drains hair of that luscious moisture and dries it out. We've all seen people with hair as dry as straw. I never wanted that to be me.
I have tried so many hair masks over the last 10 years, it would make your head spin. I have used expensive masks that cost $50 for a tub and masks that are $1 for a one-time treatment. I've tested masks for all of the oils they list: avocado oil, jojoba oil, coconut oil, argan oil, almond oil, and more. Oil is like a kiss of life to your hair, as long as you're not overdoing it.
Of all the hair masks I've used in the last decade, OGX Extra Strength Argan Oil of Morocco Hair Mask is one I grab time and time again. During the winter, I use this at least once a week. But I'll use it twice a week if I am heat styling my hair. The mask has argan oil and silk proteins in it to give your hair that rich feeling afterward. For $7, it is a steal. There are other brand-name products with similar ingredients retailing for anywhere from $20 to $45. I can pick this specific mask up at the grocery store, Ulta, Target, Walmart, or I can obviously order it online from places like Amazon.
G/O Media may get a commission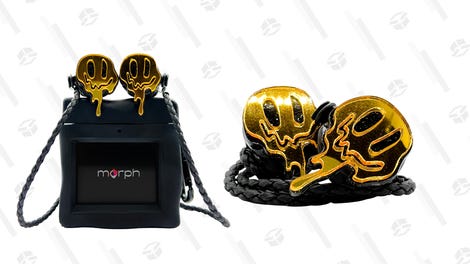 morph audio
Morph Earphones
The instructions typically say to leave this mask in for three to five minutes while in the shower, but I never do that. As with any hair mask, I always give it extra time to soak in. When I put this in my hair, I avoid my roots, because that isn't the area on my head that needs the extra moisture. Instead, I absolutely saturate my hair from the middle to the ends with the mask. Then I clip my hair up and put it under a shower cap for anywhere from 20 to 60 minutes. When I wash this out, I also use cold water, instead of hot, to lock in the moisture and avoid any damage hot water might do to my hair.
It is important to note, if you have inches of broken hair, this will not fix your dead hair. You need to cut the dead ends and give them TLC in the form of a hair mask. Many masks claim to repair damaged and broken hair, but I have found, after years of overcoming my hair abuse, there is no fixing super dead hair. This mask will make damaged hair feel better, though, but not fix it. It certainly won't feel like dry straw after using it a few times, but it also won't reverse all the damage that color treating and heat styling do to hair. So, invest in a good hairstylist and stock up on hair masks afterward to maintain healthy hair.
---