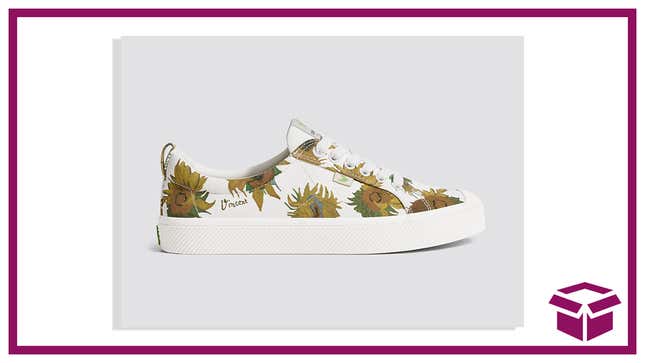 When Van Gogh painted one of his most famous works, he probably never envisioned them being printed on shoes. But you can get your favorites right now, and for a great price! Check out this collab from Cariuma and the Van Gogh Museum. Cariuma, one of the leading sustainable sneaker brands, partnered with the Van Gogh Museum in Amsterdam on four styles that channel Vincent Van Gogh's most famous pieces. They start at $89, and if you shop ASAP, you can get hold of your size before it runs out — as of this writing, the shoes were selling fast.
Cariuma x Van Gogh Museum Sneakers | $89 | Cariuma
Cariuma has done a great job carving out a niche in the sneaker market, particularly with its must-have collabs and limited-edition shoes. These four styles commemorate the 50th anniversary of the Van Gogh Museum and are meant to inspire you with the beauty of nature. We all know Van Gogh's paintings of sunflowers — now's your chance to wear them. Get the four styles starting at $89 at Cariuma before they're gone.
Originally written by Elise Caplan on 7/20/2023 and updated with new information by Brittany Vincent on 8/2/2023 and 8/3/2023 and by Elise Caplan on 9/5/2023.