A lot of people like to hoard their Chase Ultimate Rewards points to book first class flights or five star hotels that they'd never pay for themselves, and more power to them. But I prefer to stretch mine out to cover as much travel as possible, even if it's not glamorous. Here are the most cost point-efficient redemptions I've found, with the caveat that I'm an American who primarily travels within the United States.

Southwest Airlines
With an incredibly flexible change and cancelation policy and the ability to redeem any seat with points, Southwest was my go-to for points-based domestic travel. But a small devaluation in April changed that calculus somewhat.
Southwest is a 1:1 transfer partner with Chase, meaning you can move Ultimate Rewards points into a Southwest account (though not the other way around) in 1,000 point increments. This was great before the devaluation, when most Southwest flights were available at a rate of about 1.6-1.8 cents per point. But now, a lot of flights have fallen below 1.5 cents, which is an important threshold if you have a Chase Sapphire Reserve.
As we've covered here, Reserve cardholders can book just about any flight or hotel, regardless of airline, at a rate of 1.5 cents per point through Chase's Ultimate Rewards travel portal. Southwest flights don't show up online in the portal, but you can still book them over the phone at that same rate.
G/O Media may get a commission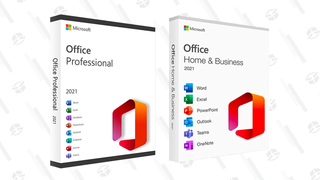 89% off
Microsoft Office Professional 2021 Lifetime License
This creates an interesting choice: Do you transfer your points to Southwest and book a rewards flight yourself, or do you book it through Chase? There are pros and cons to both:
Southwest.com
Many flights priced at under 1.5 cents per point.
Must pay taxes in cash ($5.60 per person, per flight, as of now).
Flights don't count towards Southwest status, or earn Southwest points.
Must pay the full fare (minus taxes) in points; no cash + points options.
Can be booked directly online.
Can be changed or canceled without penalty. If canceling or changing to a cheaper flight, the difference in points is immediately returned to your Southwest account. Those points cannot be returned to your Ultimate Rewards account, however.
Booking Through Chase
All flights priced at 1.5 cents per point, the same as booking any other flight this way from any other airline.
Can pay for taxes with Ultimate Rewards points.
Flights count towards status and earn Southwest points as if they were bought with cash.
Can pay for any percentage of the fare in cash, rather than points, if you don't have enough points.
Must book over the phone by calling the number on the back of your Chase card.
Changes to cheaper flights or cancelations (on Wanna Get Away fares) are refunded in the form of Southwest vouchers that expire after one year. Points cannot be refunded into your Rapid Rewards account.
If you're booking a flight speculatively, or think it's likely to get cheaper after you book, transferring your Chase points to a Southwest account is still a good strategy, as you can always get all or some of those points back if your plans change, and those points don't expire as long as you maintain any kind of activity in your Southwest account every 24 months. But if your plans are locked in place, it's no longer the slam dunk redemption that is used to be.
United Airlines
Other than Southwest, United is the only domestic airline with a direct transfer relationship with Chase. Their miles program is more traditional, in that not all seats are available for award booking, and pricing can be a bit arbitrary, but it's at least worth checking, especially for expensive flights to smaller regional airports. Just remember, always divide the cash price of the flight by the number of points required to book it. If the points are worth less than 1.5 cents (Sapphire Reserve) or 1.25 cents (Sapphire Preferred), it's better to book through Chase's travel portal.
American Airlines
American Airlines isn't a transfer partner with Chase, but British Airways is, and they're both part of the same airline alliance. Award availability is very spotty, but you can often find great values by booking American flights through British Airways' site with British Airways Avios.
Redemption rates are based on distance rather than price, and each leg of the flight is priced separately, meaning the sweet spot here is short, direct flights within North America. I once used this trick to book an $800+ flight for my dad from Roanoke, VA to New York on less than a week's notice for 7,500 points each way, a valuation of over $.05 per point, which is incredible for an economy class ticket.
Hyatt
Of the four hotel chains included in the Ultimate Rewards program (Hyatt, Marriott, Ritz-Carlton, and IHG), I've found that Hyatt offers the best redemption options. Lots of perfectly respectable Hyatt Places and similar properties are available for only 5,000 points per night. And if you want to splurge, several all-inclusive beach resorts in Mexico will only set you back 20,000-25,000 points, and even world class, $1,000+ per night hotels like the Park Hyatt Paris Vendôme top out at a relatively low 30,000 points.
When booking, be sure to look out for points + cash redemption options. I recently booked a hotel in Asheville, NC that would have cost about $350 or 12,000 points per night, a solid value of nearly 3 cents per point. But a cash + points option was also available for $75 + 6,000 points, which cost me a bit of money out of pocket, but boosted my point value to about 4.5 cents each.
Marriott
Marriott gets a mention here for sheer ubiquity; you'd be hard-pressed to find a town with more than three traffic lights and no Marriott properties. They are a 1:1 transfer partner with Chase, but their redemption rates are generally not as favorable as Hyatt, so be sure to divide the cash price by points required. Again, if it's less than 1.5 cents or 1.25 cents per point (for the Sapphire Reserve and Sapphire Preferred, respectively), it would be better to book through the Ultimate Rewards portal. Or, you know, find a Hyatt instead.
---
No matter how you want to spend your points, just remember that you aren't maximizing your earnings potential if you just have a Sapphire Preferred or Reserve. You'll also want to pick up the Chase Freedom and Freedom Unlimited, both of which will earn you more points on certain purchases, come with 15,000 point sign-up bonuses (when you spend $500 in three months), and carry no annual fees.

---