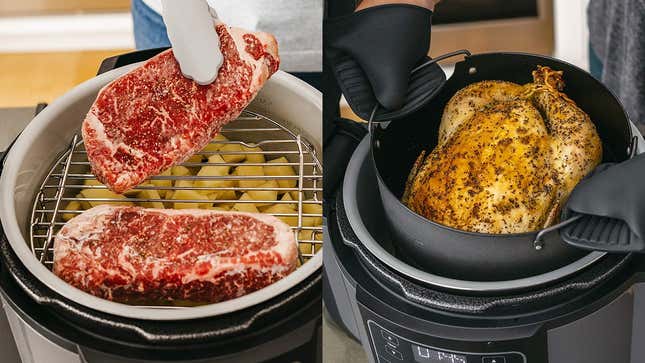 Ninja Foodi 6.5 Quart With Dehydrator | $192 | Amazon
The Ninja Foodi, designed in part by friend of the site Justin Warner, wants to be the One True Buzzy Kitchen Appliance. It's a big, hulking thing, but it can do just about everything, as our researcher Corey Foster wrote in an (upcoming) Inventory post:

The Foodi is, however, far more versatile than the Instant Pot, adding broiling, crisping (air frying), and "tender-crisping" (pressure cooking followed by air frying) to the steaming, pressure cooking, searing, sauteing, and souping multi-cooker standards.
So while it is a large appliance, it obviates your need for a pressure cooker and an air fryer, the two appliances around which 90% of new cookbooks seem to be based. Already have them? You can set aside the Instant Pot for rice duty, and use the air fryer to cook sides while the Foodi works on your main course.
And though you likely won't use it as much as you will the pressure cooking and air frying modes, this particular Foodi model even has a dehydrating mode, which can turn fruit slices into fruit chips, and cuts of meat into delicious jerky with just the touch of a button. Let's be honest, you're probably never going to buy a dedicated dehydrator (they cost over $100 in most cases), but if it was built into your multi-cooker, it could surely prove useful.
Originally priced at $280, Amazon's marked the 6.5 quart Foodi down to an all-time low $192 today, which is a bargain when you consider all the stuff it can replace.
---