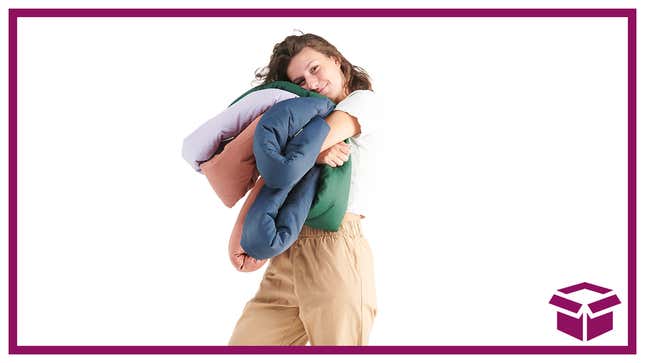 The best travel pillow of 2023 has arrived: The Infinity Pillow is soft, ultimately flexible, brilliantly designed, and best of all, it's only $45 when you follow this link. Add an accessory like the Infinity Pillow Travel Case or Bamboo Sleep Mask to take your order over $50 and you also get it shipped for free.
Infinity Pillow | $45 | Infinity Pillow

What Is an Infinity Pillow?
The challenges of finding the ideal travel pillow have never been addressed so uniquely, more innovatively, or as well. The Infinity Pillow's patented Möbius shape — the infinite loop which lends its name to the pillow — is perfect for twisting, wrapping, and any other form of manipulating to create your unique ideal comfort point. Give it the right twists and it can be used as an eye mask, back cushion, or noise-canceling head wrap. But as a pillow it provides unmatched comfort and neck support on planes, in hotels, at your desk, or in your own bed.
What Is the Infinity Pillow Made From?
It's made of breathable, sustainable, amazingly soft bamboo fabric and filled with microfibers only 10 microns in diameter, which expand and intertwine to form air pockets for ultimate lightness and plushness. The inner and outer layers join to create a temperature-regulating effect that keeps you cooler in the heat and warmer in the cold. It's also machine washable and gets softer and more snuggly as you continue to use it.

How Well Does the Infinity Pillow Support My Neck?
Wrap the Infinity Pillow around your neck and pull one end through the other, and the ultra-soft materials conform to your body's shape without constricting you, giving you incredible neck support. When used as a back cushion, it has the same effect for lumbar support and helps you relieve muscles strained from travel or just from a long day.
What Makes the Infinity Pillow So Perfect for Travel?
Normal travel pillows can assume only one shape, and can be notoriously stiff or inflexible. The thin little pillows provided by the airlines are hardly worth bringing up. The Infinity Pillow's innovative Möbius shape makes it the perfect window pillow or great neck support for the aisle or dreaded middle seat. It easily twists into a blackout-quality eye mask, saving you the need to buy a separate mask. And if you're on a loud flight or stuck in a hotel with inconsiderate loud neighbors, the Infinity Pillow conforms around your head to double as a noise-canceling wrap. It's also small and lightweight, and the design makes it easy to loop over the handle of a wheeled carry-on or over your shoulder for effortless portability.
How Do I Get One?
Right here, for only $45. Check out the travel case ($12.50) or bamboo sleep mask ($17.50) if you want to push your order over the $50 mark for free shipping.