Does thinking about Valentine's Day gifts make you...well, a little squirmy? I get it, me too. After all, they have a horrible reputation for being cheesy as hell, and (unintentionally) unsexy af. Pop culture has trained us to give and receive such inanities as jewelry shaped like lips, bad milk chocolate in a cardboard box heart, teddy bears for adults… It's just not a good look.
Instead, think of Valentine's Day like a birthday with a theme, and the theme is, "Correctly assess our relationship status and give a gift that conveys exactly how serious we are." It sounds scary, and I'm not not saying there's opportunity here for things to go horribly wrong. But that's why you have Team SG, your female brain trust with the inside scoop on how to absolutely kill it on Valentine's Day this year.
We've rounded up 12 excellent Valentine's Day gift ideas that are sure to please your main squeeze. From unexpectedly cool jewelry to silkie little things and yes, even chocolate, prepare to induce some serious swoons.
Stone & Strand Birthstone Stud Earrings, $75

Looking to impress your lady and prove you know when her birthday is? Behold, these sweet, tiny stud earrings in 14k gold. Personal and affordable, these are a can't-miss gift.
G/O Media may get a commission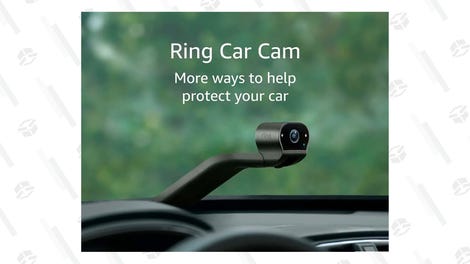 APM Monaco Asymmetric Dinosaur Hoop Earrings, $119
In the middle of the Venn diagram of women who love fashion and women who love the original Jurassic Park—you'll see these earrings. She'll be kind of obsessed with your gift-giving ability to balance cool and kitch.
Mejuri Mini Signet Ring , $165
All of us here at SG HQ go hard for a classic signet ring—they're so classic, and the idea of giving someone a piece that could become an heirloom to them? 12/10 you will get good husband/boyfriend points. A simple, sophisticated gold ring like this is the kind of thing she'll put on and never take off.
Oh, and get it monogrammed, obviously.
Rebus Lapis Lazuli Pendant, $390

This brand is new on our radar and crazy-expensive; a splurge for your wifey-status woman. Lapis Lazuli—a semi-precious opaque deep blue gem—is gorgeous, and this delicate pendant can be layered with all her favorite pieces.
Raaka Chocolate Bar, $15 for three

You're better than a plastic bag of Hershey's kisses, right? Raaka makes bougie dark chocolate bars flavored with things like Cabernet Sauvignon and Bananas Foster. Fun and an ideal go-to gift for a woman you're just getting to know.
1lb of See's Candies Chocolate Lollipops, $20
This box has about 30 lollipops in it, which is just a comical amount of chocolate to give. I like that. I also love these old school lollipops, like, a lot. Go all-out and wrap the box in wrapping paper and put a bow on it for extra over-the-top credit.
The Bouqs bouquet of flowers, $36 and up
Not exactly an original idea, but if you're going to go the flowers route, skip the too-expensive, non-original arrangements from big name brands. Instead, go for a cool mixed bouquet (skip the red roses, please) from a new-on-the-scene floral company like The Bouqs, Landeau, or UrbanStems.
Nadaam $75 Essential Sweater, $75

File this idea under "Eww it's so cheesy I absolutely love it!" What if you gave her a luxe cashmere sweater that's actually unisex, so you guys can—wait for it—share it. If your girlfriend keeps stealing your perfectly oversized sweaters and sweatshirts, I cannot recommend this gift idea enough.
Commando Silk Cami, $98 and Silk Tap Shorts, $58

Unless it's already "a thing" for you guys, stay away from lacy, strappy, holes-in-suggestive-places stuff. A silky camisole and shorts hit the sweet spot, and the red color is also festively appropriate. This set is actually comfortable for her to sleep in and looks sexy as hell. Everyone wins.
The School of Life 100 Questions: Love Edition, $33

You know the ladies love a good "deep talk." If you're game to spill your guts but not quite sure where to start, here are exactly 100 ideas! You guys can talk about everything from sex to fidelity, family baggage and your partner-ing style. You'll learn a lot and maybe even cry. Fun! (Just kidding, but like, maybe you will?)
Special Delivery from Goldbelly, Prices Vary
Say hello to a night in with your number one preparing Oprah & Gayle's favorite's from Kennebunk Inn in Maine—which consists of two lobster pizzas and two lobster pot pies. Just, wow.
Sexy hotel nights are sexy. That's all I'll say about that. This is a fun early-in-the-game Valentine's gift, obviously, but also perfect if you guys have kids and need a night away from the brats, er, angels.
---