Originally, I pitched this story to Shep as the best flannel shirts for guys because...well, why not? It's October! Fall is here! Even if it is still reaching 80 degrees here in New York in the afternoons!

Our team had started pulling together a nice lil listicle the Brawny paper towel guy would love. Cozy plaid flannel after cozy plaid flannel. Mmm, I can just smell the hot apple cider mulling.
But guys, it turns out, there's so much more good flannel out there this season! Think: lined jackets and pants, brushed flannel baseball caps, and even soft to the touch flannel-covered shoes! I didn't want you to miss out on all the cozy boi style. So we broadened our search and came up with the more comprehensive, fuller flannel list below. Check out the best flannel everything for guys this fall:
This Bonobos shirt comes in standard sport shirt sizing, but you can choose your fit—from tailored (the closest cut), to slim, to a roomier standard fit—and shirt length for a more made-to-measure feel.

Our team likes the Navy Harvey plaid for a casual office outfit. Wear it with dark rinse jeans or chinos in a rich khaki color that brings out the brown in the shirt. Finish the look off with lace-up boots and a camp sock for "mountain man with a liberal arts bachelor degree" vibes.
G/O Media may get a commission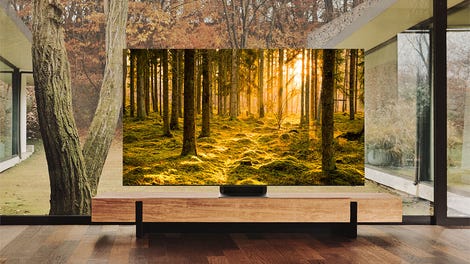 Up to 40% off
Samsung Smart TVs
It's worth remembering that flannel doesn't have to mean plaid! If you'll allow me to push my (designer) glasses (kidding, they're Warby Parker, and they're just blue light blockers) up my nose for a quick fashion lesson…

Generally, flannel is made from soft cotton, wool, or synthetic fabrics, and can be "brushed" using a mechanical process for an even fuzzier texture. Flannel's thick, loose weave is what makes it so good for colder weather, as air pockets in the fibers act like insulation built into the garment.
Bottom line? Flannel refers to fabric and weave, while plaid refers to the familiar criss-crossed pattern. Things like plaid shirts are often made of flannel fabric, but not always. Sort of like how an orange is always a fruit, but not all fruits are oranges.
Anyway, this cotton textured flannel shirt feels so fresh for fall, especially in the off-white color. Just think how great it would look with colored corduroy 5-pocket pants in a rust or burgundy shade, or a pair of winter-white denim if you're feeling brave.
The Sutton suit is Todd Snyder's answer to J.Crew's Ludlow suit (which the designer, not coincidentally, helped create during his tenure at the American sportswear company).

This bad boy boasts a modern, trim fit in wool flannel sourced from Vitale Barberis Canonico, a renowned mill in Italy. Oh yeah, and it's on deep discount right now. If you've got year-round navy and grey wool suits hanging in your closet already, this heftier style could be a good special occasion suit for fall and winter.
Copenhagen label NN07's baseball cap is simple and straightforward enough to wear with both casual and dressier outfits...well, dressy outfits that won't look silly topped off with a hat that's not a top hat.

Made from six panels of soft navy flannel with embroidered eyelets, this cap will have you looking simultaneously low-key and sophisticated, like a celebrity on a Starbucks run who wouldn't be mad about being caught by the paparazzi.
Crafted from soft wash denim, this button front trucker jacket with chest and side pockets has a flannel lining that will make it an MVP in your outerwear rotation until practically the first snowfall.

Throw it over a pocket tee in the morning when you know the sun will be out later and you won't need it when going outside to grab lunch. Or dress things up with a pair of winter-weight trousers and a tab-collar shirt.
Hello-o-o-o-o, handsome buffalo plaid. The checks pattern on this casual, snap-front flannel shirt is made of a durable wool blend to keep you warm all season long, whether you're working in the yard or getting your football season tailgate on.

As a heads up, flannel absorbs smells more easily than other fabrics do. As such, even for shirt jackets like this Smartwool one, you may want to wash or dry clean more than you would your other fall outerwear.
Seavees is king of the comfortable-but-cool shoe, and this dark grey desert boot with a flannel upper and a herringbone outsole keeps that reputation intact. Made from genuine gum rubber, you'll also enjoy maximum slip resistance—perfect for fall's inevitably inclement weather.

Okay, one more, and yes, before you say anything, I know it's expensive. But allow me to put a decorative button on this cozy flannel round-up with a mind-blowingly bonkers, total smoke show piece of outerwear from Woolrich.

I mean, look at this thing! Have you ever seen a more handsome, make-you-wanna-skip-your-car-payment piece of clothing?!
What I'm saying is, Hot Girl Summer is officially ready to make way for Cozy Boi Fall.
---