The Best Cyber Monday Deals - 2019) : title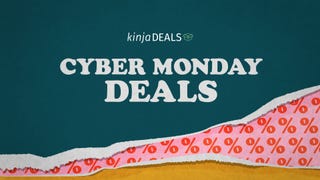 The Best Cyber Monday Deals - 2019
Stay caught up on all the best Cyber Monday deals from around the web, as curated by The Inventory's deal spotters.
Cyber Monday is one of the best times of year to get a new game console, pick up a game that's been on your wish list, or score some discounted gift cards for your favorite media services. We'll be collecting all of the best deals in this space below through the entire holiday weekend, so it's game on. Stay tuned, we'll be updating this post as deals go live, and throughout the holiday weekend.
Looking for the rest of our Cyber Monday coverage? You can visit our Cyber Monday hub, or jump straight to one of the posts below:
---
You can buy all of the Play-Doh your heart desires today during this Play-Doh and Playskool Toys Gold Box. A 24-pack is only $17 right now. I'm not going to tell you not to eat it since you're adult. But it's no wonder why kids want to eat Play-Doh when Hasbro sells toys like Kitchen Creations Magical Oven. Just look at that pie!

G/O Media may get a commission
46% off
Toshiba 75-Inch 4K Smart TV
---
PC games demand a lot more from your monitor than the typical spreadsheet app. Which means even lower-end monitors can still be pretty great. This 23.6" monitor from Dell is only $80 from eBay today, and comes with a 1920 x 1080 LED panel and 2ms response time. The one major downside is that it's limited to 60Hz, which is adequate but not quite the buttery smooth upgrade you can get from a 144Hz monitor. Still, for its price it's a solid display.

---
It's back! Right now, eBay's selling Pokemon Sword or Pokemon Shield for $48. I've spent 30 hours on Pokemon Sword, and I can tell you that it's the Pokemon game I've been waiting years for. And this the best deal we've seen on these two recently released Nintendo Switch games.

---
SteelSeries mice and headsets are currently on sale at Amazon, offering inexpensive upgrades to your PC and console gaming. For $40, you can pick up this basic headset, or upgrade to a Bluetooth version for $80. Similarly, you can grab this $60 wired mouse, or get the rechargeable wireless version for $90.

---
Give the gift of LEGO (or Playmobil, or K'nex, or Tinker Toy) this Christmas. If your child likes Star Wars, Ghostbusters, or Marvel, there are plenty of options in today's Gold Box. Right now, you can get up to 40% off select LEGO and building blocks.

And just remember, these items are part of a Gold Box sale, which means the prices are for today only, while supplies last.
---
It is finally Cyber Monday and that means there is another Nintendo Switch bundle. Today's deal is a combination of the game, plus storage and ease. You can take your pick of the Neon Blue & Red Joy-Con or the Gray Joy-Con when you buy the Nintendo Switch Bundle with Bonus 128GB SanDisk Memory Card & Ematic Controller for $299 at Walmart. You're getting about $40-50 worth of free products that you'll actually need when playing in this bundle.

---
Remember that fancy-ass Funko! Pop Deluxe: Star Wars - Millennium Falcon? It was originally listed for preorder back in June and finally was shipped out in October (on Carrie Fisher's birthday). Well, now, just in time for all of your Christmas shopping, it is marked down to $52 on Amazon. This is the cheapest the Falcon has ever been. And okay, it is probably not as cute as Baby Yoda, but close enough.

---
Looking for a way to make your Christmas party extra fun? Games always do the trick. But not everyone wants to play board games. If you want to keep things festive and active, this Reindeer Antler Ring Toss Game is only $10 on Amazon.

---
Starting today, Best Buy is discounting a number of Logitech peripherals for work and play. Running through Cyber Monday, you can save big on Logitech gaming mice, keyboards and headsets, starting at just $25.

The highlights include the awesome Logitech G Pro keyboard is down to just $80 and the G502 Hero is selling for just $50. But you've got a few options here, so make sure to visit the deal page to see all of your options.
---
If you've been looking to upgrade your PC in a massive way, this 32" LG FreeSync gaming monitor is a terrific bargain. This QHD VA panel offers a resolution of 2560 x 1440 and a super fast 144Hz refresh rate. This Vesa-compatible unit also offers multiple inputs, including a display port and two HDMI input, plus a 3.5mm headphone jack.

This particular unit jumps back and forth between $500 and $300, and this current $275 price is the lowest we've ever seen.
---
Right now is the prime time to Christmas shop for everyone on your list. If you like to get a few surprises for your kids every Christmas, you're in luck. Your kid will think the Hauck Nerf Striker Go Kart Ride On is totally awesome. It is currently $129 on Amazon. This will take family Nerf gun fights to the next level.

---
With just two days until December 1st, the Harry Potter Funko Advent Calendar has been marked down in price. Right now, you can get this for just $30. If you want to see who is inside before buying, we've already opened this calendar for our Spoilin' Santa series!
---
If you suddenly find yourself in need of extra controllers for your Super Smash Bros. parties (like I do, every other Saturday), PowerA's Enhanced wireless controller is down to $29 on Amazon right now, an all-time low. It's laid out exactly like my Pro controller, but with a few twists.

For one, it has red accents, but it also has a couple customizable buttons on the grip and uses AA batteries, in lieu of the internal battery of the Pro.
Today's deal is the lowest price we've seen, or about $17 off the going rate.
---
Amazon is running a deal through December 4th on Kindle eBooks. If you spend $20 in Amazon's digital eBook store, you can get a $5 credit right back. The purchase must be made by December 4th, but the credit can be used any time afterwards, so if you know someone who wants a Kindle and at least $20 worth of books, it might be a good way to give them a reader preloaded with something they can read over the holiday.

---
VR is usually a pretty expensive affair, but with recent standalone headsets, it's started to get more accessible. One of the better options, if you don't want to spend a ton of money, is the Oculus Go. It doesn't require any external computers, and best of all Amazon is selling them for $149 right now, cheaper than we've ever seen them.
---
Accessory manufacturer UGREEN is running a sale on Switch accessories and some are hitting dirt cheap prices. This Switch carrying case with space for your power adapter, dock, and plenty of cartridges and cables is just $14 when you use the coupon code 7XH7UT8H. A couple of Switch Lite carrying cases are also on sale with their respective coupon codes above. They also have a screen protector or grip cover for your Joy-Cons, which don't require a coupon code at all.
https://www.amazon.com/dp/B07GQPF13L?ascsubtag=3965ff5f43ff090001134458f7e39d57f5a77d0d&tag=kinjadeals-20&kinja_price=9
https://www.amazon.com/dp/B076TSQQ9R?ascsubtag=af2e850b2e23facab5e0b488168106af4e3bfde5&tag=kinjadeals-20&kinja_price=14&kinja_promocode=7XH7UT8H
https://www.amazon.com/dp/B07Y1PRSXT?ascsubtag=73337b07919c3554250f2d133a2e92da29784fcb&tag=kinjadeals-20&kinja_price=8&kinja_promocode=MUMCCO7G
https://www.amazon.com/dp/B0798MRTW8?ascsubtag=462e71c43794dc683c821c0b21951c6d4abbc58b&tag=kinjadeals-20&kinja_price=6
---
The Nintendo Switch doesn't support pairing wireless headphones directly for technical reasons. To compensate, you can buy adapters like this HomeSpot transmitter for $30 or this GuliKit Route Air Bluetooth adapter for $24. These plug into the USB-C port on the bottom of your Switch and can then pair with any Bluetooth headphones, giving you wire-free audio no matter where you take your games.
---
Pick up 3 months of Xbox Live for just $15 today, but the better deal is the Game Pass which is selling for $25. Xbox's Game Pass gives you access to a ton of games, new and not-so-new. This is a good deal on something you'll need to buy anyway.
https://www.amazon.com/Xbox-Live-Gold-Membership-Digital/dp/B004VSTQ2A/?th=1
https://www.amazon.com/Xbox-Game-Pass-Ultimate-Membership/dp/B07TGNFVWV/?th=1&kinja_price=25
---
The Outer Worlds has barely been out for a month but it's already left a lasting impression. It's mix of Fallout-style frontier survival with corporate satire creates a rich world that, even if it feels a little small, still makes for a satisfying way to spend a few dozen hours. At $35 from Target, it's just the right price to take the dive.

---
The LEGO Marvel universe might not have as many entries as its cinematic or comic counterparts, but it's no less vast. Between three games, you'll find more heroes, villains, and side characters than you could possibly recognize. For $20 you can get the collection on PS4 or Xbox One, including all season pass DLC.
---
A LEGO set with 731 pieces? No sweat. Just in time for Christmas and the release of Star Wars: The Rise of Skywalker, the LEGO Star Wars X-Wing Starfighter is on sale for $50 at Target and Amazon. This set runs for $80 when purchased from LEGO.
---
The Kano Computer Kit is an inexpensive DIY computer designed to help kids learn how to build and code their own computer. More recent variations include sensors that let kids code their own force powers, ice powers, and magic wands in a thinly veiled—but still very fun—attempt to turn play time into an education. All four kits are down to a mere $49 today.
---
The story of Cuphead isn't pretty. Gambling, deals with the devil, and the scariest of all, its learning curve. But Cuphead's aesthetic, on the other hand, is delightful. And this construction set—frustratingly not LEGO, but still good—gives you a bit of that classic cartoon vibe in a piece you could put on your shelf.
---
The Nintendo Switch is better with friends, and you can add an extra player by picking up an extra set of Joy-Con. Right now, Walmart and Amazon have a few for between $60, which is a few bucks less than usual.

I'll level with you, that's still a lot for a game controller. But the nice thing about Joy-Con is that for certain games, each one can work independently, meaning you can have a four person Mario Kart battle with just two sets of Joy-Con. 
---
Amazon is tearing through some sweet Blu-ray deals today, so if you could use some action in your movie diet, there's never been a better time to grab John Wick: Chapter 3 — Parabellum for $8, Spider-Man: Into the Spider-Verse for $6, or the greatest action adventure of all time, The Princess Bride for a mere $4. There are also others.
---
Despite lacking any ewoks, Star Wars Jedi: Fallen Order is somehow still one of the better Star Wars games to come out in a while. Now, you can grab the game, plus a new Xbox One S, plus a $40 Target gift card in this Target bundle.

---
Walmart and Best Buy are discounting a ton of consoles, so you won't have to wait a week to get your games going. Here are all their available offers:

PlayStation
Sony PlayStation 4 1TB Only on PlayStation PS4 Console Bundle | $200 | Walmart and Best Buy
PS4 1TB Pro Console | $300 | Walmart Xbox

Xbox One S 1TB All Digital Edition | $150 | Walmart
Xbox One X 1TB NBA 2K19 | $350 | Best Buy | Includes Best Buy $30 Gift Card and 3-Month Xbox Live Gold
Xbox One S 1TB Star Wars Jedi: Fallen Order Bundle | $200 | Walmart
Xbox One X 1TB Star Wars Jedi: Fallen Order Deluxe Edition Bundle | $350 Best Buy | Includes Best Buy $30 Gift Card and 3-Month Xbox Live Gold
Of course, Walmart, Best Buy and Amazon are dropping the price on a ton of their Xbox One and DualShock controllers (in various colors) down to just $39.
---
Enjoy all the benefits of a PlayStation Plus Membership for an entire year for a low $45. If you own a PS4, or plan to buy one on Black Friday, this is a no-brainer. This subscription gives you a couple of "free" games to play per month in addition to online play access. For November, you'll get a chance to play Nioh and Outlast 2.
https://www.amazon.com/PlayStation-Plus-Month-Membership-Digital/dp/B004RMK5QG?th=1
Gaming
Media