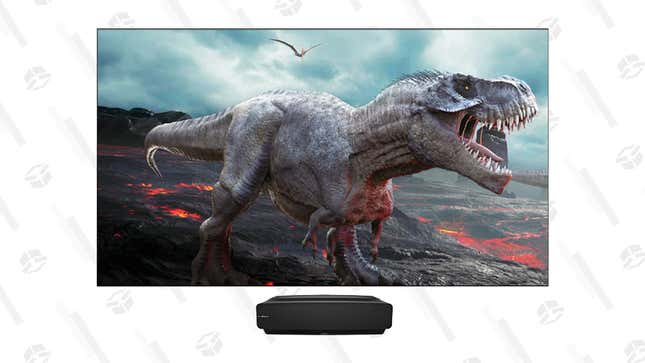 Hisense 100" L5 4K HDR Laser TV | $2,399 | BuyDig | Promo Code QQA210
When I attended CES 2020 what feels like a thousand years ago, my biggest takeaway was that laser TVs are the future of home theater tech. And despite still costing thousands of dollars, Hisense makes some of the most affordable ultra short-throw projectors you can buy from a reputable brand. In fact, I met with the fast-growing Chinese manufacturer at the trade show in Las Vegas back in January and sat in awe at what I'd seen. Before laser TVs, projectors were not only bulky, but they needed to be set up from afar to effectively beam light onto your small movie theater-sized screen.
Considering the impeccable image quality, compact design, and built-in Android smart TV functionality, complete with Google Assistant, $2,399 is a fantastic price for the L5 Series 4K HDR laser TV, and that's exactly how much you'll find it for over at BuyDig using the promo code QQA210 at checkout. Granted, you'll have to make it to the "confirm order" screen before the discount even shows up, but I went through the hassle of testing the coupon before writing this so that you don't have to. If you're in the market for a projector, or even an extra-large TV, this one is pretty much indistinguishable from a real IPS display. That includes the blacks, which used to be a weak point for projectors. Not anymore, though you'll have to pay a premium for quality.
---