Looking for a camera to kickstart your entry into the world of photography? Aor maybe you just want to try something a little different than your go-to DSLR or the camera you always have in your pocket (also known as your phone). Whatever the case, mirrorless cameras are a fantastic option for just about everyone, and one that you owe it to yourself to look into. The days of toting around heavy DSLRs are nearly gone. Our picks of the best mirrorless cameras can make photography a lot easier for beginners, hobbyists, or experts. So, snap up a new camera by perusing our picks below.
If you're ready for an advanced, full-frame mirrorless, the Sony A7 IV is an excellent choice. The body is incredibly light, and it's a great all-around performer. There are more expensive and capable Sony cameras available, but this one is entry-level for high-end cameras. This one isn't for beginners, and it's best to try a selection of lenses with a cheaper Sony mirrorless before you commit. 
G/O Media may get a commission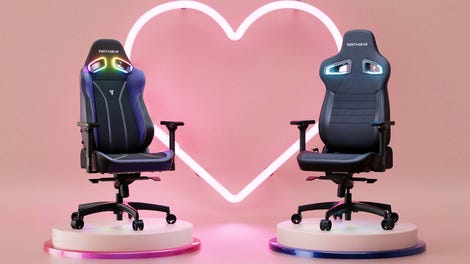 Up to $150 off
Vertagear Gaming Chairs
The Fujifilm X-T4 is an intermediate camera at a moderate price. It has more bells and whistles than the cheaper cameras on the list, with the biggest being integrated five-axis in-body image stabilization. This tech places image stabilization into the camera itself instead of the lens. It also can shoot DCI 4K/60fps video, which is excellent for videographers who are shooting for the most fidelity possible.
Nikon's Z50 is the venerable company's entry-level mirrorless. While this one comes with a 16-50mm DX lens, it's most attractive to those who are already part of Nikon's ecosystem. Unfortunately, DX (and the larger FX) lenses tend to hold their prices, so it can be tough to find deals, even on used glass. Otherwise, this camera compares well to the Canon EOS M50 and Lumix G100.
The Olympus OM-D E-M10 Mark IV may be a great option for beginners, but don't mistake it for being bereft of awesome benefits. In fact, the reality is quite the opposite. It comes packing Olympus's newest 20MP sensor, a flip-down, tiltable monitor, and in-body image stabilization to help make your photos the best they can possibly be. It's lightweight, portable, and great for users just getting into photography and veterans alike. Plus, even at this price, it offers much of what you can expect from its competitors without forcing you to empty your coffers. If you like that retro style, it's got you covered there, too.
If you already have some Canon lenses and want to upgrade from an older DSLR to a mirrorless, this Canon EOS M50 Mark II body is excellent. It's a step above the entry-level Rebel series and has a host of features you'd expect from a more expensive camera. This is another camera that's a great upgrade for vloggers as well. It can shoot up to 4K/24fps and gives you Canon quality without features videographers won't use. And even if you don't have a camera or any lenses at all, this is still a pick you'll want to pick up at this affordable price point.
The Panasonic Lumix G100 is an excellent entry-level mirrorless camera. Lumix lenses tend to be cheaper, so you can dip your toes into the world of professional photography without breaking the bank. This camera also comes with a 12-32mm lens, which will let you get started with some close-up work. It's equally at home shooting video as well and can record at 1080p/60fps or 4K/30fps.