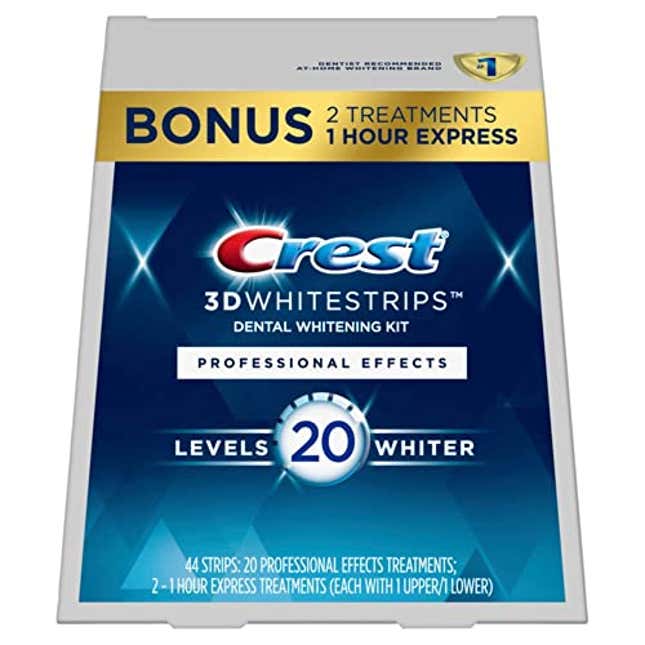 Giving the world a confident, radiant smile is now within your grasp, thanks to the powerful teeth whitening capabilities of the Crest 3D Whitestrips, Professional Effects, Teeth Whitening Strip Kit which is readily available on Amazon. A gleaming set of pearly whites is only 22 days away!
The Crest 3D Professional Effects Whitestrips pack has been designed and proven to eliminate stubborn, set-in stains accumulated over 20 years, giving you a visibly brighter smile in just a manner of a few weeks. The beauty of these strips lies in their use of the same enamel-safe whitening agent used by dentists. This promises a safe and effective solution to teeth discoloration, making it a popular choice among dental professionals across the globe.
There are numerous reasons why the Crest 3D Whitestrips is the ideal answer to your teeth-whitening needs. First off, the convenience is unbeatable. This easy-to-use, at-home teeth whitening product alleviates the need for costly and time-consuming professional teeth whitening services.
The kit comes with 44 strips (22 pairs), each of which can take your teeth up to 20 shades whiter. With consistent use over 22 days, you can expect to see dramatic changes in teeth coloration.
Perhaps even more compelling are the numerous glowing reviews on Amazon. Satisfied customers boast about the significant difference the strips make to the color of their teeth, with many noting the noticeable improvements just after a few uses.
Whether you're preparing for an important event, wanting to make a strong first impression, or simply looking to boost your self-confidence, investing in the Crest 3D Whitestrips, Professional Effects, Teeth Whitening Strip Kit is a decision you will not regret. With an impressive combination of effectiveness, safety, and ease-of-use, it's clear why this product has secured its spot as the leading choice for at-home teeth whitening!