Classic Sony headphones, a printer you won't hate, and Instant Pot's sous-vide circulator lead off Sunday's best deals from around the web.
Bookmark Kinja Deals and follow us on Twitter to never miss a deal.
Top Tech Dealsdfs
If you're still wrestling with a terrible inkjet printer at home, do yourself a solid and pick up the reliable Brother HL-2380DW monochrome laser printer today for just $100 today.

While it doesn't print in color, it more than makes up for that with the ability to spit out 32 pages per minute, duplex printing, and inexpensive toner cartridges that can last for years without being replaced. We've posted a lot of Brother deals in the past, and we've heard nothing but good things from readers about them. Plus, this particular model has a sterling 4.4 star review average on Amazon, a built-in scanner, and AirPrint and Google Cloud Print support, so it should serve you well for years.
G/O Media may get a commission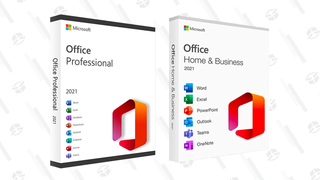 89% off
Microsoft Office Professional 2021 Lifetime License
---
Sony's MDRV6 Studio Monitor Headphones are some of the oldest (25 years old!) still-relevant headphones on the market, and have always been one of the best values in the space. In fact, they were one of our readers' five favorite headphones period in a Kinja Co-Op earlier this month.

If you're in the market, Amazon's marked the MDRV6 down to $78 today, which is about as low as they get these days.
---
The Roku streaming stick is all you need, and Amazon's selling refurbs today for $35, one of the best prices we've seen. Even if you already have the old model, it might be worth $35 just for the ability to use your phone as a wireless headphone receiver for your TV, which allows you to watch shows in bed without waking your significant other.
---
If you need a lot of space for computer backups or PS4 games, it's tough to beat 8TB for $190.

---
While it's a generation old at this point, the Roku 4 is still one of the few streaming boxes out there capable of playing 4K content, and at $63 for a refurb, it's the cheapest 4K streamer we've ever seen.

---
Everyone owns a camera now, but basically nobody knows how to take good photos. So rather than asking random passerby on vacation to take your photo, do it yourself with this flexible, smartphone-compatible tripod.

---
Whether your current mouse is giving you chronic wrist pain, or you just want to try something different, this 4.3 star rated wireless ergonomic vertical mouse from Anker is only $16 today, or $4 less than usual. In addition to the clever design, it even comes with three adjustable DPI settings and forward/back buttons, which are pretty rare at this price level.
---
Take a good, hard look at the computer you're using right now. If it's seen better days (or if you just have a tax refund to spend), Microsoft's President's Day sale is a great excuse to upgrade.

The highlights here are on Microsoft's own systems, with $200 or more off both the Surface Pro 4 and the Surface Book. Check out the full deal listing though, and you'll find laptops and desktops from Lenovo, Dell, HP, AlienWare and more, with prices and configurations that should please just about everybody (except Mac users, of course).
Things are a little less exciting on the gaming front, but you can enjoy $50 discounts plus a free game when you purchase an Xbox One S, plus some (mostly modest) discounts on games.
---
You don't need to pay Apple $160 to enjoy truly wireless earbuds: These SoundPEATS look nearly identical to the AXGIO earbuds that I tried out a few months ago, but with updated Bluetooth tech (4.2 vs. 4.1) and a lower price tag. They're not as sleek as some other truly wireless headphones on the market like AirPods or the Bragi Dash, but you can't beat that price.
Top Home Deals
A whole bunch of you have bought Anova's excellent sous-vide circulators over the past few years, but today, you can get Instant Pot's new take on the product category for $89, an all-time low.

Lifehacker has a great explainer on sous-vide cooking for you to check out, but the basic idea is that you seal the food in plastic bags, and then cook it in precisely heated water over a longish period of time, resulting in meat that is heated all the way through to a very precise temperature. It sounds weird, but trust me when I say that it works like magic.
The Instant Pot circulator doesn't actually require an Instant Pot to function, and won't integrate with one in any special way either; it simply clamps to the side of any pot just like the Anova. It also lacks the Anova's wireless connectivity, which is mostly useless on the Bluetooth model, but is somewhat helpful on the more expensive Wi-Fi version.
That said, if you've been meaning to buy one of these things, $89 is a great price for a gadget that will completely change the way you cook.
---
You might have a bathroom scale at home that works just fine for weighing luggage when you're leaving town, but these hanging scales are small enough to take with you, so you can make sure you won't get dinged for all of those heavy souvenirs on your return trip. All they have to do is save you from an overweight baggage fee once, and they will have paid for themselves several times over.
---
If you can't afford to outfit your entire kitchen with All-Clad gear, this 3-quart Cooks Standard saucepan uses the same Tri-ply technology of 18/10 stainless steel surrounding an aluminum core, and it can be yours for just $33, within $3 of an all-time low.
---
Without any wiring to futz with, Mpow's solar-powered, motion-sensing spotlights are the easiest way to illuminate your front porch or lawn, and you can get four of them for just $37 today.

---
Pint glasses are nature's perfect drinking vessels for any kind of cold beverage, and Amazon will sell you 10 for just $12 right now. Cheers to that.
---
You need to buy cleaning supplies, laundry detergent, and pet food anyway, so you might as well stock up and save with a pair of great Target discounts.

---
Electric kettles are the fastest and most efficient way to boil water, and this model from Aicok even includes six different temperature settings for different types of beverages.

---
While they might not conform to the classic look of our favorite chef's knives, this Cuisinart Advantage knife set is anything but dull (get it?). You can own the whole collection today for just $16, within a dollar of an all-time low price.
Don't let the colors fool you, these knives are stainless steel, and extremely sharp. The set has a 4.6 star Amazon review average on over 2,800 reviews, and while the colors might not seem like your thing, they do help you keep track and avoid cross-contaminating food while you use them.
---
Waterproof mattress covers are a must for anyone with pets, kids, night sweats, incontinence, allergies...really, you should just get one, particularly if you have a foam mattress. This AmazonBasics model has never been cheaper, and you can choose from any size.

---
Portable handvacs are something that every household should have, because cleaning a small mess with a giant, corded vacuum is not worth it. This Black + Decker Lithium Pivot Vacuum is lightweight and folds up completely for easy storage. $59's the best price of the year, so get yours before they're all sucked up.
---
We've posted a lot of deals lately on these coccyx seat cushions, but $13 is one of the best prices we've seen to date. These will improve posture and ease back pain in any chair where you spend a lot of time, from the office to the car to a long flight.
---
Update: Now down to $10!
We've posted deals on this five pound bag of Haribo Gold Bears a few times in the past, but this is the first real price drop we've seen in 2017, if you've already depleted your stash. You'll spend $11 if you order it through Amazon's Subscribe & Save program (you can cancel after your first deliver, but why would you?), or $12 to get it sooner with Prime shipping.

Also, fear not, these aren't the sugar free ones that famously do horrible things to you body.
Top Lifestyle Deals
If your brows need a little pick-me-up, or you just need to restock your makeup bag, Urban Decay is marking down their Brow Box to just $9. Each set comes with a powder to fill and a wax to set, plus two mini brushes and tweezers. Choose between two shades (Honey Pot or Brown Sugar) and get the brows you've always dreamed of, for less than you though.
---
If you're going to focus on one exercise to get into better shape for 2017, a rowing machine works just about every muscle in your body, and you can own a highly rated Staming model for just $231 today, with free shipping from Amazon.

---
It's that time again. Nordstrom Rack has brought back their Clear the Rack sale and it's full (and I mean FULL) of really incredible deals. Designer clothing, brands you've never heard of, everything an extra 25% off. What a way to end the week, huh?
---
No matter what size space you're working with, you can arrange these puzzle piece foam workout tiles into any shape you want. $20 gets you a half dozen 24" x 24"x 1/2" tiles, which will cover 24 square feet of space. You could even break them up, and use a couple as a standing desk mat, and the rest for yoga.
Top Media Deals
Today's Kindle Gold Box is ostensibly centered around previous Kindle Daily Deal titles that you might have missed, but all you really need to know is that it's loaded with really popular books for $5 or less.

A few of the most recognizable titles are listed below, but head over to Amazon to see all 40.
Top Gaming Deals
While $40 is about $5 more than Black Friday, Overwatch is worth every penny if you don't already own a copy.
---
It doesn't come with any bundled extras (other than a copy of Minecraft), but $200 is the best cash price we've seen on an Xbox One S to date. I'm one of those dummies that paid $500 for a Day One Xbox One, so I'm gonna go sulk in the corner for a minute.
Tech
Home
Lifestyle
Media
Gaming