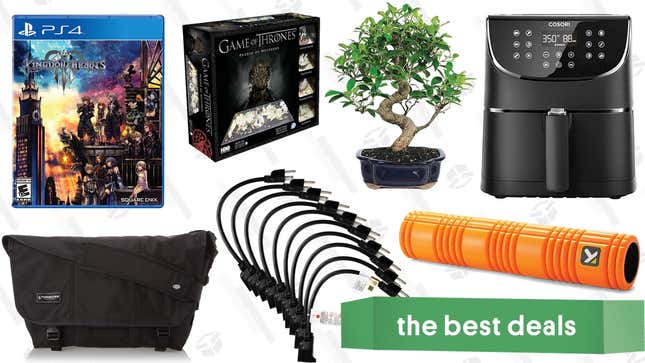 Kindle downloads for Mother's Day, handy 1' extension cords, and a TriggerPoint foam roller lead off Sunday's best deals from around the web.
Bookmark Kinja Deals and follow us on Twitter and Facebook to never miss a deal.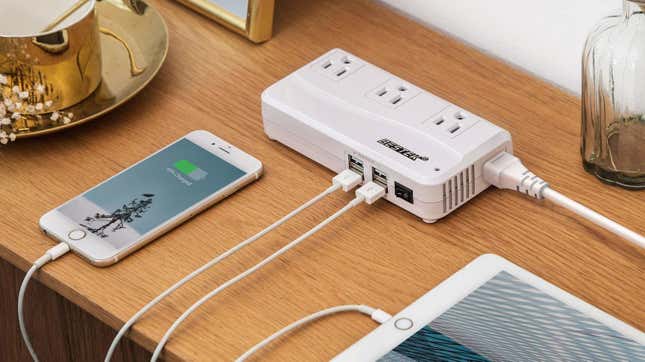 If you're planning on traveling internationally or fleeing the country any time soon, you won't want to miss this deal on one of our readers' favorite international power adapters.

Bestek's popular 220V to 110V universal voltage converter is down to an all-time low $22 today, bundled with a bonus (non voltage converting) universal outlet adapter. The main voltage converter is a complete 3-outlet/4-USB power strip, and will work with US, EU, UK, and AU outlets, converting 220V power sources to US-friendly 110V, for any of your electronics that can't handle both. And even when you aren't traveling, it'll act as a perfectly good desktop power strip.
---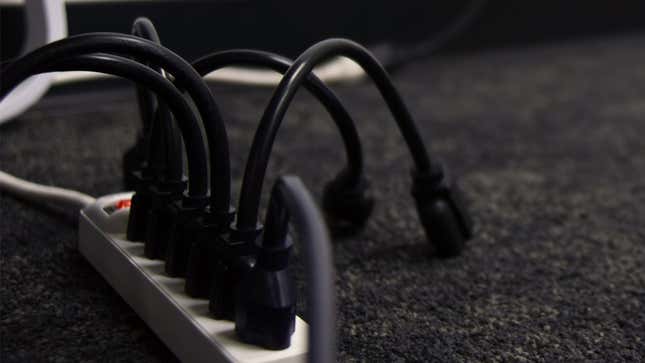 Giant plugs that cover up half the outlets on your power strip should be outlawed, but until that day arrives, these short extension cords will have to do. $28 gets you a pack of 10, which should be enough for even the most advanced home theater setups.
The deal doesn't require a promo code this time around, but today's price is about $4 less than the usual going rate for this set.
---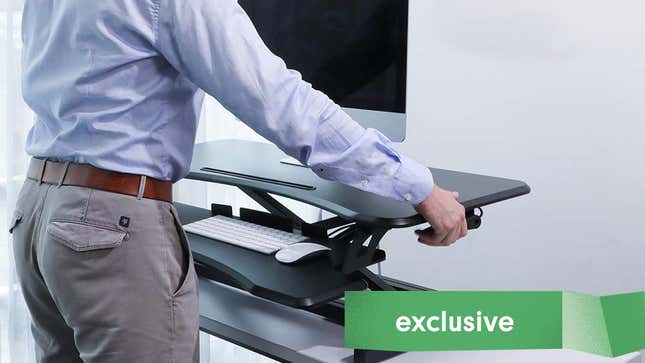 If you want to try a standing desk, but you're not ready to commit to it for eight hours a day, this TaoTronics monitor riser is on sale for $120 with promo code KINJAB9E.

This riser arrives fully assembled, and just sits on top of your existing desk. Put your monitor(s) on the top shelf, your keyboard and mouse on the bottom, and use its integrated spring system to raise the entire setup from a sitting to standing position within seconds.
---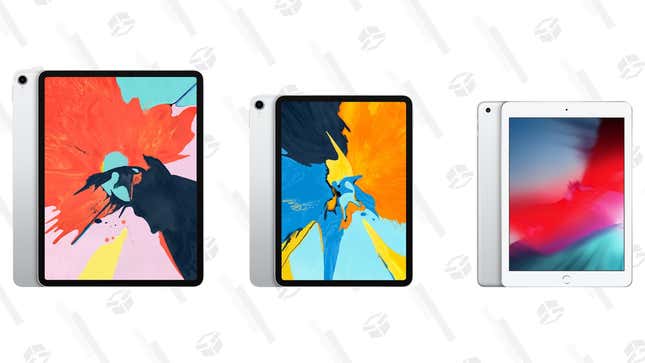 Whether you require the raw power, advanced screen, and superior camera, and USB-C connectivity of the latest and greatest iPad Pros, or if the standard 9.7 iPad can fulfill your tablet needs, Amazon's offering all of Apple's latest tablets for some of the best prices we've seen.
Depending on capacity and color, the mammoth 12.9" iPad Pro is $50-$220 off (though the 256GB and 512GB models are the best deals, relative to usual pricing), the 11" Pro is $50-$150 off (the 512GB is the sweet spot, but it's been cheaper in the past), and the 32GB standard iPad is $80-$100 off. If you need help deciding which one's right for you, Apple has a handy comparison chart here.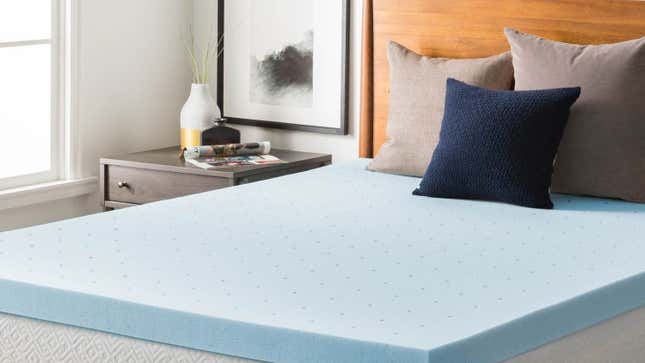 If you don't love your mattress, the answer isn't necessarily to buy another mattress. Sometimes the only thing you need you need to make a good mattress great is a topper.
These Lucid 3-inch thick mattress toppers are made with memory foam gel and carry an impressive 4.2-star rating from over 5,000 reviews. The price on the queen size has been cut down to an all-time low $62, and every other size you could want is on sale as well, but these prices will only last until the end of the day, so don't sleep on it.
---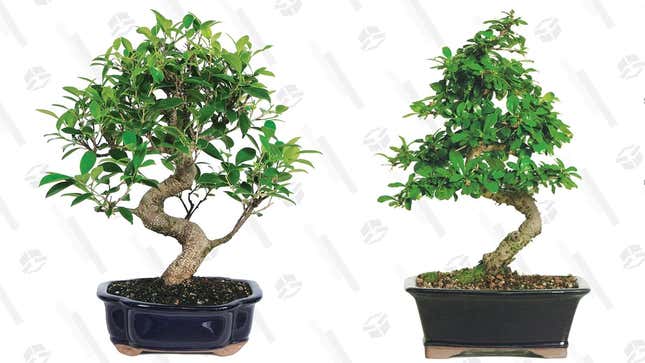 Life is stressful, but if you take your eyes off your Twitter feeds for a few minutes to tend to one of these little bonsai trees, it might just lower your blood pressure a tad. Two different, already-mature trees are on sale today, both of which come with a decorative container.

---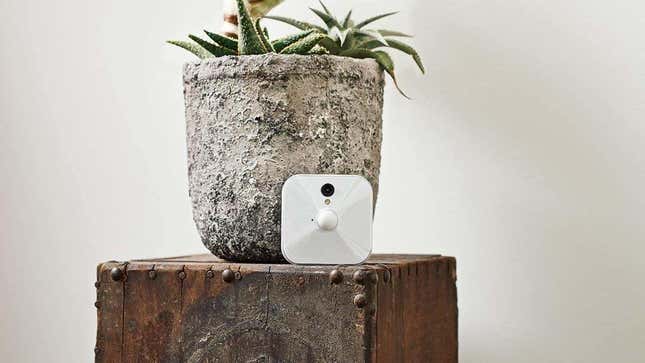 Amazon's highly rated Blink home security cameras are one of the easiest ways to monitor your home while you're away, and the indoor cams are back on sale for the best prices ever. A single camera starter kit (with a hub) is just $64, add-on cameras are just $55, and larger starter kits with more cameras are on sale as well.

---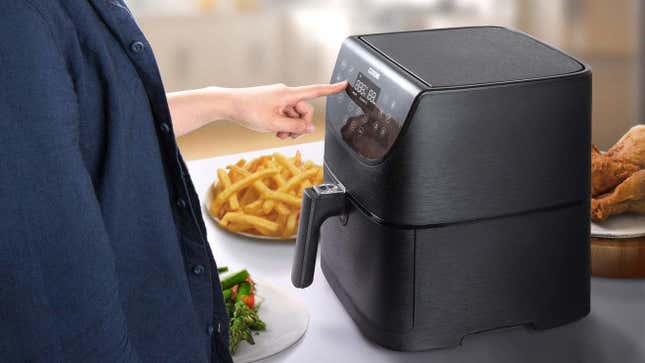 Air fryers are hot on the heels of pressure cookers as the must-have buzzy kitchen appliances, and two different sizes of Cosori's popular fryers are on sale today for $20 off.

Pro-tip: They're amazing at cooking frozen snack foods. We'll have more about that on The Inventory this week...
---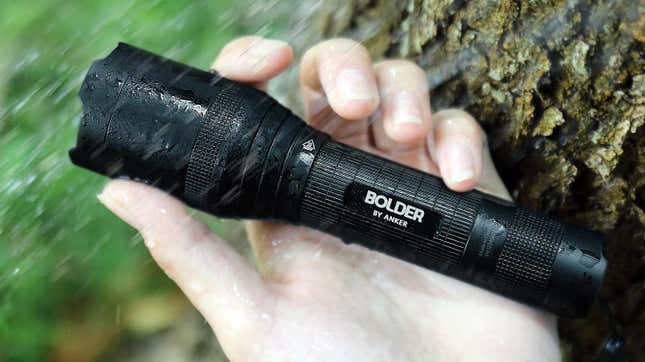 With a whopping 900 lumens of brightness, a rechargeable battery, a zoomable beam, and IP65 dust and water resistance, Anker's LC90 flashlight is enough flashlight for just about everyone. And with those specs, it's a steal at $20.
To give you a little context about the brightness here, your smartphone's flashlight probably puts out about 40-60 lumens. Again, this has 900. Don't look directly at it.
Just use promo code ANKERLC90 to get this deal before it goes dark.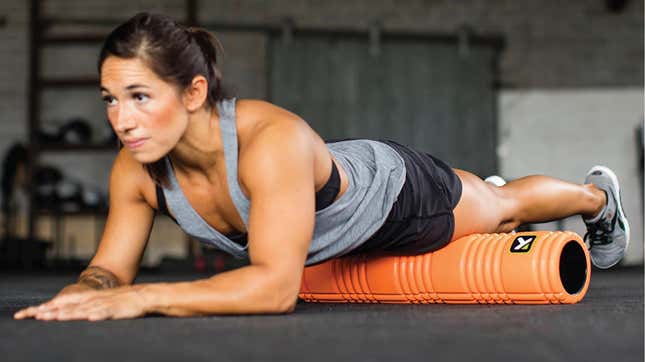 TriggerPoint's GRID foam rollers are the most popular on the market, and Amazon just discounted the 26" extra long model to $45, from the usual $60. Foam rollers use compression from your body weight to simulate a sports massage after you work out, and they hurt like hell, but they really work!

And in case you missed it last week, you can also save on the tiny miniature model.
---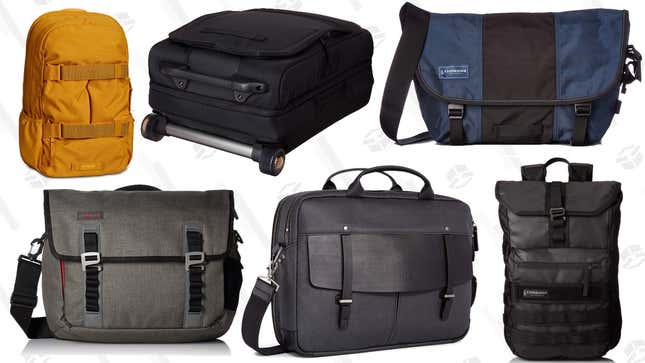 Pack your travel stuff into a new Timbuk2 bag. There are plenty of messengers on sale in today's Amazon Gold Box, as you'd expect from any self-respecting Timbuk2 sale, but you'll also find backpacks in all shapes and sizes, as well as useful one-offs like this bicycle seat pack.

Prices for full-sized bags start at under $35, but like all Gold Box deals, they're only available today, or until sold out.
---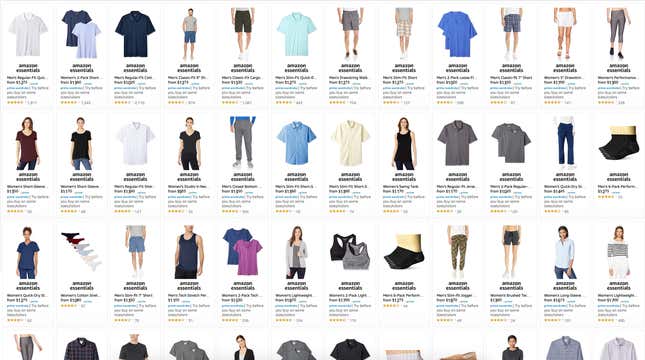 Amazon's rapidly expanding line of affordable basic clothing is on sale once again. This time, you can choose from 164 styles for men and women for under $20.

---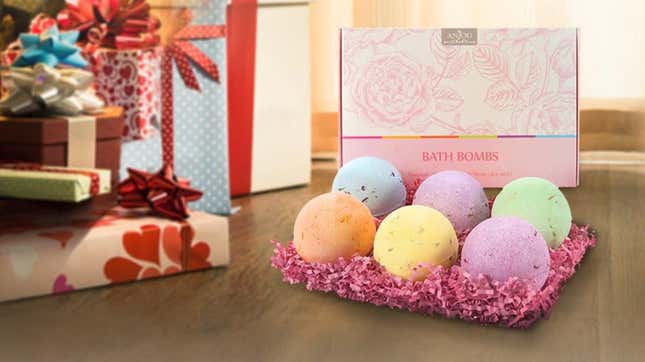 You don't need to justify this bath bomb purchase to anyone. It's $10, you get six of them. Treat yourself.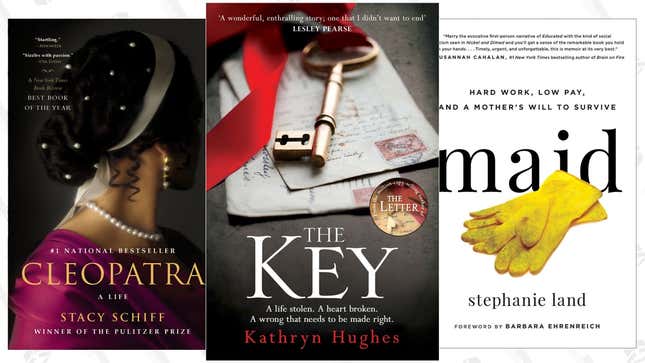 It's Sunday, which means it's time for another Kindle ebook sale, and it's only fitting that today's is centered around Mother's Day. Choose from a dozen top-selling books for moms for $5 or less. A few of the most popular titles are below, but head over to Amazon to see all of the options.

Forgot to get Mom a gift? The new, waterproof Kindle Paperwhite is still on sale, and if you live in a Prime Now city, you might be able to get it today.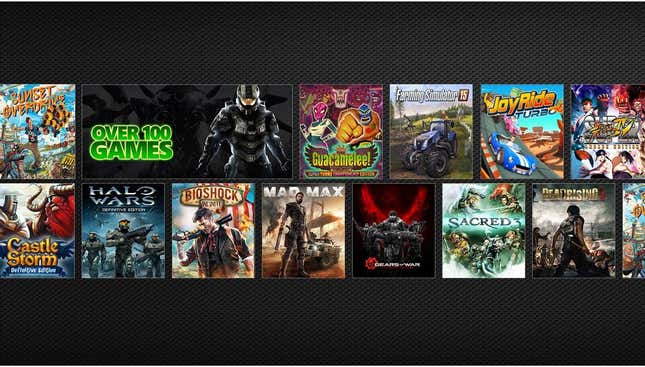 With Xbox Game Pass, Microsoft basically created the Netflix of video games, and it's a great deal at its usual $10 per month. But for a limited time, new subscribers can get their first three months for just one dollar.
Xbox Game Pass grants you access to newer releases like State of Decay 2 and Sea of Thieves (which has gotten really good!), as well as classics like KOTOR and all of the Gears of War games. The only catch is that you'll be auto-renewed at $30 per three months after your first three months is up, so remember to cancel if you don't want to keep paying.
---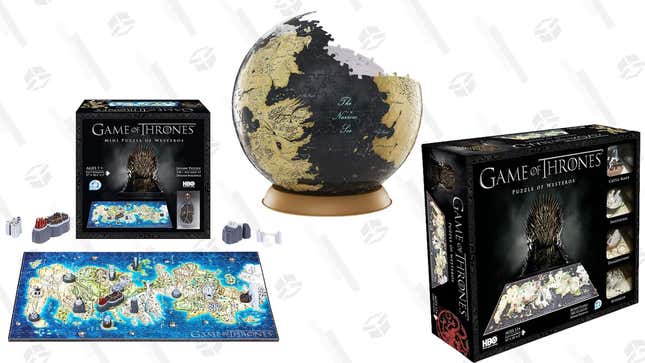 Celebrate the penultimate episode of Game of Thrones with a discounted 4D puzzle of Westeros. Three different options are on sale, including a full globe which I don't think is canon...

---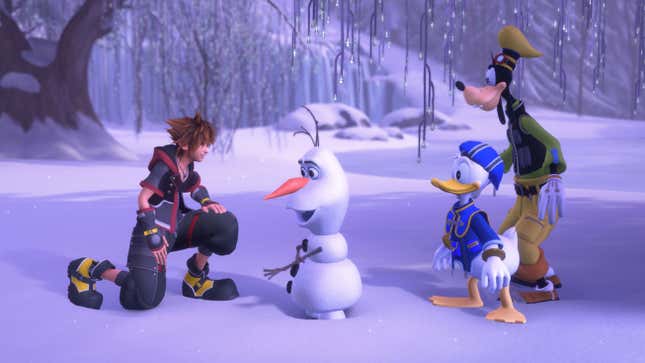 If you've somehow managed to keep track of Kingdom Hearts' story over the years—or even if you haven't, and just want to enjoy a bizarre mashup of Disney and Square Enix IP—Kingdom Hearts III is $30 off on both PS4 and Xbox One today.
Tech
Home
Lifestyle
Media
Gaming
Deals You May Have Missed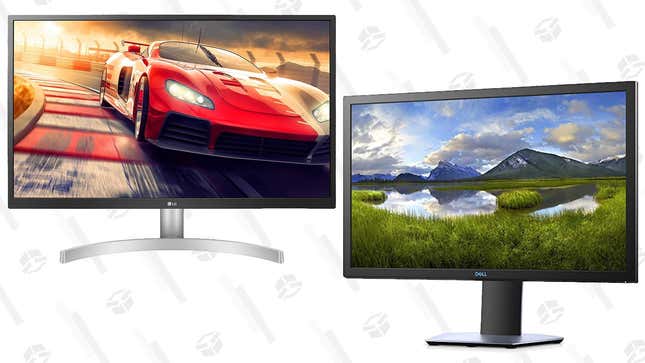 Assuming your computer can handle it, your games will never have looked as good as they will on this 27" 4K monitor from LG, complete with HDR10 support and AMD FreeSync, which will reduce choppiness on games if you have a compatible graphics card. At $279, it's never been cheaper.

You can also opt for this 24" 1080p Dell display, with 1ms response time and FreeSync support, if you're on a tighter budget. $150 is a new all-time low by $20.
---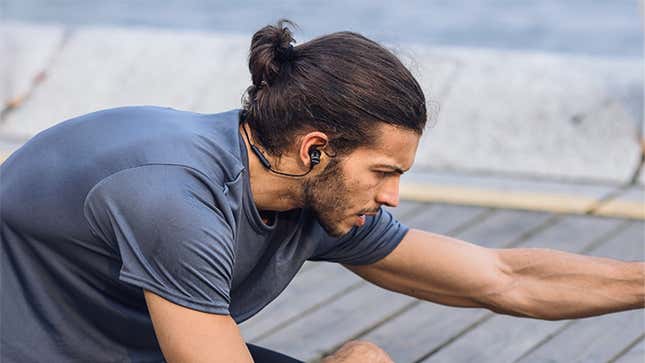 Anker has long been the purveyor of our readers' favorite affordable Bluetooth headphones, and the SoundCore Spirits looks to be one of the best models yet. With an IP68 rating and an additional hydrophobic nanocoating that keeps them operating under sweaty conditions, they're perfect for working out. And that 10 hour battery is best in class for this form factor. They'll normally sell for $50, they're marked down to $33 with week, no promo code required.
---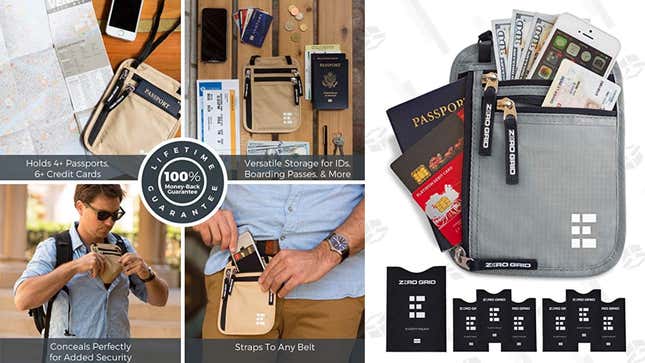 If you don't want to use a money belt to protect your valuables when traveling (I get it, it's a little dorky), Zero Grid's neck wallet might be the next best thing. Made from ripstop nylon, it can hold your passports and multiple cards underneath your shirt, or attached to your belt, and it's even RFID shielded to protect you from more modern forms of theft.

For a limited time, you can get it for $12 by clipping the $1 coupon and adding promo code CFPQLK4L, complete with a bunch of bonus RFID-blocking card sleeves. That's a steal...the good kind.
---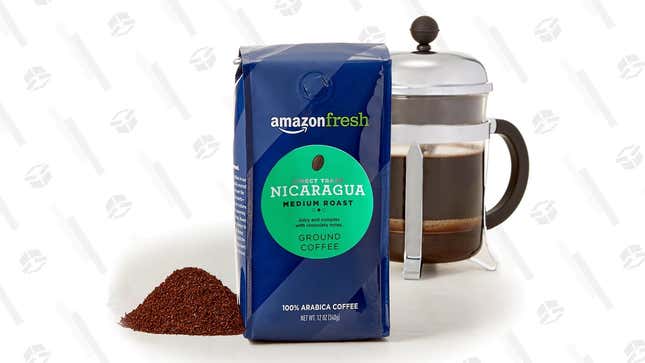 Amazon's AmazonFresh ground coffee is affordable, convenient, and as I've written about here, pretty great for cold brew lovers. The company's single-origin, direct trade blends cost a little more, but are purchased directly from growers, so you can feel good about drinking it.

For a limited time, single 12 ounce bags are $2 off when you clip the coupon on the page, bringing them down to about $8 with Prime shipping, or less if you want to use Subscribe & Save. Several flavors are available, so click around to find one you'll like.
---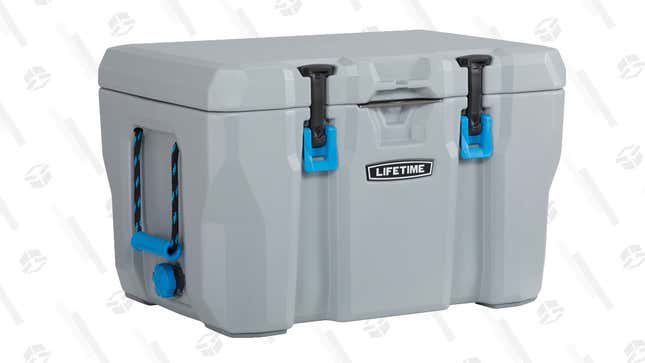 It might not have the name recognition or cool factor of a YETI, but this 55 quart Lifetime cooler is a lot cheaper at just $97 today, and keeps ice frozen for up to seven days. It just met that threshold in this YouTube test, even when it was left outside in the hot sun. Now grab this thing and start planning out beach trips and picnics.
---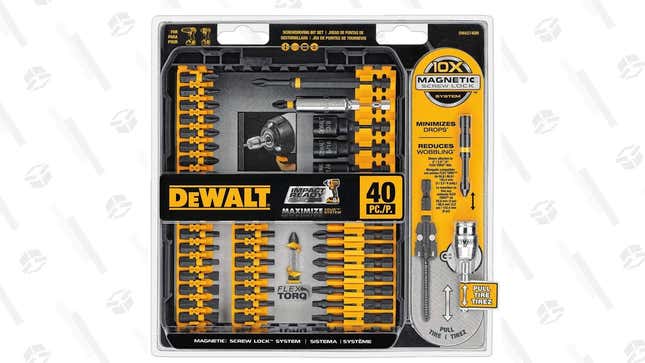 If you've lost or worn down half of the drill bits in your collection, you can get a complete new set for just $18 today on Amazon, an all-time low.
That gets you a total of 40 drill bits, screwdriver bits, and even some impact-ready bits. This is the most popular drill bit set on Amazon, with a 4.6 star review average from over 6,000 customers, so you can't really go wrong here.
---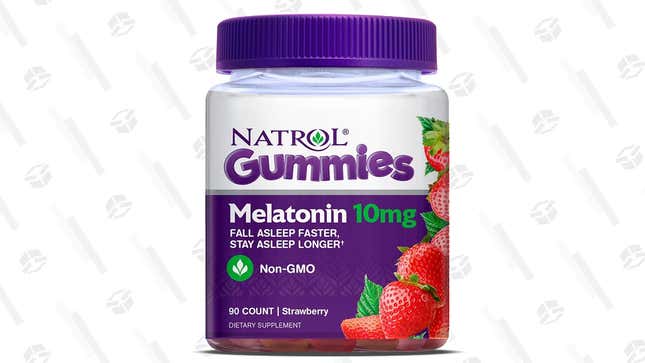 Everyone has trouble getting to sleep every once in awhile, so even if you don't consider yourself a bad sleeper, it's not a bad idea to keep some melatonin gummies stocked in your medicine cabinet. We've reviewed these gummies from Natrol, and you can grab a jar of 90 of them for under $8 today, down from the usual $10.

Pro-tip: they work wonders for sleeping on a plane, and are worth the purchase for that alone.
---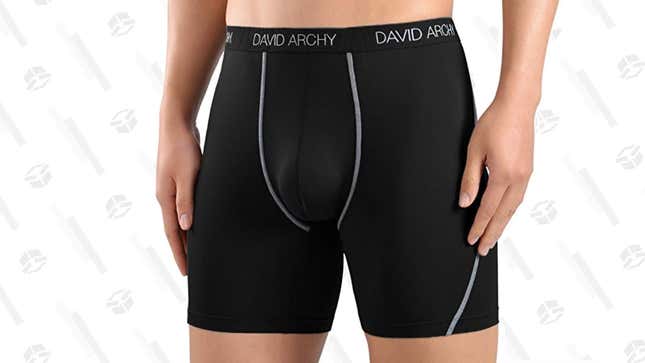 Our readers have bought tens of thousands of pairs of ExOfficio's quick-drying mesh boxer briefs, but if their sky high cost (you'd be lucky to get a single pair for $15) has scared you off, here's a budget-friendly alternative with great reviews.

David Archy's performance boxer briefs use a similar nylon/spandex combination as ExOfficio (they say polyamide and Lycra to be fancy, but it's the same thing), and Amazon reviewers say they compare very favorably. The biggest difference: Price. While supplies last, you can get three pairs for $24 with promo code DASAVE20, a $6 discount.
Just note that the product page includes mesh, stripe, and solid options, with decreasing sweat wicking abilities, respectively. Get the mesh if you see any in your size, is my advice.
---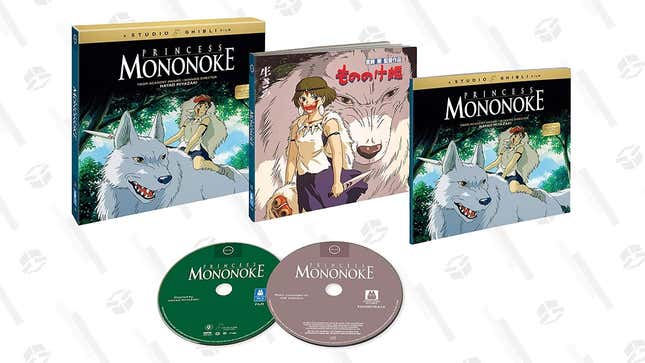 Princess Mononoke is one of Hayao Miyazaki's most beloved films, and it's getting a long overdue collector's edition, releasing next week.

The box set retails for $50, but Amazon currently has preorders marked down to $35, an all-time low. And if it drops any lower before it ships, you'll automatically get the best price.
The set includes a Blu-ray with the film and special features, a soundtrack CD available for the first time in North America, and a 40 page book featuring essays from prominent film critics, the producers, and even Miyazaki himself.
---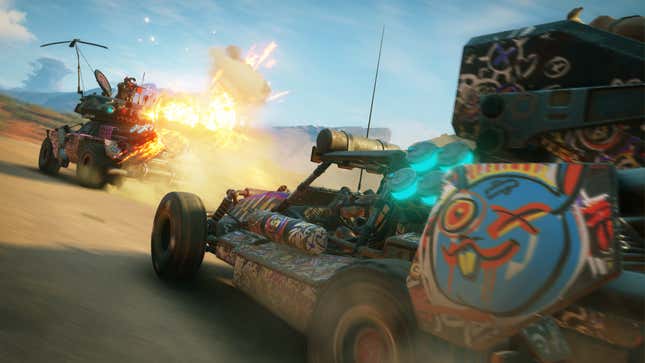 If you liked the 2016 Doom reboot, it seems like a pretty good bet that you'll like Rage 2, releasing next week:

I'll give you an example: The level I played took place in an abandoned government space base in the middle of a crusty desert ridge, rife with mohawked jamokes raiding the wreckage. I whipped out my assault rifle and started firing, which filled up a God of War-style combo tally in the corner of my screen.

Eventually, I was instructed to launch into something called "Overdrive." Functionally, this was a standard "enrage" meter that increased my damage while also regenerating my health. But it's the aesthetics that make it stand out: Overdrive sends a purple wave of synthetic energy over your screen, makes your bullets physically larger, and ratchets up the gore to esoteric levels of excess.

After the demo I talked to a developer who told me that you can also air juggle dudes with your gunshots in overdrive, and if that's true: Jesus. It's the Doomguy button. It's also responsible for the single most satisfying sequence I've had with a shooter this year.
If you preorder a copy for PS4 or Xbox One from Walmart today, you can get your copy for $50, instead of the usual $60.
---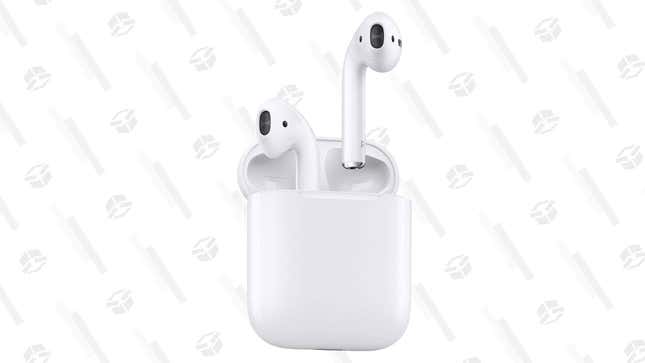 Update: This deal is available again, if you missed it a few weeks ago. Amazon lists the AirPods as "temporarily out of stock," but you can still order them for $140, and you'll get them once Amazon gets a new shipment.
Apple's excellent AirPods now support a hands-free "Hey Siri" feature and, now, you can also grab a pair from Amazon for $140. I've had mine since the day they came out, and they've carved out a permanent place in my pockets.
Amazon says they'll be"in stock on May 7, 2019," and they'll ship soon after that. So if you can wait a few weeks for your truly wireless headphones, this is $20 off the price on the Apple Store and one of the lowest prices we've seen. If you want the unit with the Qi-charging case, there's unfortunately no discount on it, today.  
If you just want the new wireless charging case to use with your existing AirPods, it's also down to $70 today, from the usual $79.
---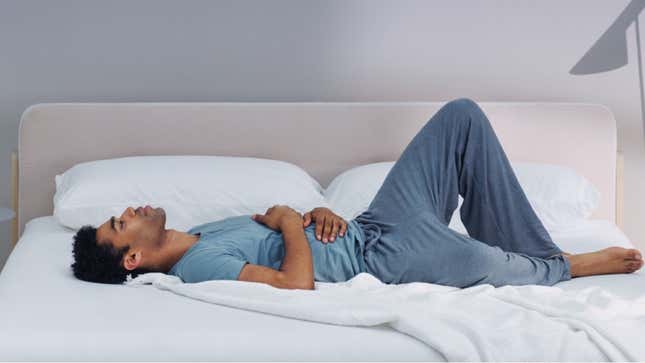 Get some good sleep and save some money with Casper's 4 Day Sale, now through May 13. For every $1,000 you spend, the sleep retailer will knock off $100, and you can save up to $300 total. And unlike other Casper promotions, you don't have to buy a mattress to take advantage of it. So, feel free to stock up on new bedding, bed frames, pillows, and other Casper products using promo code SHUTEYE, and have sweet dreams of savings.
---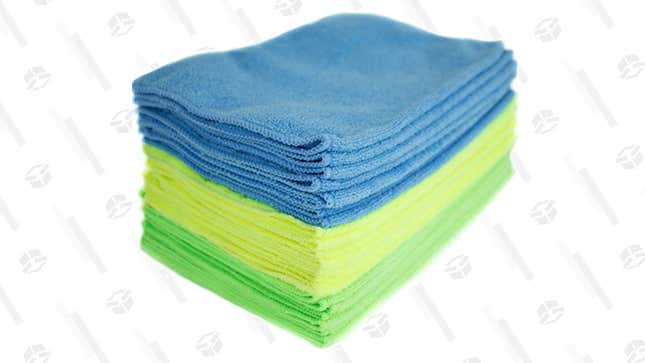 If you hate wasting money on paper towels, stop doing that. If you use microfiber towels, you cut costs and you also reduce the amount of waste you create in a year. You can get a 24-pack of Zwipes Microfiber Cleaning Cloths for $11. There's also a 48-pack available for $23 with a $1 coupon you can clip at checkout. The cloths can be used with or without cleaning solution to clean the kitchen, your car, or around the house. You can wash the microfiber cloths and continue to use them hundreds of times.
---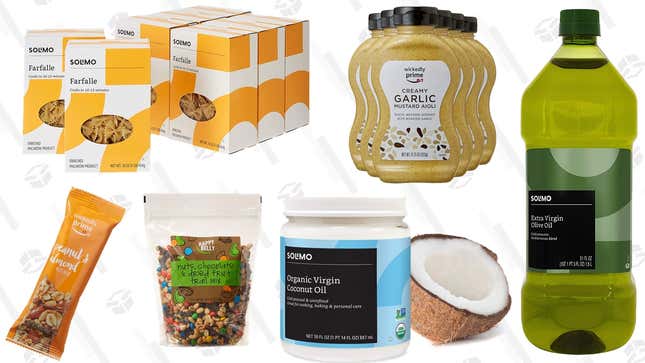 Amazon has its own food brands now, which is...strange. But such is the world that we live in, and you can get some delivered for 20% off.

The sale includes the obvious staples like coffee pods, breakfast bars, and trail mix, but also essential ingredients like olive oil, various mustards, and coconut oil (movie theater style popcorn, anyone?).
Prices are as marked (we checked a bunch, and they are indeed cheaper than usual), and you can save more in most cases by using Subscribe & Save.
---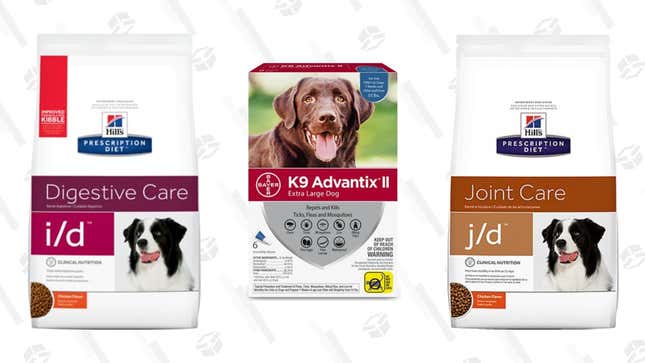 Running to the pet store to pick up food every time you run out is never convenient. That's why Chewy is such a life saver. And don't get me started on prescription diets like Royal Canin or Science Diet, which are expensive to restock too. Right now, you can get $15 off your order of $49 or more at Chewy, so long as you have any prescription food or prescription medication in your cart. To get your discount, use the code 15CHEWY at checkout.
---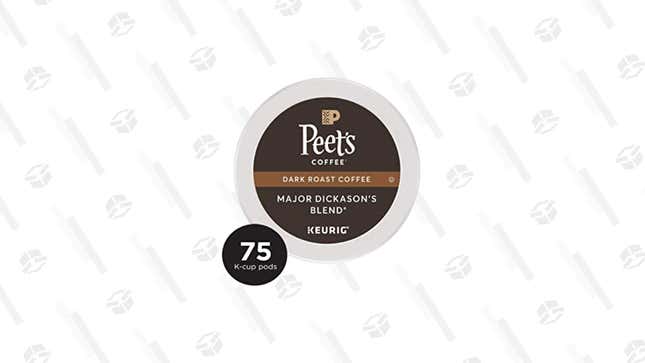 Don't you hate when you go to brew a cup of coffee at home and realize you're actually out of coffee? Don't let yourself be without your morning cup of Joe again. You can get $5 off your first order of Peet's Coffee Major Dickason Blend 75-Count K Cups. Just clip the coupon at checkout and you'll have enough coffee for the next 2+ months.
---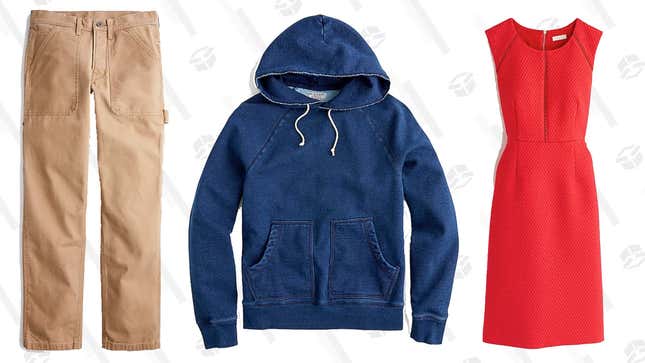 J.Crew is no stranger to extra discounts for on-sale stuff, but for today only, they're marking down a whole lot of full-priced styles, too. All shoppers get 40% off sale items for men, women, and kids, and for everything else not in the clearance section, enjoy 15% off. Just use promo code FRIDAY, and stock up on classic tees, shorts, button-downs, accessories, and more.
---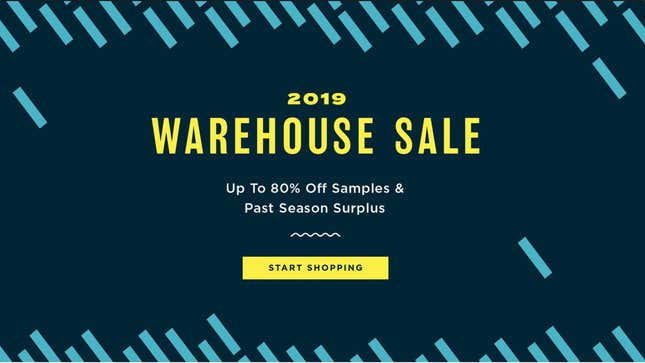 You better believe United By Blue's Warehouse Sale is offering some great deals on past-season surplus styles and samples. Save up to 80% on loads of apparel, including quite a few jackets featuring the brand's signature bison fill. And don't forget; every item you purchase from UBB helps remove a pound of trash from the ocean, so you can feel really good about shopping this sale.
---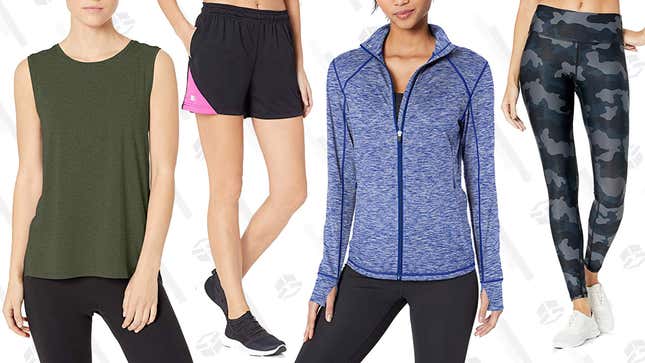 Hit the gym in style thanks to this sale on women's activewear from Amazon. Everything from leggings and joggers to performance tees and yoga tanks are up for grabs at prices so good you'll actually want to go work out. So browse through the nearly 150 discounted items before these deals hit the showers.

---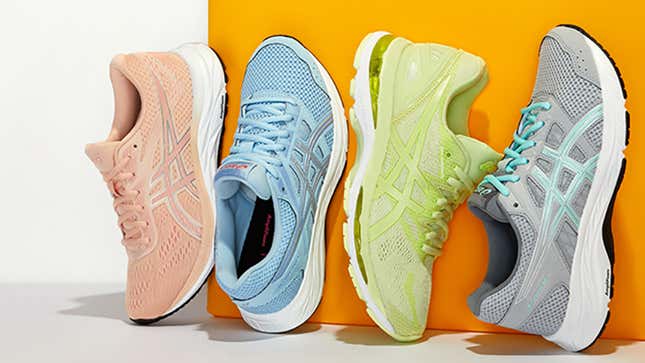 Run over to Nordstrom Rack, where an ace of a deal is going on now: ASICS sneakers for both men and women are marked way down, with pairs starting at as little as $40. With a wide range of styles and colors up for grabs, they're all the motivation you need to keep those fitness goals up and running through spring. But be sure to lace up this discount quickly; these shoes will likely sell out soon, and the deal only runs through the next three days.
---
Summer is within sight, but let's be real: It's still a little chilly outside. So even though Mountain Hardwear is taking up to 65% off a selection of past season styles, you could probably still use many of the on-sale items right now, and for future winters to come. (Heads up: This discount applies to the original retail price and overrides any existing markdowns.) Just use promo code MHWMAY65, and load up on outerwear to keep you toasty warm the next time you step outside.
---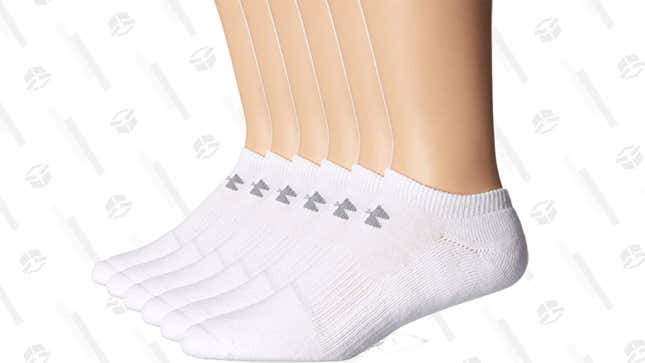 Do you hate when your socks slide down your ankle? It's time to say goodbye to the socks you've had since high school and hello to a fresh new pair. You can get a six pack of large white Under Armour Men's No-Show Socks for just $9. The socks are charged cotton, which has the same feel as cotton but dries much faster. You can get a six pack of large black socks for a couple of bucks more.
---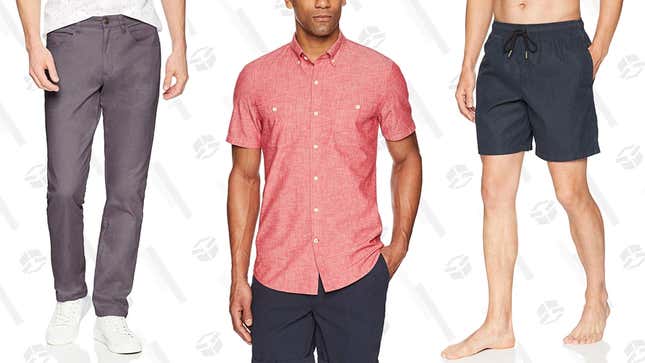 Amazon's Goodthreads brand is chock full of great looking men's clothing at affordable prices, and over 100 styles are even cheaper than usual today on Amazon.

I own the short sleeve chambray (albeit in a different color), and it's great, especially for $26. We've seen a few sales on Goodthreads shirts lately, but this sale also includes a lot of pants, ranging from sharp looking chinos to comfy canvas shorts.
For the rest of the deals, be sure to head over to Amazon. Also note that many styles are eligible for Amazon's Prime Wardrobe program, which sends you a box with up to eight styles, and you only pay for what you want to keep. Why are they not all included in Prime Wardrobe, given that it's an Amazon brand? Good question, but you can fly to the moon to ask Bezos yourself.
---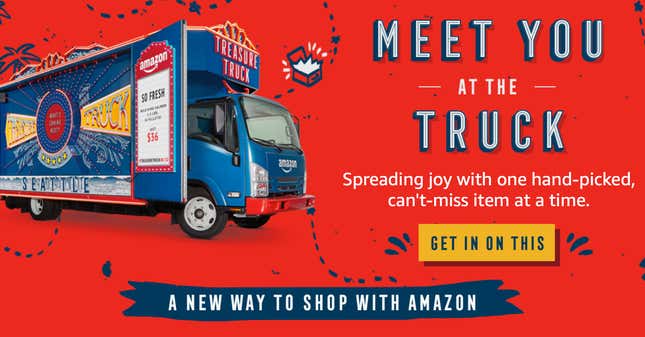 Amazon's Treasure Truck is one of the company's more bizarre initiatives (though perhaps less Bizarre than Bezos' moon lander), but if you live in a city where the truck makes the rounds, you can find it to score some seriously great deals that you won't find anywhere else. Just don't expect to find Clickhole's Treasure on the Treasure Truck. It is still in Hawaii.

If you live in a Treasure Truck city, you can head over to this page to clip a special $10 coupon that will save you even more on your next Treasure purchase. Just note that you'll have to make a purchase before July 31 to get the deal.
---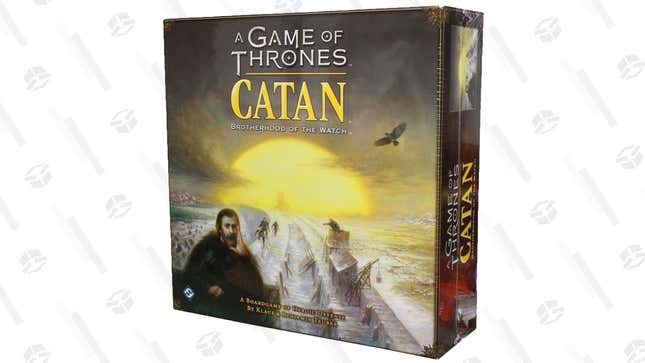 If you're getting bored of trading wheat and sheep back and forth, Game of Thrones Catan is a completely new take on the classic party game:

The Brothers of the Night's Watch recognize you as a natural leader as you struggle for promotion within their ranks. You hope to gain recognition by improving infrastructure in the area south of the Wall known as the Gift. Drawing sustenance from this unforgiving landscape offers enough challenges, but you must also man and defend the Wall against the onslaught of Wildlings fighting their way into Westeros to escape the horrors that awaken in the North. Build, defend, and rise above your brothers to become the new Lord Commander. But be wary—the north holds many dangers, and winter is coming.
In case it wasn't clear, the board has an actual, physical wall. How cool is that? $43 is the best price Amazon's ever listed, so get this deal before its watch comes to an end.
---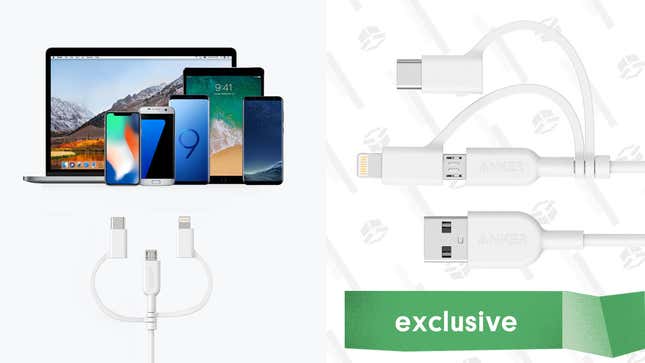 If you want the durability and lifetime warranty of Anker's PowerLine II charging cables, but you own a lot of different devices, this $11 microUSB cable includes Lightning and USB-C adapters attached to the end.

It's a little awkward looking, but it's nice to know you'll always have the right cable handy. Use promo code KANJ8436 to save $7 on this super versatile Anker Powerline II 3-in-1 Cable.
---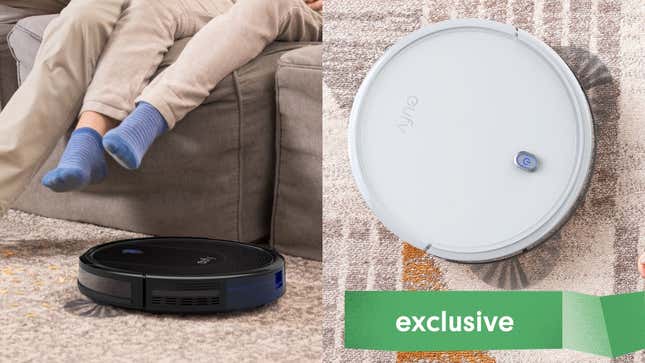 Anker's been turning out some seriously great (and quiet!) robotic vacuums for years now, and for a limited time, our readers can score some of the best prices ever on a variety of models.

First up, you've got two choices from the RoboVac 30 line. Both the 30 and 30c feature the same 2.85" height to maneuver under furniture, powerful 1500Pa suction, 100 minutes of runtime, and boundary strips that you can lay down to keep it from running into cords, pet bowls, or other problematic areas.
The 30C, however, includes Wi-Fi, so you can schedule it with your phone, or tell it to run with Alexa. Get it for $210 by clipping the $20 coupon, and then applying promo code KINJA30C at checkout to save an additional $70.
If you don't need Wi-Fi, the standard RoboVac 30 is available for $200 right now, no promo code required. That's $70 less than usual, and while I think it's worth the extra $10 to upgrade to the Wi-Fi model, it's ultimately up to you.
You can also opt for the older RoboVac 11s, which is the same height as the 30, but with a slightly lower 1300Pa suction rating. It also lacks Wi-Fi and boundary strips, but it's only $170 with promo code KINJA11S, in both white and black.
---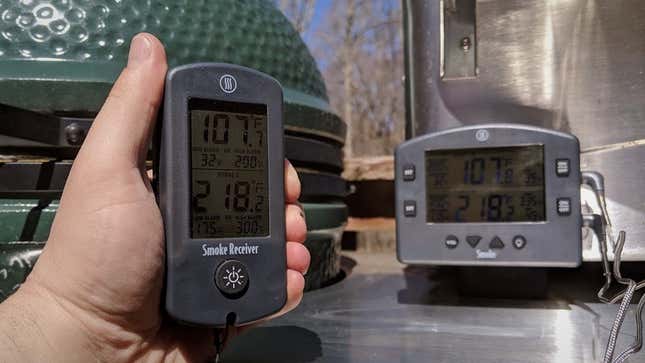 Whether you're a seasoned backyard pit master, or this will be your first summer as a Smokeboy, ThermoWorks' Smoke is our favorite tool for monitoring the temperature of both your smoker and the delicious meat inside.

Here's what we had to say about the Smoke over on The Inventory:
The core features you should expect from a wireless probe thermometer are all here, but with Thermoworks trademark, Co-Op award-winningquality. The Smoke uses two probes so you can monitor your meat and smoker temp, but unlike similar thermometers, these probes are commercial-grade for better accuracy, higher temperature resistance, faster read speed, and increased durability. The Smoke is also extendable and compatible with the myriad of other Pro-Series ThermoWorks probes. If you don't want to monitor pit temperature (you savage!) you can monitor two meats. Need to monitor two cookers for some reason? Monitor sous-vide water? Oven-roast two Turduckens? Deep fry scotch-eggs? Whatever. The ThermoWorks Smoke doesn't care what you poke its probes into.
The Smoke (which includes a wireless receiver that you can wear around your neck) rarely goes on sale, but it's 15% off for a limited time at ThermoWorks, as is the optional Wi-Fi Bridge, which essentially turns your smartphone into a receiver with unlimited range. Now go get that grill clean!
---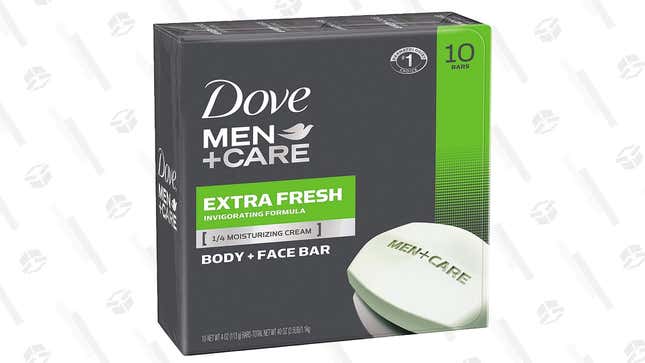 Bar soap is, in my opinion, nasty. And that was true even before BuzzFeed did... this to it.

But still, many people who I otherwise respect and admire still seem to prefer it over body wash or Dr. Bronner's, so I'm duty-bound as a deals blogger to report that you can get 10 bars of Dove Men+Care Face and Body for $7 on Amazon today, down from the usual $11. We aren't sure how long this deal will be around, so don't let it slip away.
---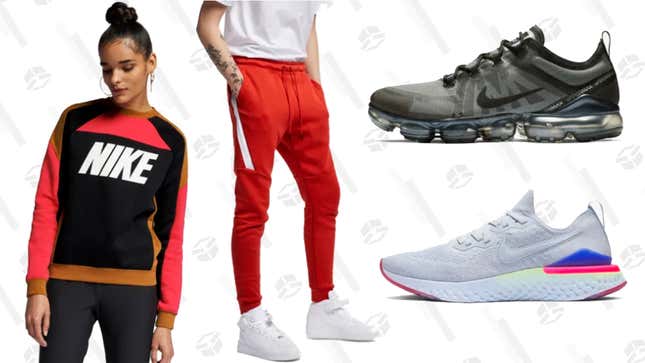 Nike is one of the most desirable workout-wear brands, though quality gear often comes at a price. But thanks to a deal Nike's running through May 12, don't sweat the cost of a new Nike wardrobe. Now, take $30 off orders of $150 or more with promo code SPORT30, and treat yourself to a new pair of cool sneakers, or just some new athletic apparel to make hitting the gym that much more exciting.
---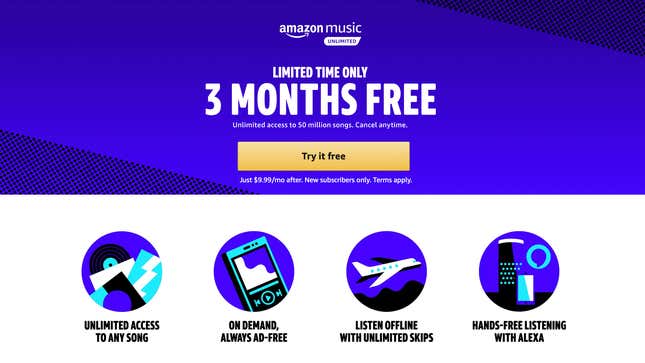 At $8 per month for Prime members, Amazon Music Unlimited was already more affordable than Spotify Premium or Apple Music, but Amazon's sweetening the pot for new members by offering three months for FREE, for a limited time.

This deal is even available to non-Prime members, though it'll renew at $10 per month instead of $8. But either way, three months to stream the new Vampire Weekend on repeat for free? Yes please.
---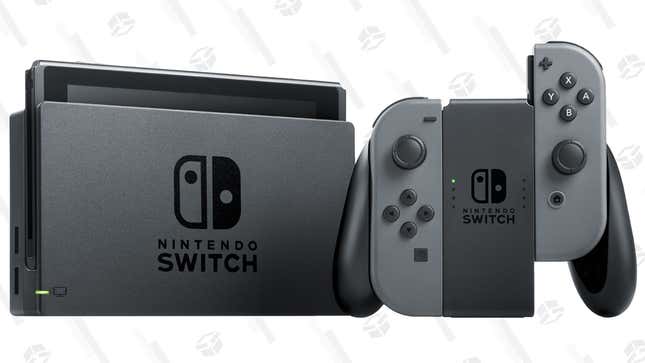 The Nintendo Switch has been around long enough that we're starting to see certified refurbs hit the market en masse. This one's available for $275, which is only a $25 discount, but it's sold direct from Nintendo's own eBay storefront, and includes the standard one-year warranty.
Don't want a refurb? Walmart will sell you a new console for the regular price, plus your choice of either two third party controllers, NBA 2K19, or LEGO The Incredibles for free. Not bad!
---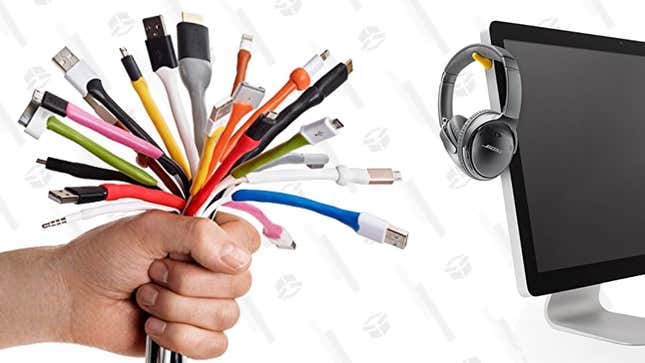 Sugru is right up there with binder clips and the Raspberry Pi in Lifehacker's pantheon of must-have gear, and you can pick up their Rebel Tech Kit for an all-time low $10 today. That includes four packs in four different colors, a remover tool, and a book with 14 projects to get you started.

Even if you don't use your Sugru for the tech-specific projects mentioned in the kit, there's no shortage of ways to deploy it around the house. You could use it to revive your old appliances, or get a grip on an old hose spigot, or anything that involves attaching one thing to another thing. It is moldable glue, after al.
---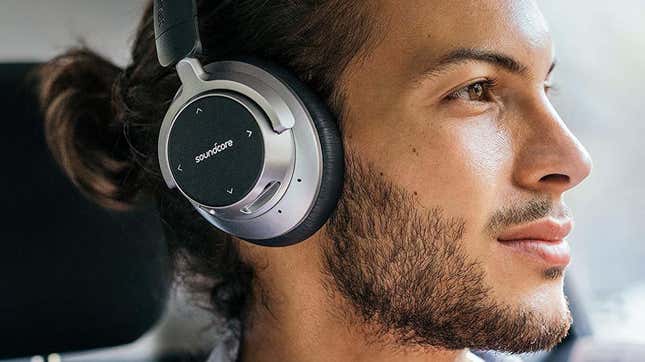 Anker makes a lot of gadgets, but noise canceling headphones were a notable gap in the company's lineup until very recently. So if you want to block out the world with the new Soundcore Space wireless over-ears, you can save $20 right now, no promo code required.

The Wirecutter-recommended Soundcore Spaces run for 20 hours in wireless noise canceling mode, or you can use them wired for up to 50 hours with NC enabled, which are some of the best battery life specs we've seen in this market.
---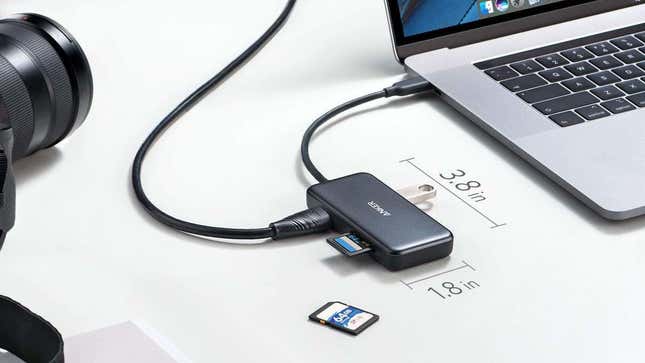 It's not the biggest or most feature-packed USB-C hub out there, but Anker's 5-in-1 dongle has the essentials in tow for an all-time low price today.

The adapter turns a single USB-C port into two USB 3.0 ports, an SD card slot, a microSD card slot (which is arguably more useful than these days than the standard size), and a 4K HDMI port. And in true Anker fashion, it comes in a nice travel pouch too.
Today's $24 list price would already be an all-time low, but the 10% coupon combined with promo code KINJA8334 brings it down to $21. If you have a computer or tablet with too many USB-C ports, and not enough of everything else, this is a great buy.
---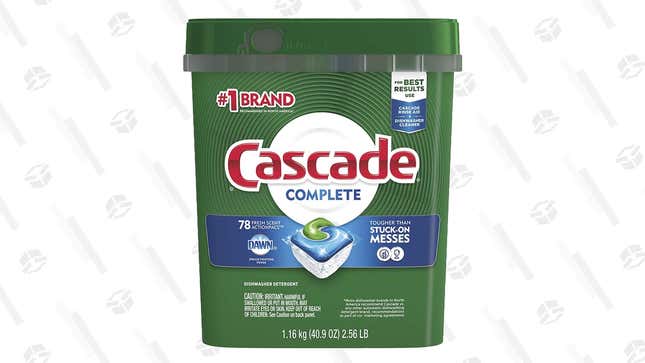 You need dishwasher detergent anyway, so you might as well buy it on sale. While supplies last, Amazon's offering a $3.47 coupon on this 78-pack container of Cascade Complete ActionPacs, a nice discount over what was already a great price.

That works out to just over 11 cents per dishwasher load, which is great when you consider that Cascade Complete carries a 4.5 star review average from over 1,400 Amazon customers.
The coupon will work whether you use Subscribe & Save or a regular Prime order, but obviously, you'll get the best price by subscribing, and you can always cancel after your first shipment.
---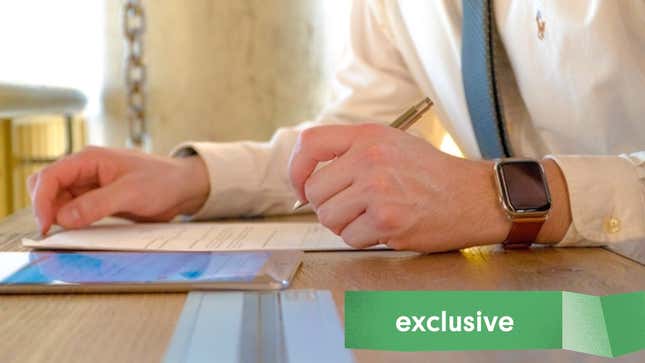 Last month, we covered the Kickstarter campaign of a popular wallet designer's first foray into leather Apple Watch bands, and we came away impressed. Now that the campaign is over, they're offering our readers an exclusive preorder deal through Indiegogo OnDemand.

For a limited time, you can get one each of all three strap colors for just $59. Less than $20 per band is a steal for full grain, vegetable tanned Italian leather, and especially tempting considering Kickstarter preorders started at $27 for a single band. Obviously, you don't need all three, but they're easy to swap out so you can match whatever outfit you're wearing.
---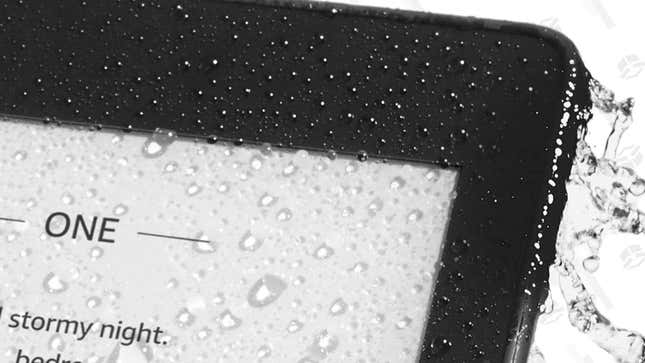 Basically every device Amazon makes was on sale for Black Friday, with one glaring exception: The new, waterproof, Bluetooth-equipped Kindle Paperwhite. So if you were holding out on a deal for all your pool and bathtub reading needs, your patience has been rewarded today with a $30 discount for Mother's Day.

Better still, this is the best deal we've seen, and if you have an Amazon Prime credit card, you'll get 20% cash back, which effectively lowers the price to $72.
Oh, and if you want the cheaper, all-new Kindle—that's also cheaper now, too. It's selling for $70 which is also the lowest price we've ever seen.

---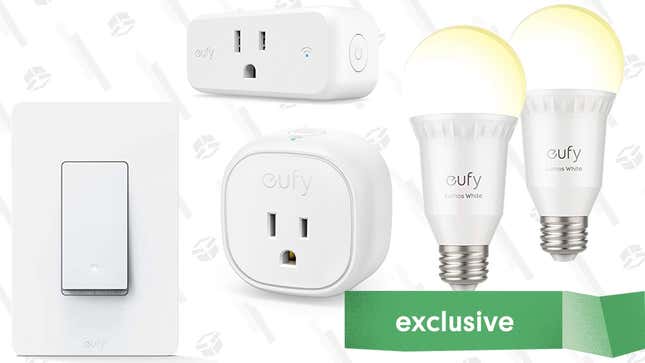 Anker sells a wide array of smart home gear under its Eufy brand, and a whole bunch of it is on sale this week exclusively for our readers.

Use promo code KINJAEUFY to save 30% on any of the products listed below.
The Eufy Energy Monitoring Smart Plug is a great way to get into basic home automation, and it'll even tell you how much electricity your appliances are using. The mini version is also the same price and has the same features, but neither will block a second outlet; they're just different shapes. You can also save more by buying a pack of two.
The rest of the deals are designed to upgrade your lighting setup. First, you could add some automation to your existing light fixtures with this Alexa and Google Assistant-compatible smart light switch for $21, or you can just put the smarts directly into your bulbs with a two-pack of smart bulbs for $23.
---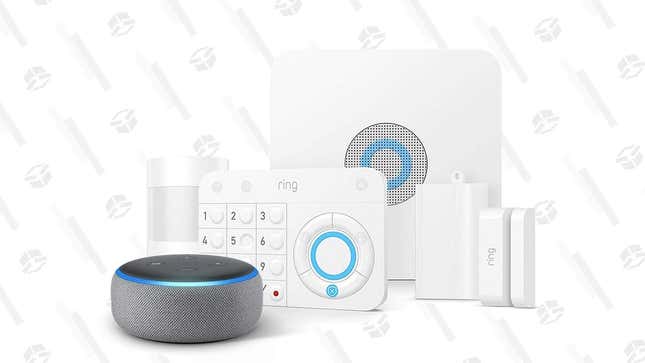 Ring is best known for its security cameras and doorbells, but its indoor home security system is one of our favorite options without a monthly fee (but if you do want 24/7 monitoring, it's only $10 per month). The five-piece entry level starter kit includes a keypad, base station alarm, a contact sensor, a motion sensor, and a range extender, and today's $169 deal is within $10 of the best price Amazon's ever listed.

And oh yeah, they're throwing in a free Echo Dot too. That means you can arm, disarm, and check the status of your system with only your voice. Larger systems with more sensors are also on sale (just select the one you want from the product page), some of which (like the $249 11-piece set) are cheaper than they've ever been before.
---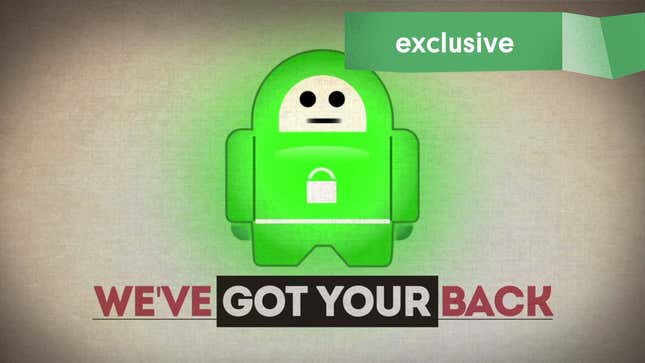 Our readers' favorite VPN recently raised prices for the first time ever, and the company's best-value (and Kinja Deals-exclusive) three-year plan is going away at the end of the week, so this is your last chance to subscribe at the best per-month price available.

Three-year plans aren't available to the general public at all, but if you click this link, you can get three years for $99, which works out to just $2.75 per month. That's only $9 more than it was cost to the price hike, and while shorter plan lengths are available, none come close to the per-month pricing of this three-year membership. For example, the publicly available two-year plan costs about $84, and a month-to-month plan will set you back $10 per month.
If you subscribe to the three-year plan today, you'll be able to continue to renew it at the same price for the life of your subscription, so this is a great chance to lock in a terrific deal.
---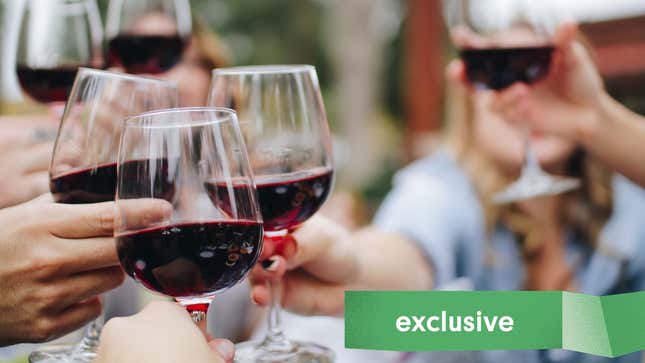 Firstleaf is an online wine club that learns your preferences, offers tons of great wines from around the world, and most importantly, saves you money compared to buying from the store. It's a solid deal any time, but it's even better for our readers right now in preparation for Mother's Day.
Every new Firstleaf member gets an introductory delivery with six bottles of wine for just $40 with free shipping, and every box thereafter includes six bottles for $80, plus $10 shipping. But if you use this link when you sign up, you'll get FREE shipping on every box for your entire first year. That'll save you over $100 if you get a new box every month. At the very least, you should send Mom the trial box for less than $7 per bottle. I mean, why wouldn't you?
---