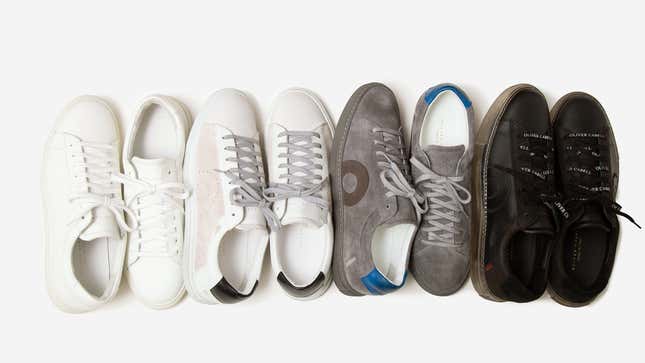 Sometimes the finishing touch an outfit needs is a nice pair of shoes. They have the uncanny ability to pull a whole look together by making it more casual or more considered—depending on the style. Oliver Cabell creates luxury shoes that combine "modern materials" with "old-school techniques." Stuff that will last a lifetime and then some. We love their sneakers, especially—but you can find Chelsea boots and shoe care on their website too.
Snacktaku Drinks Pepsi's Time-Jumping 1893 Cola Flavors
Oliver Cabell Sneakers | 20% Off | Oliver Cabell | Promo Code: SPRING23
Oliver Cabell prides itself on ethically sourced Italian leather and fair pricing to boot. They're a luxury brand without the markup—using the same materials, workshops, and processes as the more expensive guys, except you pay a fraction of the price. They're real proud of that! Even better? Right now, you can take 20% off with the promo code SPRING23.
White & Black Sneakers Never Go Out of Style
It's all about the basics. Oliver Cabell hosts a number of black and white sneaker styles that pretty much go with everything! "Low 1" is their iconic, classic sneaker—a low-top silhouette hand-crafted in Italy. Sounds fancy, but with Oliver Cabell's lack of markup, that buttery leather is more accessible than you'd think. The Low 1 style can get funkier than classic white kicks, too—styles made of full-grain suede and others with intentionally distressed details.
Chelsea Boots Are a Classic Complement to Any Look
Got a cocktail-attire wedding or a good restaurant reservation? Chelsea boots elevate an outfit beyond basic. Oliver Cabell's Chelsea boots are crafted from 3oz soft split suede from Venice, Italy, with pieces made of vegetable-tanned leather as well. The tannery and craftsman Oliver Cabell works with also collaborates with high-end luxury brands—so you know the construction is top-notch. Beyond the Chelsea, you'll find lace-up styles like the SB 1, which have the same ankle boot profile, but with water-resistant, full-grain leather. These are staples designed to last for years with proper care.
Keep Your Footwear Clean With Oliver Cabell's Shoe Cleaner
Adventure calls, you answer, and your shoes get a little scuffed in the process. It happens! But honestly, there is almost nothing that can't be undone with Oliver Cabell's shoe cleaner. Available on its own or in kits (more on them in a second), this foaming solution cleans your shoes and polishes them to perfection. White sneakers become sparkly again! You'll find this cleaner in a few different kits too. The Premium Kit cleans and waterproofs your shoes. The Refresh Kit is designed for sneakers—it includes laces and shoe whitener for your precious white sneaks. And the Distressed Kit? Well, let's restore those old sneaks to their former glory, huh? These shoe cleaners are included in the spring sale, too—take 20% off with SPRING23.