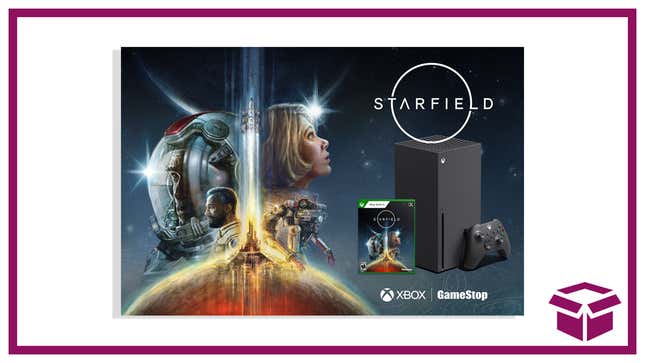 Starfield is one of 2023's most hotly anticipated RPGs, and now that it's been released, it seems like the whole gamer universe is celebrating. As you'd expect, GameStop is no exception. Not only are they selling the game (prices start at $70), but in honor of the release, they have a promotion to help you get a new Xbox Series X. The deal is this: when you trade in any console in-store, you get an extra $50 credit toward your purchase of an Xbox Series X. Not a bad trade, especially if you have an old console lying around that you're ready to part with.
Starfield | Starting at $70 | GameStop
In-store promotion | Fans get an extra $50 credit when they trade in any console towards an Xbox Series X | GameStop
The promotion is definitely worth checking out — and so is Starfield, which is generating serious buzz. The epic space odyssey, which takes place in 2330, was described this way by CNET: "Humanity has gone interstellar thanks to gravity engines that allow travel between planets and star systems. Players take the role of a miner who's given the basic job of gathering materials on a moon. It's there you'll come across an artifact that gives you a vision. It becomes apparent your character is special. The space adventure begins from there with more than 1,000 planets to explore." Now that the game's been released, you can buy it here starting at $70 and check out GameStop's in-store promotion here.