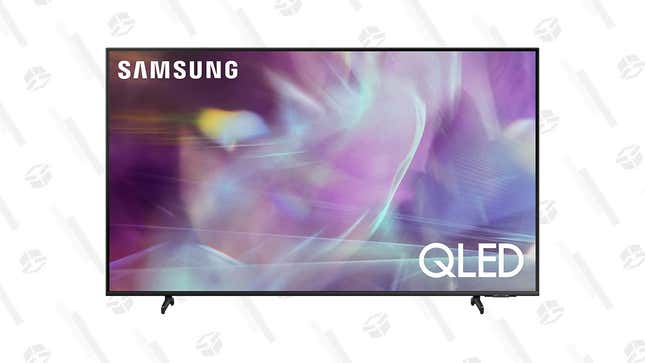 Samsung 85-inch QLED 4K Quantum HDR Smart TV | $2798 | Amazon
What's better than keeping a huge smart TV as the centerpiece of your home theater setup? Upgrading to an even bigger smart TV. If you're in the market for a substantial upgrade to your current setup, consider the Samsung 75-Inch QLED Q60A 4K UHD Dual LED Quantum HDR Smart TV, now $2798 shipped thanks to a $600 Amazon credit.
You won't save $600 off the TV directly, just to be clear. You will, however, get $600 in credit for a future purchase, though, so it's almost like being given some of the purchase price back. You've got to use the code HVTQORPEW66C to snag this deal, but that's a simple hoop to jump through for nearly $1000 off this very capable TV.
This awe-inspiring 85-inch display features Quantum HDR for brighter colors and a high-definition picture —most importantly, a "billion stay-true shades" to dazzle the eye. Paired with a dual LED backlight for enhanced contrast, this TV is set to deliver serious quality at a great price.
With a built-in quantum 4K Lite processor, Alexa support, and a svelte design that keeps the TV as slim as it can be without sacrificing quality, this Samsung display would certainly be a great addition to any room. Plus, you've got all the hook-ups you'd expect for connectivity without compromise: two USB ports, three HDMI inputs, Bluetooth, and everything you need to watch your favorite shows and movies. Better hurry though, as this credit is only available until July 25.
---