Hi, I'm assuming you are here because you are pregnant, or someone you want to support is. Over the course of three weeks, I'll be presenting a series of product recommendations for all three trimesters, so you can be equipped with all that you need to make this new experience more comfortable.

If you are looking for the first trimester recommendations, you can find them here, or head over here for third trimester recommendations.
---
Ahhh, the second trimester is the magical one. the exhaustion and nausea from the first trimester are starting to subside, but you're you not super huge and uncomfortable like you will be soon. So enjoy it as much as you can, it was definitely my favorite part of my pregnancy. Plus, it's when your belly usually pops out and your skin starts glowing, so people will start smiling at you on the street like you are basically a giant walking diamond. Enjoy it! It's all down hill from here. Jk. Kinda.

Anyway, here are some products that will make the best trimester even better:
G/O Media may get a commission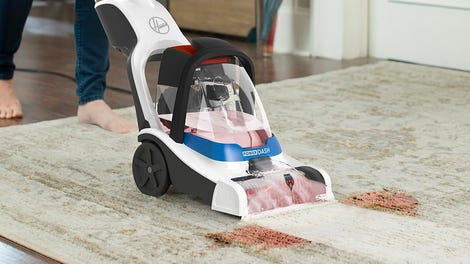 26% Off
Hoover PowerDash Pet Compact Carpet Cleaner
So, I had a really hard time not wearing my regular clothes once the bloat went away and my pregnant belly popped out. I tried the elastic band trick for the longest time, but that became uncomfortable very fast. Luckily, someone recommended I try a belly band, both for support but also to be able to keep wearing my regular clothes. It was a game changer, and I continued wearing it later on when I finally found maternity clothes I liked—more on that below—for the extra support it gave my body.
After trying all types of maternity clothes brands, I cannot recommend the brand Storq enough. Their stuff is so comfortable, stylish and very good quality. I have a lot of their things, but I think the best deal is their basics bundle, which includes a dress, a skirt, a tshirt and a pair of leggings. As much as I love all of them, I want to focus on the leggings, because I not only wore these from when my belly popped out until the day I gave birth, I also wore them ALL THE TIME postpartum as my body was going back to normal. So don't think of these pieces as just maternity clothes, because they will come super handy once you have your baby.

These are targeted for breastfeeding, but honestly, they'll come in handy way before that. This is the trimester where your boobs start to grow, and for me, wearing regular bras with wires was mega uncomfortable. Also sleeping without a bra was like torture. So I bought a set of these and I lived in them. The straps don't dig into your shoulders, your boobs are not constrained with wires and they are super easy to move around in. Plus, if you do decide to breastfeed after baby arrives, you already have bras for that handy.

I didn't even know these existed before I got pregnant, I figured you just used your regular underwear all the way through, but boy was I wrong. Everyone in my pregnancy Facebook group bought these, and we all swear by them. They fit comfortable under your belly and are stretchy enough to be comfortable as your body keeps growing a tiny human.

I was heavily pregnant during the winter, so I struggled a lot with putting shoes on in the morning, both because my feet were starting to swell, and also because of this growing belly getting in the way. As soon as I got home, I kicked off my work shoes and lived in these Birkenstocks that are like walking on a cloud, and so easy to put on and take off. And if you are pregnant during the winter like me, go on full dad style and wear them with socks. No one is going to criticize you, because who would dare do that to a pregnant person?
If you think it's too early to start prepping for labor, let me tell you, it is not. This tea is recommended for toning your uterus, and claims to makes labor shorter, though to be honest, I wouldn't know, because I ended up with an emergency c-section.
However! I did drink a cup of this tea religiously every day. It's caffeine free, so it was excellent for me when I got home super tired from work to sip on a cup while I relaxed. It tastes good too, and if it helps, why not give it a try?
Check back next week, when we'll talk about the final trimester!
---