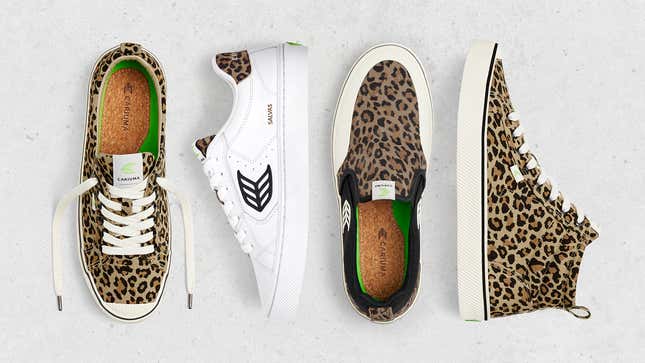 Looking for a great new pair of go-to sneakers? Don't want to make much of an impact on the environment? You've got to check out Cariuma. Cariuma's focus is low-impact sustainability and shoes that will last. Their sneakers are meant to be worn for ages—timeless styles instead of trend-chasing, with longevity built into the very construction of the shoe. Among their pleasing neutrals are the neutral patterns, including leopard. Leopard really goes with anything, and this collection includes high tops, low tops, slip-ons, and white shoes with a little leopard accent.
Cariuma Leopard Collection | Cariuma
Whether you're wearing a pair of skinny jeans and heading out to shop for the day or meeting friends for brunch before work, these shoes work perfectly with just about any outfit. They'll also make your feet feel great even if you've got a lengthy walk to where you're going. Slip into these vintage inspired kicks with a 100% natural rubber sole to keep you comfortable for a long, long time.
This story was originally published by Erin O'Brien on 9/14/2022 and updated with new information by Riley Blackwell on 8/16/2023, by Se Jeong Bae on 8/24/2023, and by Brittany Vincent on 9/26/2023.