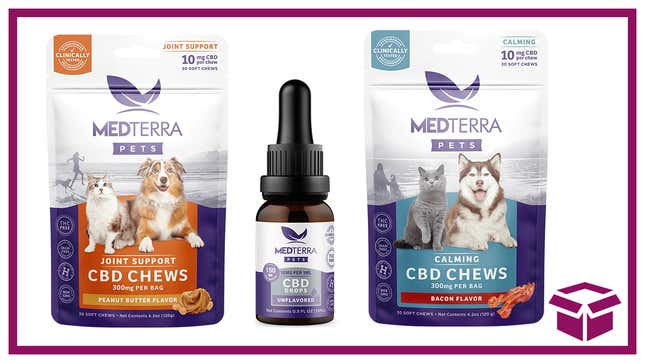 Your fur baby feeling anxious or achy? Medterra to the rescue! Now offering CBD pet products at 20% off your order within the app, there's a treat for every pup's need. Medterra has a whole line of CBD goodies from anxiety relief to joint pain to make your furry friend's life so much easier. Medterra doesn't only have the highest quality pet CBD products. Medterra's been working on wellness supplement pouches since 2017 that offer everything from help with brain fog to memory enhancement.

CBD Products for Pets | 20% Off | Medterra
Treat Pet Separation Anxiety with CBD Relief Chews
Leaving our pets at home is never fun for us, but what if it wasn't fun for them either? With a month's supply of CBD relief anxiety chews, the whole family can be happy and relaxed away from home. Add some calming chews to your walk-and-feed routine, and watch your furry friend wag more and worry less. Bacon flavoring makes these chews an amazing choice with a slew of botanical ingredients like Valerian root. They include L-Tryptophan too, yes, the exact same amino acid that puts you to sleep after eating too much turkey on Thanksgiving.
Ease Pet Arthritis with CBD Joint Support Pet Chews
Growing old is inevitable, but discomfort doesn't have to be. Medterra's peanut butter-flavored CBD joint support chews are here for both cats and dogs. Joint support chews from Medterra are carefully crafted with glucosamine because, hey, your four-legged friend deserves some TLC too. Each pouch contains 30 chews with 10mg of CBD each, making it super easy to monitor and adjust dosage by following the calculator right on the info page.
Try Beef Flavored CBD Oil for Your Pet
Every day is a good day when CBD oil is around to help relax. Medterra offers a whole host of options for those picky pets, with three flavor options of human-grade CBD oil in three different strengths too. From beef and chicken flavor to totally unflavored and between 300-1200mg CBD for daily drops to keep your pet happy and chill. CBD oil can even be combined with Medterra's pet chews for an even greater effect but check with your vet first!
Maximize Your Pet's Wellness with CBD
We absolutely adore our furry friends, and nothing will stop us from making them happy and healthy. Medterra has worked since 2017 to bring your pet the best in CBD wellness, relaxation, and joint pain as they age. With the highest quality ingredients, it's easier than ever to keep your loving pets in their chill era through all those loud noises and scary times.
This post was originally published by Riley Blackwell on 8/12/2023 and updated with new information on 9/5/23.