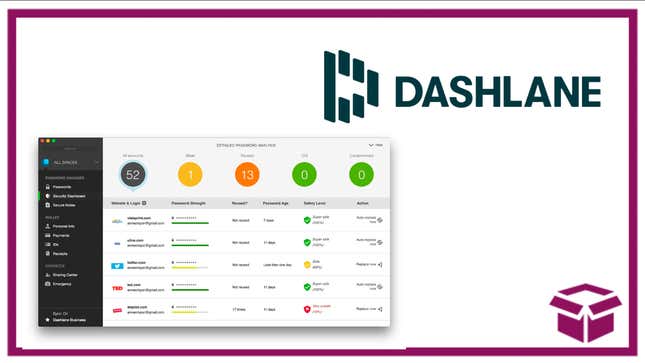 In today's fast-paced digital world, businesses can't afford to take cybersecurity lightly. Enter Dashlane, a powerful tool that not only keeps passwords safe but also offers a ton of features designed to protect and simplify your online activities. Trust us, this is something you don't want to miss, especially when you can snag 50% off with the code WPD23 on on the Premium plan for personal use. Whether you need personal peace of mind or additional security features for your business, Dashlane can make life easier with a suite of powerful features. You can be sure your online data is safe just in time for World Password Day.
Dashlane's arsenal of tools include Dark Web Monitoring, which scans a whopping 20 billion records on the dark web and alerts you instantly if your info is compromised. Plus, Dashlane is the first password manager to introduce an in-browser passkey solution for phishing-resistant logins. Add in 2-factor authentication (2FA) and single sign-on (SSO) for Dashlane Business users, and you've got a recipe for seamless and secure access to multiple apps or platforms.
50% Off Premium Plan | Dashlane | Promo Code: WPD23
Worried about browsing on public or unsecured WiFi? Dashlane has you covered with a built-in virtual private network (VPN) that disguises your IP address for more private browsing. And if you ever need help, their comprehensive customer support offers resources and assistance in multiple languages, because they've got your back, no matter where you are. So whether you'll be signing up for a Personal or Business account, know this: Dashlane is serious about security. And you'll be in goods hands if you decide to nab this offer — which you should. It's only available for a limited time.