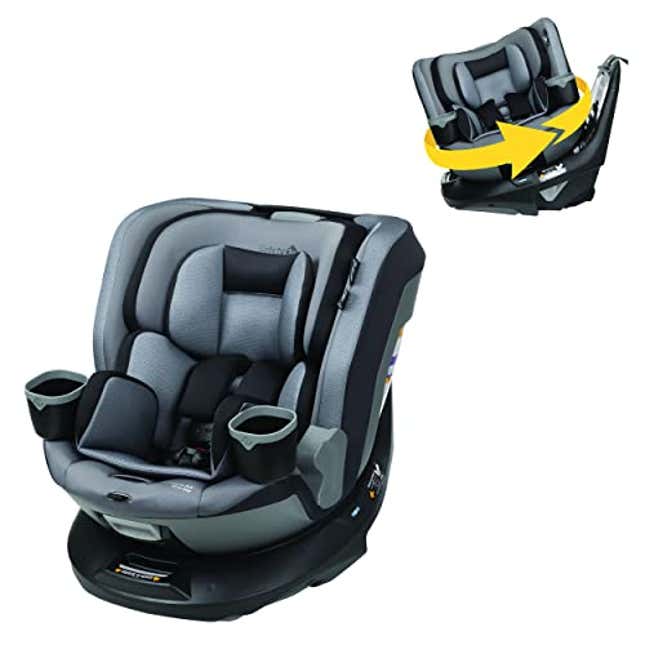 Now more than ever, child safety is a priority for parents and guardians everywhere. The innovative Safety 1st Turn and Go 360 DLX All-in-One Car Seat, presently available on Amazon with a 27% discount, is leading the way in this domain.
The Safety 1st Turn and Go 360 DLX boasts an innovative full 360° rotation functionality. This incredible SafetySwivel 360° rotational technology allows the car seat to rotate, bringing the child face-to-face with their caretaker. Bucking children in or out is now effortless and convenient, reducing uncomfortable bending or reaching.
But safety isn't compromised for convenience. The car seat utilises SecureTech, a unique technology that solves the common installation issue of loose vehicle belt tension, an issue not known to affect 7 out of 10 parents. This is made possible by a system of red-to-green visual indicators that identify seat belt tension, ensuring your child is as secure as possible.
Additionally, this state-of-the-art car seat satisfies all federal safety requirements and is compliant with the National Highway Traffic Safety Administration (NHTSA) guidelines. The attached connection cord, designed in such a way that the base and seat must be used together when installed, guarantees the seat's stability and safety.
The Safety 1st car seat also covers all age and stage requirements, offering 360° rotation with soft locks for secure buckling in all three modes, covering children from birth to 10 years of age.
Apart from the safety aspects, the car seat is designed with practical and comfortable features. It has a 10-position headrest and harness that adjusts as your child grows, and a 5-position recline. One more standout feature is the SecureTech Magnetic Chest Clip, which makes buckling in and out utterly hassle-free.
Most strikingly, the installation of the base is consistent across all modes of usage, therefore eliminating the necessity to reinstall the car seat as your child grows older.
Therefore, in the quest to ensure the utmost safety and comfort for your child, the Safety 1st Turn and Go 360 DLX All-in-One Car Seat from Amazon is an investment worth considering. Now conveniently available with a 27% discount, enjoy the peace of mind knowing you are providing your child with the best possible care and protection. So why wait? This offer won't last forever!