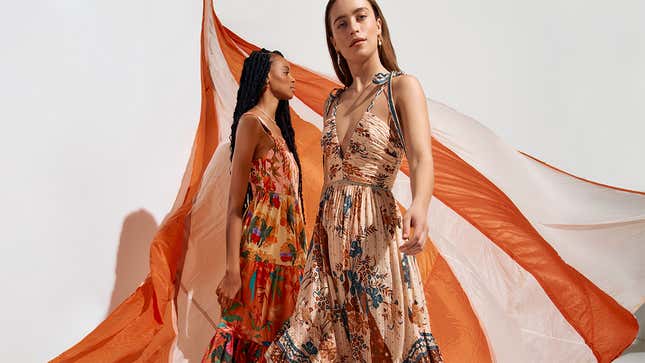 Looking for something new and lavish to wear? Don't spend an entire month's rent on one single dress for a night out. Rent it instead. Who's going to know? Rental fashion has transformed the way women adorn themselves while traveling, attending events, looking their best, and swapping stories in community with each other. With a monthly subscription to Rent The Runway, walk into any room or garden full of strangers beaming with extravagance.
Rental Fashion | From $79 | Rent The Runway
How Does Rent The Runway Work?
Renting the best in designer fashion is super easy, with two paths to take so you can choose the option and clothes that fits you best. One-time rentals are a quick option for anyone looking to test out the service, choose to keep items four or eight days at a time to make an entrance at your next party. Monthly memberships give you the flexibility every woman craves, starting with five items at a time, from dresses to jeans and accessories delivered in one to two business days.
The Perks of a Rent The Runway Membership
The benefits of your monthly membership don't stop with receiving five items per month. Rent The Runway offers perks carefully aligned, starting with each shipment coming freshly cleaned and ready to wear. If you have multiple events in a single month, like all those Summer weddings and brunches, just increase shipments, pause, or cancel membership at any time. With over 750 designers and enhanced member reviews of each item, find the right fit with personalized support.
Rent Dresses, Gowns, Prom Dresses, and Men's Fashion
Rent an entire outfit or a single item at a fraction of retail and be the talk of your next event, from designers like Veronica Beard in a Diego Blazer to this show-stopping purple Bronx and Banco gown. Memberships offer choices of five items, so why not go for the whole look?
When You're Done With Your Outfit, Just Return It For Something Else
Make choices that fit your lifestyle with Rent The Runway. When one event ends, there's always another on the calendar, so return your items and get ready for the next in just a few clicks. This Summer is all about options, whether it's a vacation, work, or a night out. Go for the latest statement pieces and keep them as long as you want.