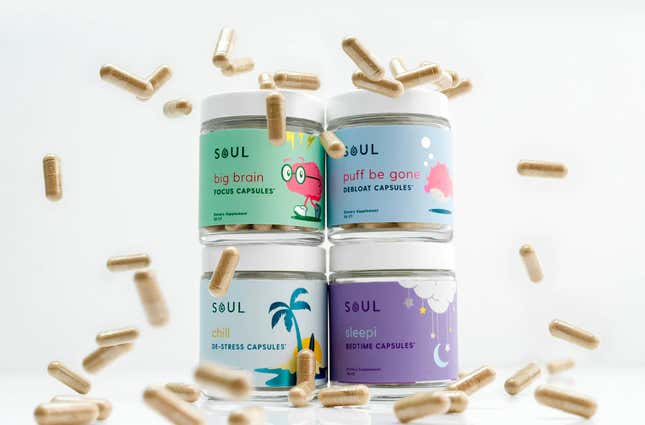 Have you noticed that you've felt much more overwhelmed by – well, everything these days? Maybe you've have suffered through bouts of anxiety, depression, and sleepless nights. The Inventory has a solution for you: Soul offers high-quality CBD supplements and other products that contain zero THC. They're scientifically formulated to maximize bioavability and effectiveness and organically grown here in the USA. And not only do their products really work, but they also taste good. Whether you prefer gummies, capsules or oils, Soul's products can be used to improve sleep, reduce inflammation, relieve anxiety, provide mental clarity, allow for peace of mind and more – without the ugly side effects of prescription drugs. And from now until mid-August, they're offering a 20% sitewide sale, with the code LIFESTYLE20.
Snacktaku Drinks Pepsi's Time-Jumping 1893 Cola Flavors
20% off Sitewide Sale | Soul
You can get 150mg Raspberry Lemonade flavored CBD Oil Drops, their most concentrated drops, which will help relieve stress and anxiety for $107, instead of the normal $153. You can try 25mg Happi Gummies, which will help you beat back the blues and soothe anxiety – with a citrusy burst, for $49 instead of the normal $70. A 30 count, Blueberry Lemonade flavored Sleepi Gummies, a powerful combination of CBD, CBN, melatonin and terpenes will help you drift to sleep and wake up refreshed will cost $49 instead of the normal $70. A 30 count, 30mg Big Brain Capsules, a doctor-formulated blend of natural supplements will help boost focus when you need it most will cost you $43 instead of $62. Soul's 30 count, 30mg Harmoni Gummies features a blend of CBD anti-bloating herbal adaptogens to relieve PMS bloating, cramps, and pain will cost $49 instead of its normal $70. No matter your lifestyle or your need, Soul has a solution for you. Feel better and save money, too!