PS5 | $500 | Amazon, Best Buy, GameStop, Walmart, StockX (Price Varies)
Digital | $400 | Amazon, Best Buy, GameStop, Walmart, StockX (Price Varies)
It's redundant to say the PlayStation 5 is Sony's most powerful console yet, but that's exactly what it is. And it's not just because it's got more teraflops that owning one is an exciting fantasy.
The console maker invested ample research and development into the storage system, and though it doesn't sound all that exciting on the surface, with an NVMe SSD tightly integrated into its advanced system architecture, bound to extract every theoretical drop of speed, it has developers watering at the mouth. It also has one of the most advanced controllers we've ever seen.

And the games look just as marvelous as you were hoping.
The PS5 is one of the hottest buys of 2020, but actually carrying one out of a store today is proving quite the challenge. If you're at your wit's end and need one ASAP, you might want to give StockX a try.
G/O Media may get a commission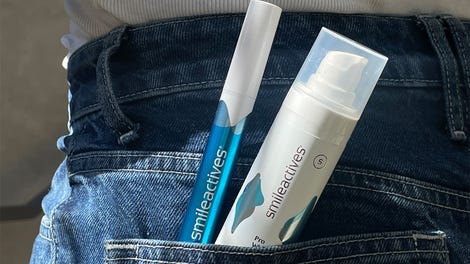 58% off
Whitening Powerhouse Pen & Gel Duo
This eBay alternative ditches the frantic bidding wars for a worry-free system that allows you to set your preferred price, then a transaction will happen automatically whenever a seller posts one within range. StockX acts like a middle man after the exchange, too. They'll take your money and wait for shipment from the seller, confirm the item's condition and authenticity, and then ship it to you once everything is clear. You'll get your money back if the seller doesn't hold up their end of the bargain.
But a bargain route this is not, at least not right now. With the PS5 being so hard to find, upcharges bring it to an average of $900+ at StockX. The discless version isn't much cheaper at $885. Use this as your last resort.
Where To Buy a PS5
If you look now, chances are you won't find any PS5 units in stock, but we've see small restocks here and there. We saw the biggest post-launch restock during Black Friday and Cyber Monday, and retailers like Walmart have made them available at random. We're expecting another big push before the holiday season closes.
If you want to buy a PS5, you'll have to be diligent. Sign up at the following retailers to be notified when new stock is available. Follow them and PlayStation on Twitter or other social media channels for updates. You can even use in-stock notification sites (here's our favorite) to make sure you're covering all possible ground. This Twitch stream that checks for stock in real time with audible alerts might be of some help, even.
Whatever you do, you'll need to check back regularly to secure your order, because gaming consoles are exceptionally hot right now thanks to quarantine life, and pre-order opportunities seem to come and go like a thief in the night.
Buy the PS5:
Buy the PS5 Digital Edition:
PS5 vs PS5 Digital Edition
You're probably wondering what separates these towering beasts of gaming joy, and the answer is not much. The standard PS5 costs $500 and includes a disc tray, while the PS 5 Digital Edition chucks its disc drive like the data frisbees it eats for breakfast.
Otherwise, they both offer the same graphical performance and features, including a 1TB NVMe SSD preinstalled in each. The PS5 Digital has a slight bulge thanks to its disc drive, though, so steer clear if you aren't into baby bumps.
The Best PS5 Accessories
Official PS5 accessories seem to be much more plentiful than the console right now. Right now, you can snag an extra DualSense controller, a charging dock, or the 3D camera. The Pulse 3D headset is a little more rare right now, but it's still a manageable buy if you don't mind a $60 to $100 upcharge. Thankfully, there are plenty of other headsets that'll work right out of the box.

Discover a deeper, highly immersive gaming experience* that brings the action to life in the palms of your hands. The DualSense wireless controller offers immersive haptic feedback, dynamic adaptive triggers, and a built-in microphone, all integrated into an iconic comfortable design.
Other Retailers: Best Buy | GameStop | Walmart | Target
Charge up to two DualSense wireless controllers at the same time and dock them quickly and easily with the charging station's click-in design. Your controllers charge as quickly as when connected to your PS5 console—so you can free up USB ports without sacrificing performance. DualSense wireless controllers sold separately.
Other Retailers: Best Buy | GameStop | Target
Featuring dual lenses for 1080p capture and a built-in stand, the HD camera works seamlessly with the PS5 background removal tools to put you in the spotlight. Quickly create a recording or a broadcast of yourself and your gameplay, with your DualSense wireless controller's create button.
Other Retailers: Best Buy | GameStop | Target
Conveniently navigate entertainment on your PlayStation 5 console with an intuitive layout featuring media controls. Simplify your set-up with the ability to power on your PS5 console directly and adjust the volume and power settings of compatible TVs
Other Retailers: Best Buy | GameStop
Enjoy a seamless, wireless experience with a headset fine-tuned for 3D Audio on PS5 consoles*. The PULSE 3D wireless headset features a refined design with dual noise-cancelling microphones, built-in rechargeable battery, and an array of easy-access controls.
Other Retailers: Best Buy | GameStop | Target
The Best PS5 Games
Tons of exciting games are slated for the PS5, including Resident Evil VIII: Village and a new God of War game, both arriving in 2021. But if you're wondering what you'll be able to play immediately or soon after you've carried out your ritualistic unboxing, our friends at Kotaku have already scoped out the scene.

The Demon's Souls remake is pretty amazing, and Godfall is a fine time sink if you're into looters and looking for something new to try. If you haven't already had your fill of Spider-Man, the standalone Miles Morales expansion is waiting on you, too.
This article was originally published in July 2020 and updated with new information on 12/9/2020.

---