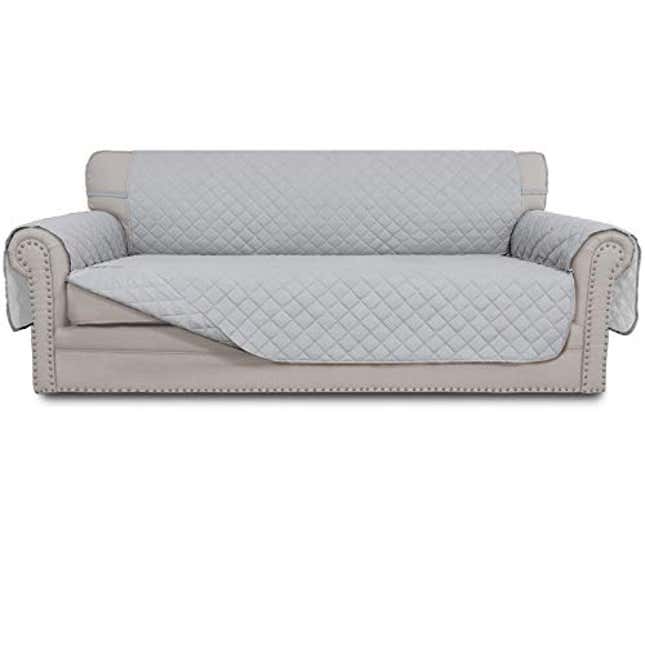 The Easy-Going 4 Seater Sofa Slipcover has emerged as an excellent solution for those looking to protect their couches while adding a touch of elegance to their living spaces. Be it the unexpected spills, the daily wear, and tear, or the havoc caused by children and pets, this product on Amazon offers superior protection in style.
The fantastic features of the Easy-Going Slipcover go beyond its chic quilted texture and elegant colors. It exhibits a high-quality build comprising three layers of thick, colorfast microfiber, boasting of water-resistant capabilities. Its double-sided use, with two beautiful light gray color options, ensures twice the utility. The XX-Large Sofa Cover fits a seat width of 88 inches, making it perfect for four-seaters, but do remember to check the measuring guide before purchasing.
Spreads are notorious for slipping off and making the furniture look untidy. With the Easy-Going 4 Seater Sofa Slipcover, you can bid this problem goodbye! This cover comes with two foam pipes that tuck into the sofa grooves on either side, enabling the cover to stay in place better. Additionally, the back of the sofa cover is fitted with elastic, ensuring a snug fit and preventing sliding.
Prioritize your peace of mind by choosing this couch cover. The Sofa Slipcover is machine-washable, making maintenance a cakewalk. It can be washed at around 30 degrees Celsius, with mild detergents, and is also bleach-free.
Taking care of your furniture has never been this easy and stylish. With the Easy-Going 4 Seater Sofa Slipcover from Amazon, you get to enjoy a discount of 20%, bringing a valuable product within an affordable range.
Save the hassle of constant cleaning and repair costs of your sofa. Invest in the Easy-Going 4 Seater Sofa Slipcover today itself and add years to your furniture's life while keeping it looking elegant and brand new.