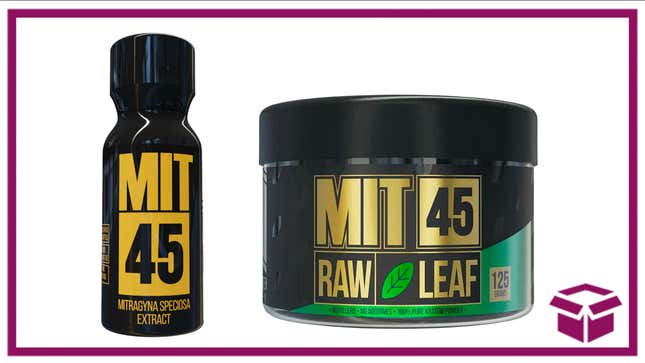 Looking for something all-natural to give you a boost of euphoric energy? MIT45 offers a variety of products with power-packed kratom extracts with a broad spectrum of products that can give you the high you're looking for.

MIT45 Kratom Products | MIT45
Kratom hails from tropical trees found in Asian regions such as Thailand, Malaysia and the Philippines. The dried leaves of these trees have been used for centuries as botanicals and in various ceremonial teas.
Its psychotropic effects are derived from two active compounds: mitragynine and 7-hydroxymitragynine. Together, they can help to produce stimulant-like effects that include increased energy, sociability, and alertness.
MIT45's products are carefully manufactured to offer the ultimate Kratom experience. Each are fine-tuned through the brand's Triple Purification process, which ensures the highest quality product without forcing you to dig deep into your pockets.
If you're looking to try kratom or want the highest-quality products on the market, MIT45 has you covered. Here are just a few ways you can see what Kratom can do for you in its various forms, all quality-tested and approved, each with different use cases.
Kratom Liquids
MIT45's liquid Kratom extracts cater to a wide range of users and offer various levels of potency. They're designed for mini doses, striking a balance between affordability and quality. The range comprises five unique offerings: MIT45 Boost, MIT45 Go, MIT45 Gold, MIT45 Super K, and MIT45 Super K Extra Strong.
MIT45 Boost shots are known for their signature liquid kratom extract, enhanced with a dose of plant-based caffeine. The little red bottle serves as the ultimate kratom energy shot.
MIT45 GO is a low-profile kratom extract pouch infused with flavors of honey, orange, and cinnamon. It's the perfect companion for those on the go.
MIT45 Gold is considered the brand's gold standard for kratom shots, with over 35 million bottles sold. This triple-purified liquid extract remains a market leader and the brand's #1 bestseller.
For those in search of a more potent kratom experience, MIT45 Super K, contained in a blue bottle, offers an impressive 500mg of mitragynine extract.
Lastly, there's Super K Extra Strong. Each purple bottle is packed with a whopping 1,200mg of broad-spectrum extract, making it the most potent kratom shot in the MIT45 lineup.
Kratom Gummies
MIT45's Boost Bites are kratom gummies are more than just a delicious snack. They combine the benefits of Triple Purified kratom extract and natural caffeine to provide you with herbal energy wherever you are. Soft, chewy, and ready to consume, Boost Bites are your tasty sidekick, assisting you in navigating your day.
If you don't like the bitter taste of kratom, the delightful fruit flavors of Boost Bites might be what you're looking for instead. They serve as an excellent alternative to your afternoon cup of joe or energy drink, delivering a kratom extract experience elevated by the buzz of caffeine.
Each gummy is packed with 10mg of Mitragyna speciosa extract at a 65% concentration, which equates to 6.5mg of pure, active mitragynine. On top of that, there's also 3mg of caffeine from natural tea leaf extract.
Two gummies contains 6mg of caffeine and 13mg of mitragynine. They're available in a 5-pack pouch or a 24-count jar, so you can always have a little on hand.
Kratom Capsules
MIT45's high potency kratom capsules are perfect for enthusiasts. Choose from full spectrum raw leaf capsules that come with added benefits with each product.
MIT45 Black Label Capsules combine kratom extract with botanicals, all in capsules for an easy, mess-free experience. The Black Label experience and discover an elevated way to enjoy kratom.
The brand's best-selling strain is available in MIT45 Red Vein Kratom Capsules. Loaded with 100% pure red vein kratom, they offer a rich, relaxing euphoria that will captivate your senses.
Looking for balance? MIT45 Green Vein Kratom Capsules offer a mix of soothing red vein and invigorating white vein strains.
Finally, for those taking their first steps into the world of premium kratom, MIT45 White Vein Kratom Capsules are an excellent choice. Harvested while the leaves are young and tender, these capsules provide a lighter high, making them a great starting point.
Kratom Raw Leaf
Want something straight from the source? Raw leaf powders are perfect for a boost that matches your mood.
The MIT45 Red Vein Kratom Powder is the brand's most popular strain, serving up pure kratom in its most authentic form. It boasts the tranquilizing properties of red-veined kratom, and nothing more.
For others looking for something a little milder, MIT45 Green Vein Kratom Powder is an ideal choice. It's a traditional raw leaf kratom that represents the perfect "middle ground".
Finally, the MIT45 White Vein Kratom Powder is a mix of the brand's most invigorating strain of traditional, raw leaf kratom. Free from fillers and additives, this revitalizing white-veined kratom powder is a premium offering that feels just right.