Even if you're too old to weave streamers through your bike for the neighborhood Fourth of July parade, there's something seriously fun, even as an adult, about dressing up in red, white, and blue on Independence Day. There's just so few holidays where we all agree on a color scheme and really commit, y'know?!

So to help you celebrate this Fourth of July in ~ahem~ style, we rounded up our favorite patriotic-tinged apparel. Don't worry, you can wear all of it on the Fifth of July, too.
Of course, you're free to go buck wild with once-a-year fashion occasions (see: ugly holiday sweater parties), but if you want to keep your Independence Day outfit more subdued? Go for two out of three from the ol' red white and blue. Also, stay away from anything too on the nose. Think: stars, stars and stripes together, and of course, any clothing item with a bald eagle on it.
All that's left to do is queue up Bruce Springsteen and light some sparklers. Happy Fourth!
---
G/O Media may get a commission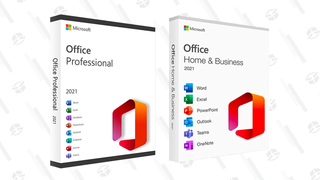 89% off
Microsoft Office Professional 2021 Lifetime License
Perfect for throwing on when the sun goes down and the neighborhood firecrackers come out. This raglan sleeve hoodie sweatshirt manages to look more Americana than 'Murica, making it the perfect "patriotic but not aggressively so" pullover for cool summer nights.

Stick it in your back pocket. Jauntily tie it around your neck. Wear it on your head like Rambo. I don't care. Team SG is firmly pro-bandana and there's no better time to bust out a red or blue style (or hell, both at once) than on Independence Day.

The older the better, but if you're just jumping aboard the bandana train, this J.Crew style from their in-house Wallace & Barnes line will let you pretend you've had it for ages.
Maybe it's because so many folks spend their July Fourth holiday on the water that patriotic style and nautical style have become inextricably linked in my head. Either way, this red, white, and blue Miansai men's bracelet with a fish hook closure just feels right to sport on Independence Day (and beyond).

You could sport this red striped t-shirt with rolled chinos and boat shoes, or with chino shorts and fresh sneakers. The overall vibe will be patriotic enough to pass at your family's July Fourth picnic , but also just French enough that your uncle in a MAGA hat might take minor offense. Wear accordingly.

At SG HQ, we have a real love-hate relationship with the term "pop of color." It's such an overused way to describe anything in fashion brighter than brown, but it's also...really descriptive? Watch: These red pool slides from Champion would be all the pop of color you need to take an otherwise neutral outfit into seriously stylish Uncle Sam territory.

See?!
NASA is, as they say, "on trend" these days, as are windbreakers. It's an Independence Day win-win! Now so help me if one of you makes a Space Force joke in the comments...

We love this (surprisingly, tbh) stylish pair of red, white, and blue swim trunks from bro brand Chubbies. The lighter, brighter blue keeps them from looking too American flag-y, with the overall effect being kind of a fun, 80's throwback nostalgia vibe. Please note that we were quite tempted to recommend another pair where the "magic print" shows the stars and stripes when you get them wet. Which is very silly but also kind of cute. And hey, we're not Uncle Sam Scrooge. If you want 'em, wear 'em!

---