Bubble milk tea lovers, rejoice! If you're as obsessed with bubble milk tea as I am, now you can show it to the world.

Bubble milk tea — also known as boba or pearl milk tea — was created in Taiwan decades ago, and now seems to be popping up on every block in the United States. It is known for the distinctive chewy black tapioca balls that you suck up through a wide straw, though nowadays you can also opt for several other toppings such as popping boba.
Lest you assume that boba is merely a nice, sweet thing to drink on occasion, I am here to tell you that boba is more than that. It is a lifestyle. Just ask the teenage girl who ended up in the hospital, apparently after consuming hundreds of tapioca balls. Luckily, you can now feed your boba obsession in healthier — and much cuter — ways.
Go to a boba shop, and they'll ask you how you want your drink customized: What kind of tea? What kind of toppings? What level of sweetness? How much ice? With Renegade Game Studios' Bubble Tea game, you're the one mixing the orders.

G/O Media may get a commission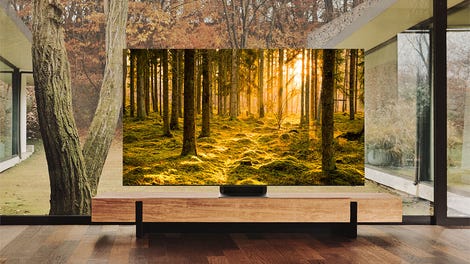 Up to 40% off
Samsung Smart TVs
The puzzle game, intended for adults and kids ages 8 and older, comes with a shaker and six dice, which you roll to determine the drink order. Each player then races to use a set of ingredient cards to construct the drink. Alternatively, the game also comes with 45 customer cards, which you can use in lieu of the shaker and dice. I played the game for the first time last weekend, and it gave me a new appreciation for the people who take my request for, say, jasmine milk tea with almond jelly boba and 75 percent sweetness, 25 percent ice.

Have you ever wanted to fall asleep with a smiling, glowing cup of boba as the last thing that you see?

Well, now you can.

Shaped like an adorable cup of boba, this battery-powered light even comes with a wide straw and little pearls at the bottom. The light automatically turns off after an hour, sending you off to sweet, delicious dreams.
Not only can you drift to sleep in the glow of boba, you can also snuggle with a bubble tea plushie. I'm partial to the smiling pink and light brown milk teas, but there's also an angry orange one and a grimacing green one.

If you prefer to wear your love for boba, you can pick up a pair of crew length socks with floating cups of pink, green and light brown bubble tea. Both men's and women's sizes of the "Boba is Life" socks are available.

With concerns about the environmental impact of plastic straws —and even some places banning them — you can pick up a set of wide, stainless steel reusable straws so you don't have to miss a single cup.

---