Dentists say you should floss every day, but let's be honest: No one flosses every day. And people who do floss every day are probably serial killers.

For pretty much my entire life (much to the chagrin of my dentist), I only really flossed if there was something blatantly stuck in my teeth, and even then, flossing always kind of hurt, made my hands all slobbery, and was generally an annoying task.
But recently I got Invisalign, and so I actually needed to floss more often. It was then that I finally discovered Cocofloss, the greatest of all flosses for several reasons.
First, Cocofloss genuinely tastes delicious. It comes in mint, coconut, strawberry, and orange flavors—plus limited-edition, seasonal options including watermelon and hibiscus. I've only tried mint and coconut, but both were incredibly good. So good, I thought for one tiny second about eating the floss. (Don't eat the floss.)
Taste aside, Cocofloss actually feels better than other floss. Instead of jabbing at your gums with other flosses, which are wide, flat, and sort of plastic-y, soft, textured Cocofloss is made from 500+ polyester filaments that gently scrub plaque away, along with vegan wax that helps the floss easily reach between your teeth. Best of all, Cocofloss is infused with coconut oil, which actually soothes your gums, making the whole flossing process less of a pain, literally.
Of course, all this flossy goodness comes at a price. A single roll of Cocofloss costs $9, while a three-pack will set you back $25, and a four-pack is $32. That's some expensive string (though each roll will last you two months, if you use 18" per day)! But hey, it's apparently the price I and other Cocofloss devotees will pay for good dental hygiene; it's such a cult favorite, there's even a Cocofloss subscription plan. I'm no serial killer, but I maaaybe have started flossing every day since discovering Cocofloss...
G/O Media may get a commission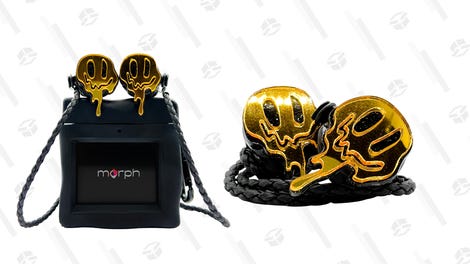 morph audio
Morph Earphones
---