Chonky cats are the best kind of cats. There are skinny cats, fat cats, and then there are chonky cats. Chonky cats are well outside of the recommended weight for a house cat and we love them more in a special way. You may have recently seen a viral chonky cat, named Beejay, A.K.A. Mr. B, who weighs in between 26 and 28 pounds, depending on the day. With respect to Mr. B, here are some items your chonky cat needs.
I previously wrote about why cat feeders are great for active and inactive cats, and this Wangstar Pet Slow Feeder Bowl is perfect for cats who eat too fast. If you think that interactive feeders might be a little too complex for your pet, this puzzle bowl is simple and won't let them eat super fast. Their food will be right in front of their face, so they won't be too confused.
G/O Media may get a commission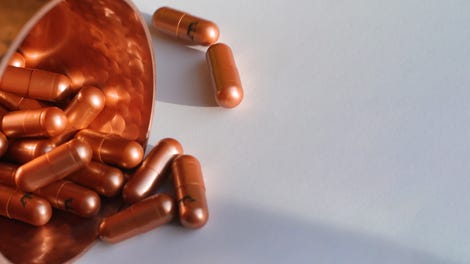 health
The Lyma Supplement
---
If you have a chonky cat, they probably got to that weight because they love treats. Please don't feed them those garbage Temptations treats and instead get treats that actually are great for your pet's overall health. Feline Greenies Natural Dental Care Cat Treats will help keep your chonky kitty's teeth clean, and they'll actually enjoy eating them.
---
If you love your fat cat but want them to lose a little weight, you should help them get active. Since you can't really walk your cat, the ways to get them moving are limited. You can help your cat catch the red dot when you buy them a Friends Forever Interactive Cat Laser Toy.
---
We'd say you should get your chonky fur friend a cat tree, but they might be a little too large to climb up it. Instead, you can get them a tiny cat condo that requires no jumping. They might be fat, but all cats find a way to squeeze into tiny spaces when they can, so you'll laugh when you see their fat body stuffed inside the MidWest Homes for Pets Cat Cube.
---
There is no reason your cat needs a hat. But, if they are very fat, this tiny Namsan Cat Hat Sailor Costume hat will make them look even fatter.
---