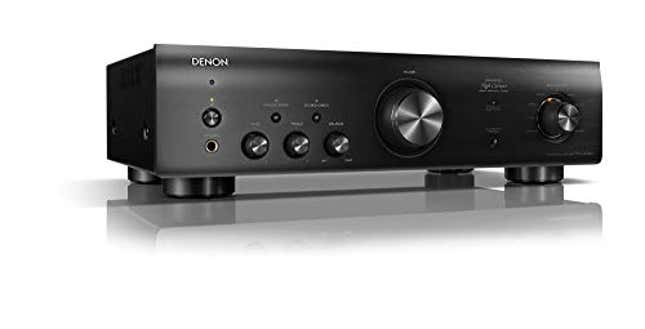 Amazon ranks high when it comes to online shopping for a multitude of reasons: seamless experience, customer-centric policies, and great deals! One of its best ongoing deals is the Denon PMA-600NE Stereo Integrated Amplifer - currently discounted by 10%, a bargain you shouldn't miss out on!
Designed with the user in mind, the Denon PMA-600NE amplifier brings you best-in-class sound experience in a beautifully crafted design. It's a slim, integrated amplifier enclosed in a vibration-resistant body that powers the most diverse range of speakers (70W at 4ohms). The divided circuitry further allows you to disengage digital circuits, which turns off the Bluetooth for an undisturbed analog experience.
The Denon PMA-600NE amplifier is powered by the Denon Advanced High Current (AHC) single push-pull circuit power amplifier. This enables the amp to balance high power and music detailing perfectly, outputting audio that is clean, rich and immersive, providing you with an uncompromised audio experience.
Moreover, the Denon PMA-600NE offers digital connectivity and Bluetooth support, allowing you to seamlessly connect to various sources. With features like 2 Optical, 1 Coaxial & 1 phono input, you can effortlessly connect a CD player, Blu-Ray, turntables, and more. You can even pair it with your smartphone via Bluetooth, thanks to the built-in DAC.
The reliability of the Denon PMA-600NE Stereo Integrated Amplifier is unquestionable. It comes from a brand with over a hundred years of legacy in designing premium audio components. It has a solid build quality, clean aesthetics, and modern design – the quality you can trust.
Whether you are a music enthusiast or someone who appreciates impressive audio performance, the Denon PMA-600NE Stereo Integrated Amplifier is well worth the investment. With the current discount available on Amazon, there is no better time to upgrade your home audio system!